Sponsored: No plans for the upcoming long weekend and the Eid al-Fitr holiday? Fret not. Anantara The Palm Dubai Resort has released a spectacular 'Dubai Family Getaway' offer. Read on for all the details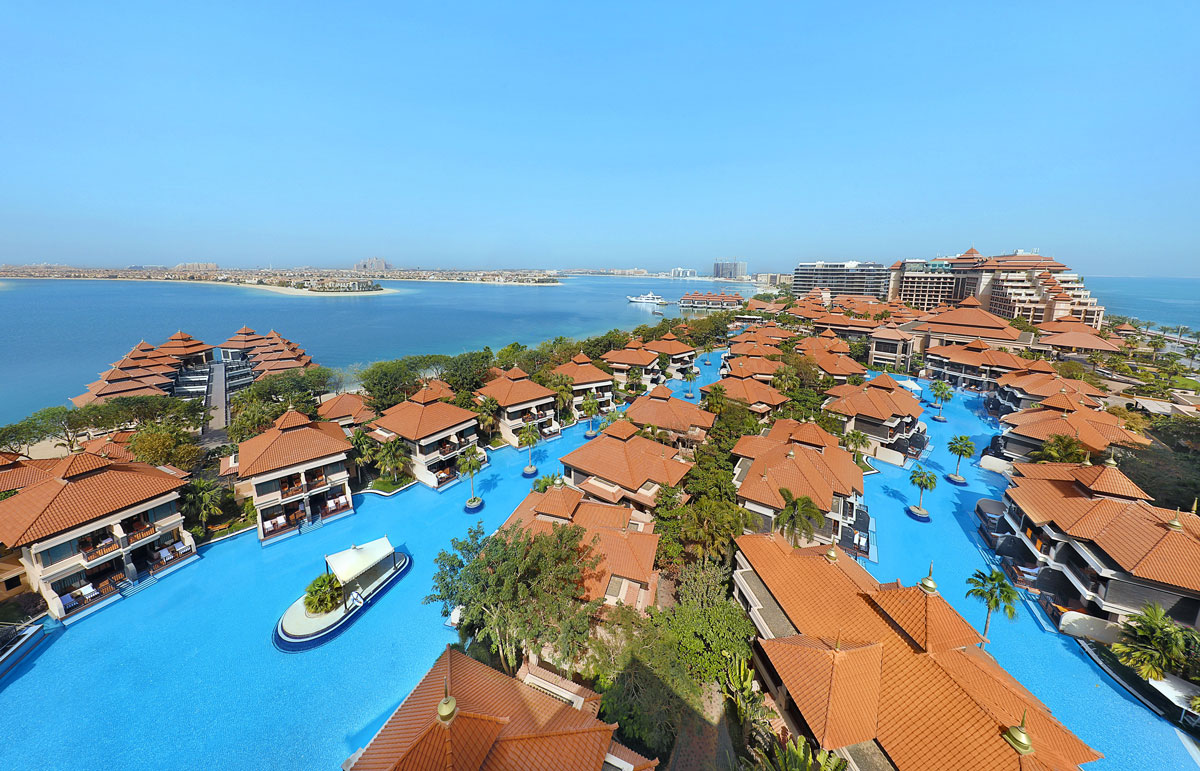 Perched on the East Crescent of the one-and-only Palm Jumeirah, Anantara The Palm Dubai Resort boasts a breathtaking stay, exceptional epicurean experiences, top-notch spa and gym facilities and glittering vistas all around, making it the perfect choice for a last-minute Eid al-Fitr escape.
Picture turquoise waters so clear, you can see fish swimming underwater; a gorgeous 400m white sand beach upon which you can lounge and lay back; luxurious living spaces; and impeccable dining options. A little slice of paradise, conveniently sited in Dubai.
If you haven't been to the resort yet, this is the sign you've been waiting for to do so. Anantara The Palm Dubai Resort has launched an exclusive family getaway offer, starring an array of exceptional offerings for adults and kids alike. Celebrate the occasion amidst luxury, with the special 'Dubai Family Getaway' including two or more nights' accommodation in a room or villa, daily breakfast at Crescendo or Revo Café, 20 per cent off gastronomy, a memorable family outing on the resort's iconic Thai longtail boat and access to the Tuk Tuk Kids' Club and Chill Teens' Club, where the younger ones can be kept entertained while the adults indulge in much-needed R&R.
Book online.
We arrived at the destination and were awestruck from the moment we pulled up into the driveway. Magnificent architecture greeted us in an expansive lobby, featuring a charming sunken setting with wood elements, warm-lit lanterns and gorgeous floral collections. Check-in was smooth, quick and easy; and in no time, we were escorted to a pretty-as-a-picture tuk tuk that took us to a stunning Over Water Villa, our home for the next two nights.
Accommodation:
The seaside destination presents 293 elegantly-designed rooms and villas, spanning Garden- and Lagoon-Encased Rooms, One- and Two-Bedroom Beach Pool Villas and the only Over Water Villas in the United Arab Emirates. The Garden Rooms overlook the serene lagoons and beautifully landscaped gardens, whilst the Lagoon Access rooms offer direct access to the tranquil waters. Yes, you can literally step out of your room and wade into the pool.
For uninterrupted ocean views and access, the Beach Pool Villas feature private infinity pools and rich, earthy décor reflecting the desert. The Over Water Villas, which we stayed in, are the definition of luxury, elevated by glorious sunsets from their spacious decks and an extensive glass floor panel through which you can observe the aquatic life.
Jutting out into the water, our Over Water Villa featured a secluded entrance which opened up into an immense sophisticated space with tasteful furnishings in brown, beige, burnt-orange and gold. Abundant natural light lit up the villa and a walk around revealed a marbled-top counter with a Nespresso coffee machine and snacks, a fully-stocked mini bar, a 55-inch Smart TV, a wardrobe, a cosy reading nook, a work desk, a well-appointed bed, a lush living area with a quaint dining table, an elegant bathroom decked out with a gigantic tub looking out to the sea, a shower and a spacious closet. Pause to peek at the glass floor and past it at the delightful school of fish swimming below. After that, step out onto your private terrace and then, have a look around you at the arresting views. This, took my breath away.
Stairs lead down into the water, where you can sit and revel in a few moments of bliss. We spent almost every moment that we were in our room out on the deck, hearing birds chirp, feeling the cool sea breeze, taking in striking sunsets, watching fish swim about and even catching a wink or two under the serene sky.
Deserving a mention is the fact that the Anantara The Palm Dubai Resort offered re-fillable glass bottles of water and we're all for it. Lavish L'Occitane amenities are provided in the bathroom, as well as all the grooming essentials you could need. Blackout curtains help for those mornings you just want to have a lie-in; and you will also find a pair of the softest in-room slippers, beach flipflops, a beach bag and hat, that was came handy in peak sunshine.
Culinary Offerings:
Seven restaurants ensure something for every palate. The all-day dining Crescendo, with indoor and outdoor seating overlooking the infinity pool, offers international delicacies across breakfast, lunch and dinner; while the urban eatery, otherwise known as Revo Café presents freshly-brewed coffee and scrumptious snacks in a relaxed environment. Both these options are included as part of the 'Dubai Family Getaway'.
At other times in the day, you can head to Beach House for mouthwatering Mediterranean cuisine; visit Mekong for an exotic culinary journey along the legendary river in Asia; or hotfoot to Bushman's Restaurant & Bar for fine prime meat and fresh seafood. The Lotus Lounge is apt for sundowners, elevated with marvellous vistas and smooth tunes; and the beachside terrace at Mai Bar by the Arabian Gulf is a great choice for light snacks and refreshing sips.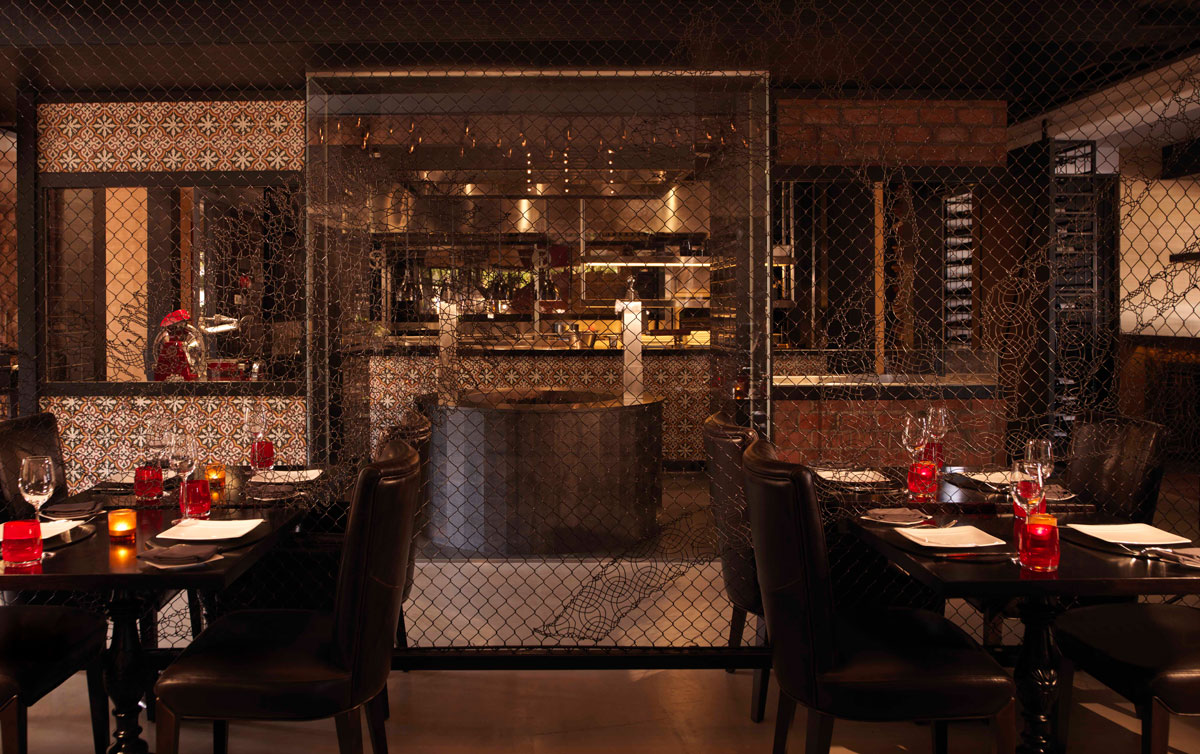 On our first evening, we visited Bushman's Restaurant & Bar that exudes down under vibes; while boomerang-lined walls surrounded us, together with a catchy sign for Australian slang, polished didgeridoos (wind instrument), twinkling lights and lush greenery hanging from ceiling pots. In no time, we were seated and offered a menu that instantly revealed a selection of prime meat that will impress meat lovers, alongside numerous treasures from the sea. My dining partner and I shared a Ningaloo mocktail, featuring the freshness of cucumber, apple juice and Sprite, crafted to resemble a swim in the ocean. Light and easy appetisers showed up next, in the form of Grilled tiger prawns with a calamansi gel, bush spiced pomelo and a lemon beurre blanc sauce that was spot on; and a silken Wagyu beef carpaccio with horseradish crème, parmesan shavings, baby beetroot and rocket that wholly whet our appetite. We were absolute fans of the fact that the menu (and the menus across the property's other dining spots), included numerous note specifying things such as, healthy options and calorie counts. After a pause, my dining partner indulged in a surf option – Grilled mahi mahi with chilli pepper jam and charred pineapple relish; while I tucked into a turf option – Tender Valley black angus beef 200gr tenderloin, with a side of grilled asparagus with miso butter. Each distinct in their own way, yet utterly sumptuous. Stuffed by now, we opted to share a lovely Lime crème brulée with coconut ice cream, that offered the perfect ending to our evening affair.
We slept early that night, waking up bright for breakfast the next day. Over the course of our two day stay, we found similar breakfast options offered at Crescendo, barring a few exceptions. Nevertheless, the variety is limitless. Picture over 10 counters, each teeming with delights ranging from fresh fruit juices and a detox water stand, to a Cheese and zaatar manakish counter, to crisp fruit, cold meats and a cheese section. Two live omelette stations and a live egg counter featuring a menu with options such as shakshuka, maska egg bun, steak and eggs and eggs benedict cater to all taste buds, complete with all the fixings. Think baked beans, mushrooms, sausages and veal bacon. There is also an Asian food counter featuring heartier bites, including yellow chicken curry and rice, veg pad Thai, sticky coconut rice with mango and even youtiao (a golden-brown deep-fried strip of dough). Cereals, porridge and an impressive gluten-free section exist; together with a whole separate circular counter for freshly-baked pastries, cakes, muffins and donuts, accompanied by coffee that is served to your table. To conclude, whatever your heart might desire, you will find it at the breakfast buffet.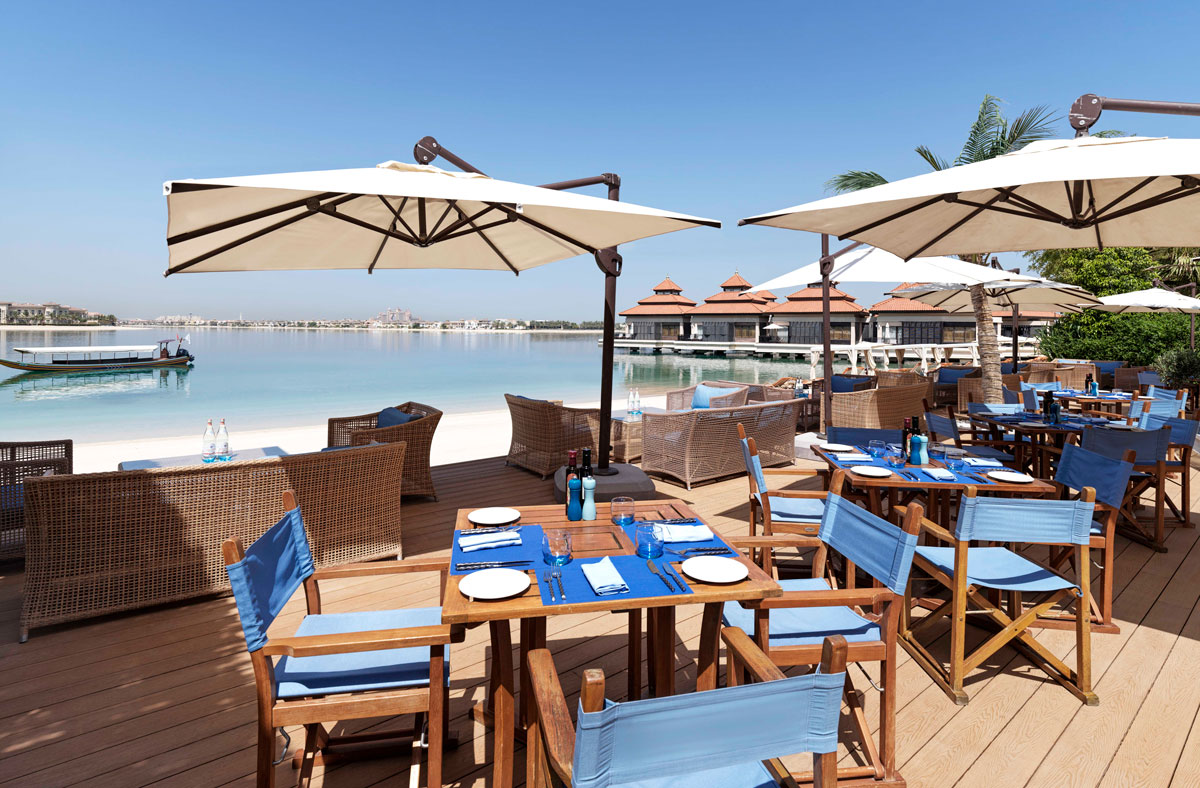 Beach House beckoned in the afternoon, where we took our al fresco seats starring views of the coast and sea. The bright sunny day called for Thai coconut juice, that provided thirst-quenching sips; while on the dining front, you can take your pick from salads and starters, pasta and risotto, soup, homemade pizzas, seafood, meat and more. The Radish salad with pear and walnuts, garnished with a gorgonzola dressing, was an absolute delight; and the Gambas al ajillo was downright delectable. Save some of the crusty warm focaccia to mop up any leftover juices. Something to note across all venues, expect generous portions and hence, we recommend you plan your meal accordingly. The Red mullet Milanese style was cooked to perfection, paired with a fennel and orange salad; and the Red snapper stew with potato, clams and saffron was homely, rustic and comforting. Remember the fabulous focaccia from earlier? Save the rest to soak up every last bit of stew. The Raspberry sorbet served as a tantalising end to our afternoon feast.
Dinnertime arrived and we excitedly made our way over to Mekong, where you can look forward to authentic eastern Asian recipes served to rickshaw-style seated tables (yes, really!) or to discreet private dining rooms for more intimate celebrations. We were utterly fascinated with the seating, that not only captivated but were also incredibly comfortable. Designed to seat two persons, we highly recommend them for a fun meal. Remarkable views of iconic structures in Dubai added to our experience, even going so far as being able to see Downtown Dubai. Since we were still quite stuffed from lunch, we opted to share each course. A 'nutritional guide' meets you as you peruse the menu, informing and advising. In no time, a Miang kham platter (amuse bouche) showed up to our table and the helpful staff explained to us the significance of the snack. Miang kham is a traditional southeast Asian snack from Thailand and Laos, that comprises the following items: roasted coconut, peanuts, chopped chilli, ginger, lime, shallots and a thick syrup made with palm sugar, ginger, galangal and coriander root. Half a spoonful of each of these items is topped onto a betel leaf, before being wrapped into one bite and eaten. Not only fun to make, but eat too, we loved the dish. Next up was a plate of Vietnamese prawn rolls, packed with poached prawn, mango, cucumber and greens that is perfect for the summer season; followed by a sharing-style portion of aromatic Thai green curry and a serving of organic black sticky rice. Hearty, delicately-spiced and flavourful, we devoured our meal. Last, but not the least, an innovative Black sesame milk panna cotta with sesame tuiles and mango coulis offered a sinful end to our memorable meal.
Facilities:
Grab a book, or your favourite music and head over to the 50-metre infinity pool; take a tranquil walk along the beach; catch a cool dip in any one of the three temperature-controlled pools encircling the Lagoon Rooms; kayak out for a spot of exercise; participate in an invigorating workout class at the Fitness Studio; or even get a round of swimming in. The options are endless. Anantara The Palm Dubai Resort offers all this and so much more.
Guests are also encouraged to pamper themselves with holistic healing and harmonising therapies at the world-renowned Anantara Spa, where the Asian-inspired sanctuary blends East and West with the heritage of Arabia. Treat yourself to a visit to the traditional Turkish Hammam, or to visits at the unique Salt Inhalation Room, Ice Grotto and Crystal and Gemstone Steam Room. And while the adults relax, the little ones can partake in a host of creative activities at the Tuk-Tuk Kids Club, such as arts and craft, painting and colouring, building sand castles and more. Meanwhile, the Chill Teens Club is the perfect spot for teenagers to enjoy a thrilling game of foosball, air hockey and billiards, Play Station, or take part in special themed nights. There is indeed something for everyone!
Insider Tip:
Planning a last-minute Eid al-Fitr staycation? Take advantage of the tremendous 'Dubai Family Getaway' offer. Click the link below.
Book a Stay:
Rates from AED941 onwards (exclusive of taxes and fees and all rooms are subject to a Tourism Dirham of AED 20 per bedroom per night). Book online. Call +9714 567 8999 or email resdubaipalm@anantara.com. Visit the website or Instagram.