Sponsored: il Pastaio is one of Los Angeles' most applauded Italian restaurants, boasting a star-studded list of diners at its Beverly Hills location. Now, the celebrated concept has chosen Dubai as home for its only other location in the world.
Translating to mean "the pasta maker" from Italian, il Pastaio first came into being twenty-six years ago by the Drago brothers in California. Having grown up in the small town of Galati Mamertino in the Italian region of Sicily, Giacomino, Celestino and Calogero Dragos were always surrounded by the fragrance of ripened tomatoes, richness of olives, freshly handmade pastas and cheeses and grape typical of the region. Inspired by these memories, they began by serving rustic pasta dishes enthused by fine seasonal ingredients. Fast forward to now, the Italian dining destination still offers a menu that remains truthful to its heritage.
Perfectly positioned in the Al Habtoor City Boulevard on Sheikh Zayed Road, il Pastaio Dubai boasts an expansive sophisticated, yet welcoming setting. We encourage you to take a walk around the space and discover the live pasta-making station, before taking your seat indoors or out on the partially-closed terrace.
The highlights:
We were fortunate to meet the restaurant's Head Chef, Diego Simonetta, who enthusiastically took us through the menu offerings. Brimming with a redefined selection of every Nonna's classic recipes, each dish has been thoughtfully conceptualised, crafted and, as we would come to realise, plated.
To begin, sips of a vibrant orange-hued Italian concoction, served as an aperitif in Northeast Italy, comprising sparkling grape, digestive bitters and soda, offered a delightful gateway into our dining experience.
Our glorious Italian feast based on the culinary team's suggestions began with four delectable dishes – Trio tartare from the Specials, and Burrata, Bresaola and Melanzane parmigiana from the Antipasti section. Each generously-portioned dish is created to share, and aptly so because you will want to try them all. We began with bites from the scrumptious eggplant bake, apt if you're looking for a warm and hearty dish; followed by the tender dry-cured beef, garnished with frisée lettuce, rocca salad, artichoke wedges preserved in olive oil, sundried tomatoes and mozzarella cheese, topped with a lovely lemon vinaigrette. Moving on to the last antipasti, we were pleasantly surprised to learn that the luscious Burrata is made locally in Dubai, with milk brought from Italy. Finally, the Trio tartare, as the name suggests, featured three distinct raw, seasoned cakes of meat and seafood. First up was a truffle Fassona beef that we especially enjoyed as it contained absolutely no 'fat', lending an almost rustic flavour; alongside a delicately- spiced cardamom sea bass tartare with lime and Kaluga Queen caviar and a portion of melt-in-your-mouth bluefin tuna tartare with raspberry pearls.
A pause was needed before mains, and I took the opportunity to visit the live pasta-making counter in the restaurant, where a talented chef rustles up an array of different types of intricate pasta which is used to cook some of the many dishes. The only other pasta used is from the renowned Senatore Cappelli brand.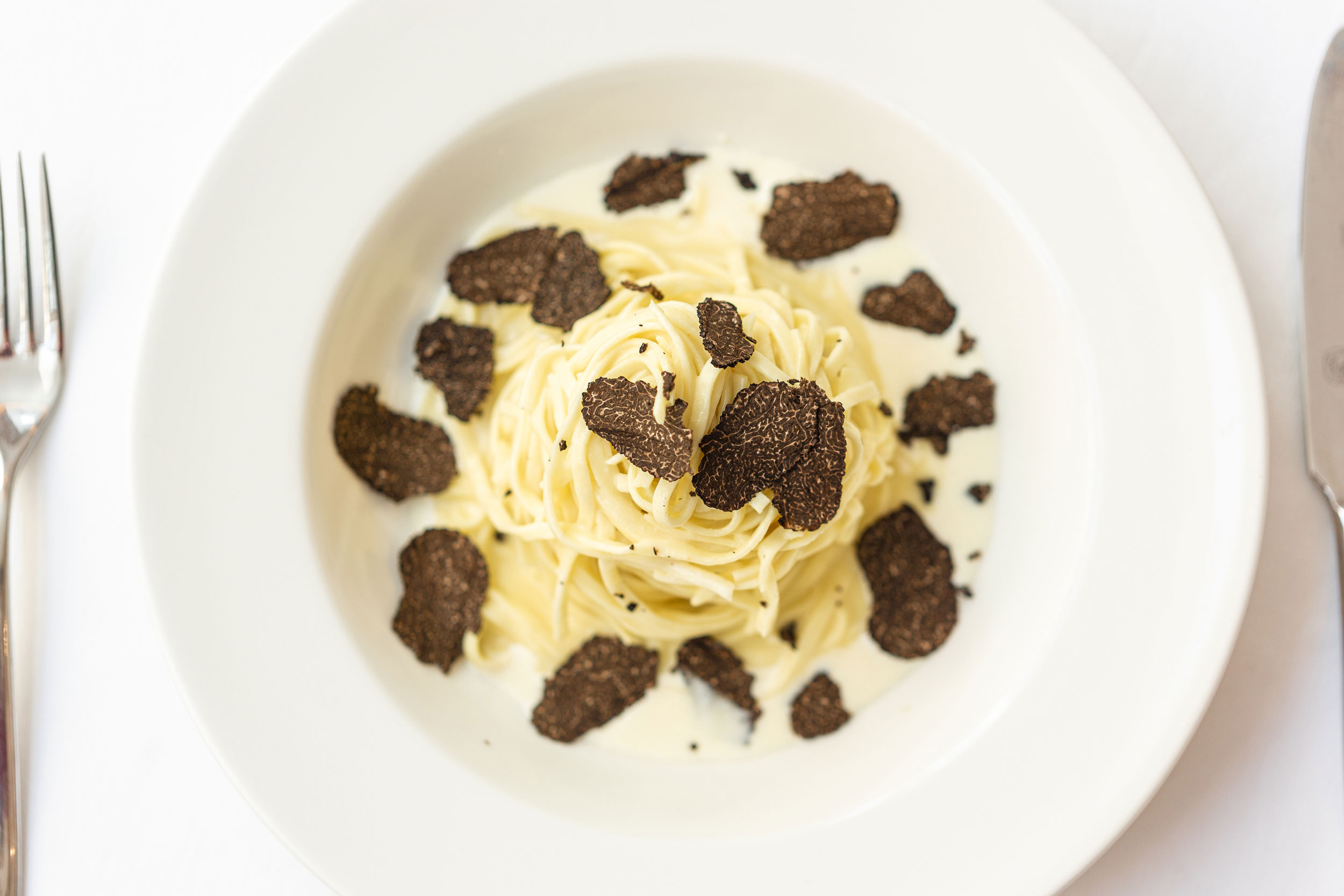 Dinner with a show was up next, and if you have to order just one this, this would be it. The Taglioni tartufo, finished in the giant wheel of cheese, adorned with cheese fondue and truffle shavings, was every bit as sinful as it sounds. The next main pasta dish was teeming with calamari, scallops, shrimp, mussels and clams, and if you're a seafood enthusiast, we thoroughly recommend the Scoglio with a full-bodied sauce. Meat lovers are presented with choices aplenty, and we opted to share the Costata di bue, a juicy prime rib eye with roasted potatoes, seasonal vegetables and an aromatic rosemary sauce.
Good conversation and great beverages kept the evening going on, allowing us a breather before the final course. Dessert called for Cannoli with three unique fillings – Gianduja cream, ricotta and pistachio; the elegant Tiramisu; and a decadent Cioccolato (flourless chocolate cake). Each distinct in their own way, but equally delectable, offering the perfect end to the evening.
The verdict:
A glittering restaurant, impressive food that will please the eyes and palate, perfectly- crafted sips that pack a punch and impeccable service. Il Pastaio Dubai is a fine-dining destination perfect for exquisite celebrations, intimate occasions and sharing-style gatherings with loved ones.
Book now:
Daily from 12pm-12am. Call +97154 791 3320 or email reservations@ilpastaiodubai.ae. Visit the website or Instagram.