The recently-opened Demon Duck at Caesars Palace Dubai, Bluewaters, by three-Michelin starred Chef Alvin Leung, has barely been around Dubai's food scene long enough but is already making waves for all the right reasons.
The self-taught Leung, aka The Demon Chef (a nickname given to himself), is known for a style of cooking he calls "X-Treme Chinese" – where he disrupts traditional Chinese and Asian cuisine and re-defines it in a fascinating modern way. Expect a playful, refined approach to all your favourite dishes, showcased in extraordinary serveware that simply enhances your experience.
When you reach the venue, you're greeted with warm ambient lighting across a quaint, almost hidden outdoor garden terrace and a fashionably-fresh indoor space. Massive paintings, a mighty Demon Duck replica, quirky depictions of duck art by Hong Kong based photographer, Mark Chung and lively graffiti make up the breathtaking décor. We were in awe from the moment we stepped foot inside, and walked around before dining al fresco.
The highlights:
Look for the Middle Eastern inspired mosaic patterns on Monica Tsang designed crockery, the duck feet chopsticks rest and even the miniature Demon Duck table number holder that speaks to the careful consideration that went into planning the restaurant, and we're all for it.
Over the course of the evening, we were thoroughly impressed that our server, as well as everyone we interacted with in the team was incredibly well-versed with not just the menus, but also the history behind the dishes, the inspiration behind certain menu items and more.
Loving the names given to each section, we took our time with the menu as everything looked spectacular, before finally settling on a sharing stand carrying a selection of diverse bites. From the 'chills to begin' part, we were offered edamame hummus with seaweed and chop chop suey packed with nine different vegetables, and topped with an Asian citrus dressing, a dish we could eat every day; alongside bang bang chicken in a tangy sauce and soft shell crab spring rolls with XO sauce from the 'temptations from the furnace' part, that had my dining partner and me fighting over who got the last piece. This option is perfect for two to share, whilst getting the chance to try several flavours.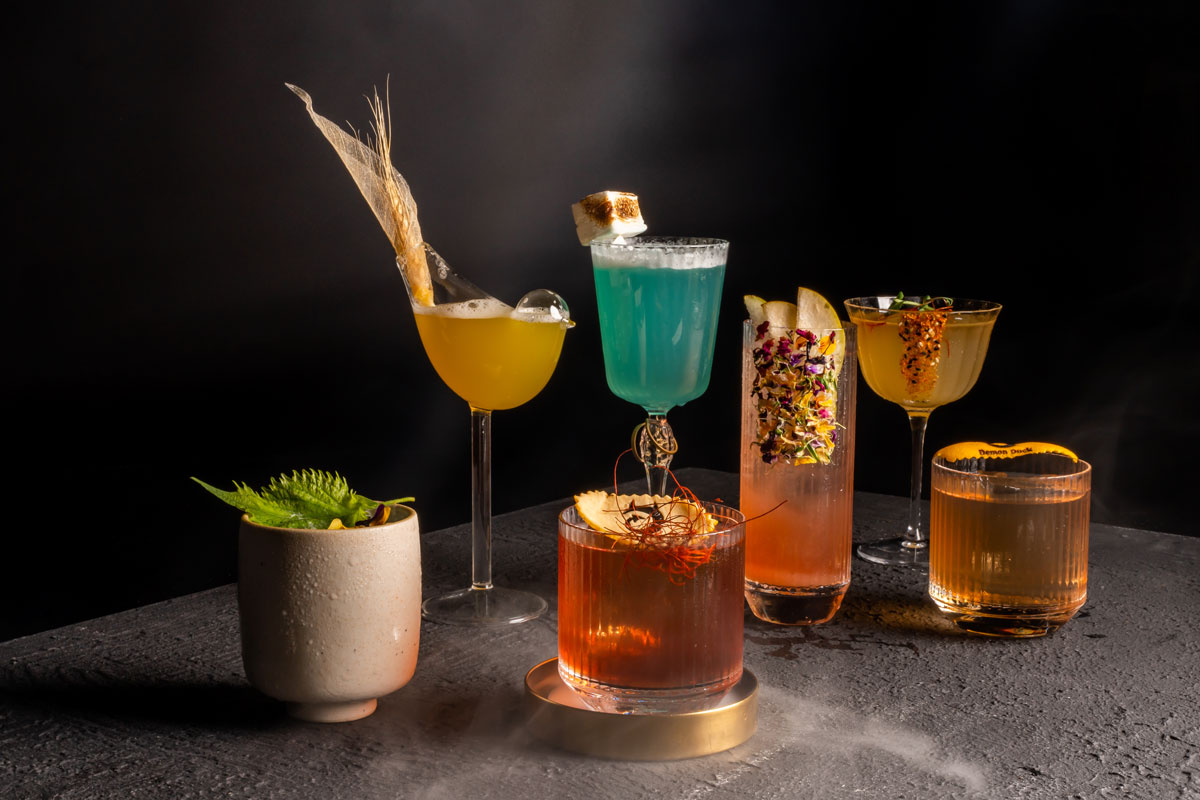 We perused the creative concoctions menu from the speak-easy style bar, that saw handcrafted sips named and enthused by tourism sites in Hong Kong. Each one was wonderfully distinct in its own way, and designed to capture the essence of Hong Kong's nightlife and the electrifying thrill of the city's iconic streets and districts. Over the course of the evening, my dining partner opted to try the Nathan road, a fun and flirty brew with exotic flavours of coconut, kombu (edible kelp), pear, cherry shrub and cinnamon syrup; and the Party in lan kwai fong – a mischievous mix of dark plum syrup, bitters and jasmine tea. Both were an absolute delight; but the star drink of our night was the Bird street at yuen. The pretty-as-a-picture blend literally had me sipping a mélange of passion fruit and rose water from a bird-shaped glass, brought to our table in a gilded cage.
The Scallop dumplings, with a bubbly beurre blanc sauce, caviar and gold leaf was an epicurean experience in itself. Each buttery mouthful was unreservedly marvellous, and although a bit of a splurge, it is a dish worth indulging in. Which brought us to our next dish, the restaurant's famed Slow-roasted Peking duck with steamed calamansi buns, pancakes and a demon sauce from the 'demon delights' section. Diners are also able to watch the Chef in action, masterfully carving up the succulent, crisp bird that is brined and infused with spices overnight, before being dry-aged for 10 whole days. Following this, the duck is cooked at two different temperatures (a low temperature to retain the juiciness, and at high heat to guarantee crispiness), sliced thickly to preserve the lusciousness and tenderness of the cooked meat and only then, served to your table. It was unquestionably excellent.
My dining partner could not resist the cracking Crispy Sichuan tiger prawns from 'the devil's pond'; and I could not say no to a personal favourite from the 'sinner' section, Dan dan noodles with minced chicken.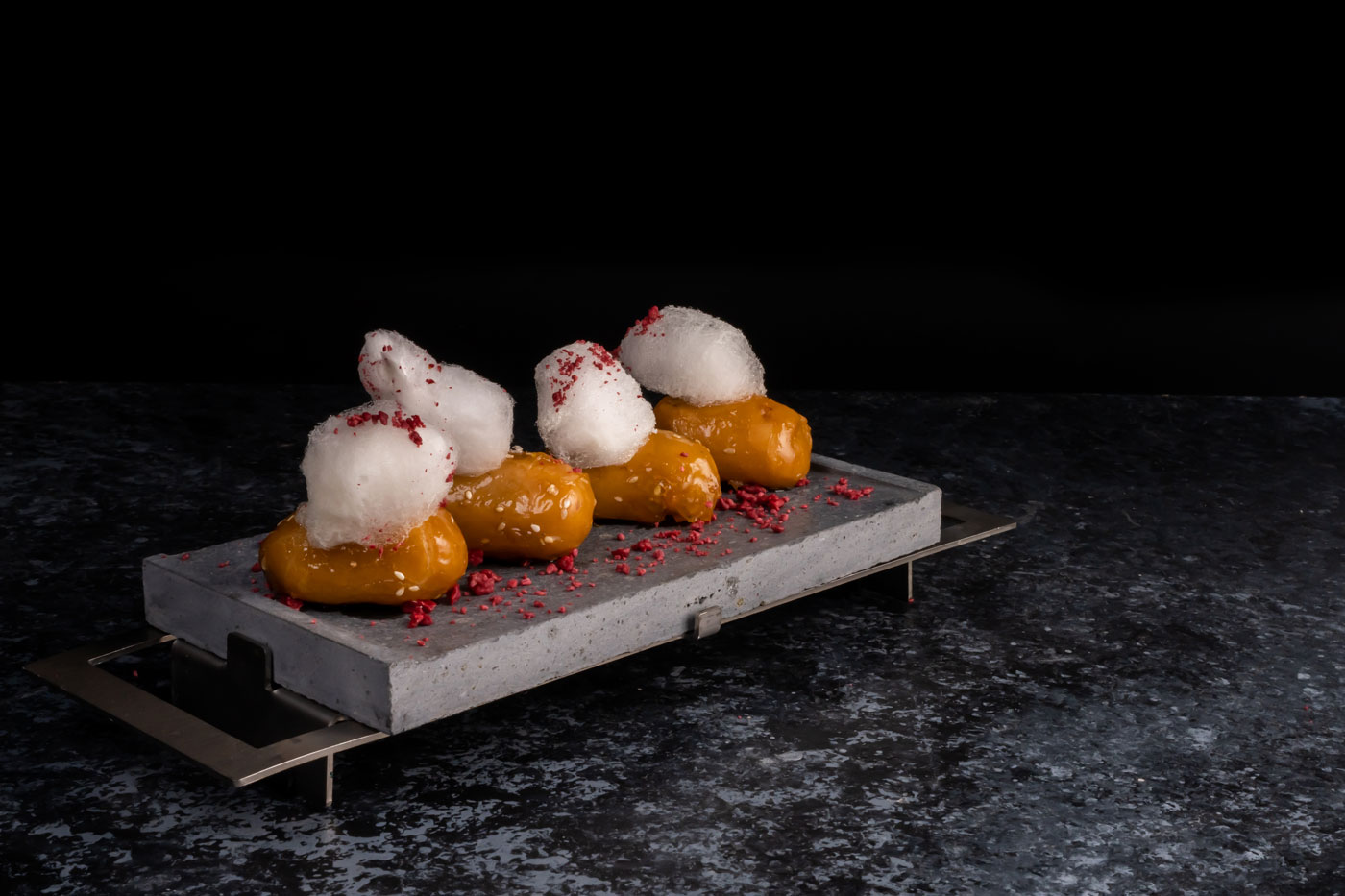 Although we were absolutely stuffed, our server recommended a lighthearted dessert, the Bubble bath which looked exactly as it sounds. Plated in a bathtub, the tempting treat from the 'angels from the master' portion included cardamom foam to represent a bubble bath, a scoop of creamy cardamom ice-cream, mini litchi and white chocolate bath bombs, lychee ice-cream meringue and the cutest handmade fondant ducks. Each item on the menu was a testament to Chef Alvin Leung's inventive cooking style, following the well-known adage of "eating with your eyes first."
The verdict:
Showcasing bold and boisterous cuisine and sips that impress, Demon Duck offers a decadent dining affair that is perfect for adult get-togethers, glamourous date nights or casual catchups with colleagues and friends.
Book now:
Daily for dinner from 6pm-12am. Call +9714 556 6666 or email dine@caesarsdubai.ae. Visit Instagram.