Sponsored: Experience this expansive beachfront hotel on Marjan Island, one of the UAE's most popular tourist spots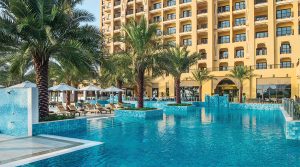 Set on its own 650-metre beach on Marjan Island, the DoubleTree by Hilton Resort & Spa Marjan Island has everything you need for a relaxing, indulgent staycation. With 13 dining options, seven swimming pools and a variety of watersports and activities available along the resort's coastline, the DoubleTree by Hilton Resort & Spa Marjan Island allows guests to get well and truly comfy while having the option to remain active.
Situated within eight kilometres of a range of Ras Al Khaimah's top leisure spots including Al Hamra Golf Club and Al Hamra Mall, the resort is also a 30-minute drive from some of RAK's top hikes, including Wadi Naqab.DoubleTree by Hilton Resort & Spa Marjan Island has plenty on offer for kids, including an outdoor playground, Pirate Boat Aqua Zone, and a 'Tarzan Boat' floating waterpark. With great dining, five-star facilities and a hugely novel World Cup 2022 beach fan zone set-up, the resort has everything you need and more.
The biggest compliment I can give the resort is that only by the time we left did I actually realise that I hadn't ventured out of the resort all weekend – as an avid explorer, hiker and sightseer, that's saying something.
Accommodation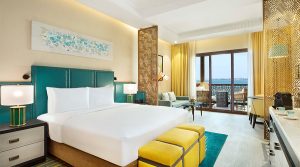 Following arrival and check-in, we were transported from the hotel lobby to our room via golf buggy – a necessary novelty, as the resort is large – which creates an immediate sense of luxury.
We were treated to a King Bay Club Sea Front room with beach access – the room was very spacious for two adults and the short walk from the ground floor terrace to the beach really lets you make the most of the resort's beachfront setting. The bathroom was the real highlight of this room option – hugely spacious with ultra-modern fittings, a bidet and a large bath. Rooms come in a variety of other options including garden access, sea view, and balcony.
Culinary offerings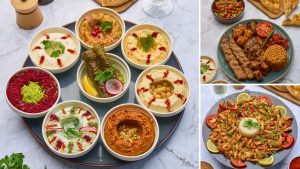 The resort has a wide variety of bases covered when it comes to F&B, with Turkish, Asian, British, Arabic, and Italian cuisine throughout its restaurants. Hosted every Friday from 1-4 pm across five dining venues and priced at AED 299, the Islander's Brunch is where the resort's cuisine really comes into its own. The brunch boasts – it'd probably be easier to list cuisines it doesn't actually cater for – fishmongers, a vegan station, a pasta station, premium outdoor bbq (and indoor grilled shellfish station) and 30 types of cheese. Islanders doesn't take itself too seriously, offering a selection of tower concoctions, live singers and staff bringing a selection of drinks to your table.
You couldn't help but be impressed with the culinary highlights and terrace setting at Islanders – succulent BBQ eats including grilled lamb and steak, exquisite grilled lobster, and a fresh fish station offering 10 types of cooked-to-order fish including sea bass, halibut and tuna. Islander's afterparty takes place upstairs at the delightful rooftop Anchor Bar – also a great spot for a couple of sundowners throughout the week – from 4-8pm.
Walk across the resort and its 650-metres of beach and the large outdoor dining terrace with sea views is a lovely spot for dinner. There, we were welcomed at Meze, the newly opened Turkish and Lebanese restaurant offering diners authentic cuisine on a terrace with views taking in Marjan Island and mainland RAK. Meze does a great job of Lebanese staples, including excellent cold mezze (the nature's in the name).
Further down the terrace is Sanchaya Asian restaurant – another venue that benefits from its idyllic Marjan seafront location and specialises in a range of sushi dishes. DoubleTree by Hilton Resort & Spa Marjan Island's All Day Dining also serves a variety of international dishes and local specialties at its buffet, with live cooking elements to satisfy all tastes. It also hosts an a la carte service for breakfast and assisted buffet for lunch and dinner.
Facilities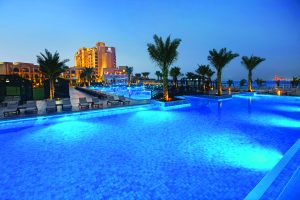 As well as a new padel court, spa, and indoor and outdoor pools, the resort offers a fitness centre and seven temperature-controlled swimming pools, including an indoor pool and 2 children's pools. For those really wanting to get into staycation mode, the resort boasts a spa with seven treatment rooms.
Fans of the beautiful game are also in for a treat – the resort's 'Beach Stadium' is a quite brilliant setting to take in all the action from the 2022 FIFA World Cup. All games are shown on the beach's big screen, with plenty of seating and bean-bags-for-two ensuring that edge-of-your-seat thrillers or bore-draws can be watched in comfort.
Insider tip
The adults-only pool is the perfect spot for anyone hoping to truly unwind – you haven't lived until you've zonked out on one of the many bed-sized floating bean bags that adorn the pool. With a pool bar and all-day dining in close proximity, you're well and truly catered for if you decide to camp out here for the day.
Call +9717 203 0000. Visit website.