Pack your bags and head to Qatar for a luxurious weekend escapade at Waldorf Astoria Lusail Doha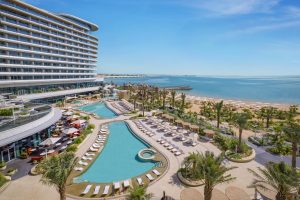 Unveiled at the end of last year, Waldorf Astoria Lusail Doha boasts a range of opulent amenities for business and leisure travellers alike. From renowned restaurants and a dedicated fitness centre to a private beach and a waterpark, the nautical-themed destination combines the best of luxury, thrilling adventures, and culinary experiences for a serene retreat to explore during your stay. Having prearranged our airport transfers, our arrival to the hotel was smooth and effortless, with the hotel's strategic location of being only 20 minutes away from the airport, adding to our delight.
Upon entering the hotel lobby, be prepared to be greeted with a sense of relaxation with the abundant natural light illuminating the plush lounge area and the Peacock Alley – featuring an exquisite clock, reminiscent of Waldorf Astoria's illustrious history. The check-in process was swift and we were then personally escorted to the suite, where we enjoyed some well-deserved rest after our travel.
Accommodation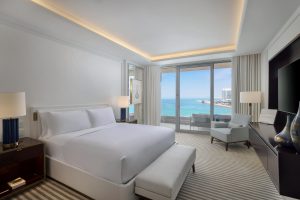 The King deluxe one-bedroom suite features a spacious living area with a four-seater dining table, ample storage space, a quaint work desk, a comfortable seating area opposite the TV, a pull-out sofa bed, a guest bathroom and a balcony extended to the bedroom, offering breathtaking views of the beach and pool. The door ahead takes us to the luxurious bedroom featuring a king-sized bed, modern furnishings, a dresser, a walk-in closet, and a bathroom with a rain shower, bathtub and exquisite amenities including Byredo products.
The interiors are adorned with paintings, colour co-ordinated novels on display, earthy hues to compliment the beachfront hotel's aesthetic, and a minimalist yet relaxing lounge seating at the extended balcony. If you're looking to order in, the dining menu offers a wide selection of dishes for Arabic breakfast, English breakfast, French toast, waffles, pancakes, appetizers, soups, salads, sandwiches, and plenty more.
Culinary offerings
The five-star resort offers guests exceptional dining experiences with its world-class gastronomic venues, which include internationally acclaimed restaurants such as SUSHISAMBA, Scarpetta, Bywater, Praia, Wyld Erth, and Peacock Alley. For dinner, we visited the intimate dining venue Scarpetta, making our way outdoors to enjoy the glistening night lights and sea breeze. The Italian menu features flavourful dishes including homemade pastas made from scratch, using premium ingredients. We highly recommend ordering the satisfying Creamy polenta topped with a fricassée of truffled mushrooms, followed by the signature Braised short rib with a rich, creamy farro risotto for appetizers.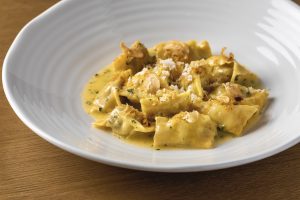 The epicurean journey continued with our choice of mains – Ravioli cacio e pepe and the venue's newest addition Rack of lamb. The perfectly-cooked pasta featured delicate ravioli filled with rich cheese, brown butter, sage and charred leeks, adding a gorgeous combination of a nutty aroma and smoky flavour. The savoury, succulent Lamb was topped with lamb sauce and served alongside sauteed mushrooms, baby artichokes, and zucchini scapece.
Desserts called for the renowned Espresso budino, the venue's contemporary twist on the traditional Italian pudding with a unique touch of espresso and salted caramel, topped with a dollop of hazelnut gelato, and a side of crunchy chocolate biscotti.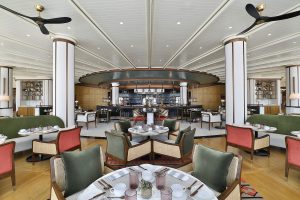 Waking up early, we were ready to tuck into the lavish breakfast buffet and à la carte menu at Bywater. Order your choice of juices, coffee or tea and marvel at idyllic beach and pool views throughout your experience. We perused the menu and ordered the artfully plated Wild rice nasi goreng, as well as the scrumptious Lamb meatballs topped with spicy tomato sauce and feta cheese, served alongside a fried egg. A beeline toward the display spread features a breakfast cereals section, a wide selection of salads, pastries including Za'atar croissant, Chocolate croissant, Arabic manakish, and Walnut halwa muffins, a salads section, and plenty more. We tucked into the delectable Shakshuka, followed by Hash browns and Beef chipolata for a joyful end to our breakfast.
Facilities
For those seeking relaxation and recreation, the hotel features three swimming pools, including one for adults, one for families, and another for children, as well as a dedicated FlowRider surf area, Aloha Surf Club. Kids can make their way to the Wadi Lusail Waterpark, which boasts various water slides, play areas, and an exciting adventure trail. If the little ones are looking for something creative, discover the outdoor playground and immersive Kunuz Kids' and Teens' club for a range of activities, from imaginative arts and crafts to cultural engagement.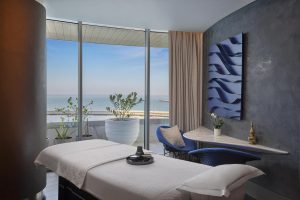 The five-star hotel is also home to ESPA Life, offering a range of wellness and spa treatments to rejuvenate during the holidays. My partner and I both booked the ESPA bespoke beauty intensive facial massage, which aims to deeply cleanse, hydrate, and renew the skin using the spa's high-end products. The experience begins with a gentle scrub followed by a cleanser and refreshing face mist to prepare the skin for the massage.
The massage itself is incredibly relaxing, accompanied by soothing music to calm the mind. The therapist applies a clarifying clay mask to brighten the skin and target pigmentation while simultaneously massaging the scalp for added relaxation. The session concludes with an eye-soothing gel to reduce dark circles and puffiness, as well as a nourishing lip balm, optimum skin serum, and a balancing moisturizer to leave your skin glowing and revitalized. After the massage, we were taken to the lounge to explore its various amenities including a vitality pool, sauna, steam room, and plenty more.
Book now
The King deluxe one-bedroom suite is available from AED2,479 per night. Call +974 4456 5777. Visit website.