The perfect summer getaway awaits at W Dubai – The Palm
Nestled along the pristine shores of Palm Jumeirah, this exceptional 5-star resort invites you to bask in the sun on its private white-sand beach, take a dip in adult-only pools, and partake in dedicated family activities, all while being treated to breathtaking views of Dubai's iconic skyline.
Setting the tone for a unique arrival, a golden cocoon adorned with date palm fronds and rainbow ceramic tiles welcomes you. Stepping into the atrium lobby, don't miss the traditional Arab architecture, reminiscent of mud-walled structures with minimalist openings. A cubic chandelier spans the atrium, transforming its ambience from day to night, while natural light pours in through glass windows in the ceiling, intertwining with the illuminating installation. Following a seamless check-in, we were personally guided to our accommodation for our enchanting retreat ahead.
Accommodation
The expansive Wonderful Room exuded opulence at every front, from coloured glass-tiled walls to captivating urban-inspired graffiti, and awe-inspiring vistas of Palm Jumeirah. In the centre, you'll notice a comfortable King-size bed and an inviting sofa bed beside, ensuring ample space for relaxation.
Entertainment is at your fingertips with a Bluetooth speaker and TV at your disposal, offering a range of channels including international cable/satellite options. Every room further boasts a freestanding tub and a standalone shower, accompanied by Davines' fragrant bath amenities. Our room's balcony overlooked the vibrant WET Deck featuring upbeat music, setting the stage for the day's adventures. Tempted to explore the outdoors, we quickly made our way to the sprawling pool for the rest of our afternoon.
Culinary highlights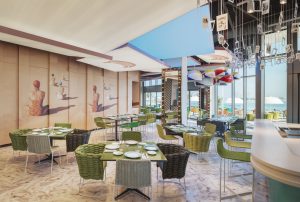 Entering Torno Subito for dinner, we embarked on an indelible gastronomic experience curated by the renowned Massimo Bottura. The restaurant's design is a whimsical journey through time, with woven green chairs and metallic accents adorning ceilings and walls. The lighting, reminiscent of dressing rooms and marquee lights from Hollywood's golden age, adds a touch of glamour to the atmosphere. Taking inspiration from his cherished childhood holidays on the Italian Riviera, the dining venue offers an incredible à la carte menu and meticulously crafted set menus to choose from, each a journey through Italy's flavours with a contemporary twist.
To start, we ordered the Ostrica – two slightly steamed oysters adorned with black caviar and a shallot vinegar glaze, served with puffed black rice chips. The flavourful Cavatello riviera, featuring hand-crafted cavatelli pasta with succulent carabineros prawns, Sorrento lemon, and paprika, as well as the aromatic Tagliatelle al ragú, traditional egg pasta with Massimo's favourite hand-chopped wagyu ragù, was a comforting meal which my dining partner and I thoroughly enjoyed as soon as it arrived.
For our main courses, we savoured the rich flavours of Astice – a seared Brittany lobster accompanied by Sardinian fregola with "scapece" style sauce, bisque reduction, and a mini black ink calzone with spicy lobster tail. The highly recommended wood-fired Diavola pizza was a delectable delight, featuring san marzano tomato, fiordilatte cheese, spicy salami, and fresh basil, complemented by a side of Patate fritte – golden fried potatoes with lime mayo. And of course, no dining experience is complete without dessert.
We indulged in the Tiramisubito!, an extra-light tiramisú masterpiece featuring mascarpone, espresso, chocolate crumble, all topped with a gorgeously plated chocolate crust and embedded with the dish name. The Tre cioccolati, offered a harmonious symphony of chocolate textures including a brownie infused with salted caramel, topped with chocolate crumble, and a delicate chocolate drizzle.
We started the next day at the all-day venue Liv, where an array of breakfast options awaited. The experience was nothing short of epicurean, with a playful and lavish spread that included a tempting yoghurt counter, a vibrant porridge station adorned with multi-coloured toppings, and a personalized made-to-order eggs station, among many other treats. As my partner and I settled in, we opted for a satisfying selection that included delectable omelettes, cauliflower fried rice, succulent chicken sausages, sautéed mushrooms, and perfectly crispy hash browns.
Our exploration further took us to the yoghurt station, where we indulged in the rich flavours of sumptuous blueberry yoghurt. Meanwhile, my partner's choice leaned towards the sweetness of pancakes adorned with delightful toppings of Nutella and Oreo cookie bites. Don't miss the fresh juice spot and the inviting tea & coffee station, offering a variety of refreshing drinks.
After a relaxing visit to the steam room at AWAY spa, we headed to the extraordinary Sunday brunch experience at Akira Back, where the restaurant's ambience comes alive with cloud-like structures on the ceiling, wabi-sabi (a Japanese art form of embracing beauty in imperfection and simplicity) finishes, and art pieces that resonate with the chef's personal touch. The weekend brunch offers a sharing-style lunch complemented by bottomless beverages and a breathtaking backdrop of the Dubai Marina and the Arabian Gulf. Live entertainment sets the perfect mood to indulge in an array of mouthwatering dishes that promise to tantalize your taste buds. For vegan enthusiasts, worry not – a thoughtfully crafted selection of vegan delicacies ensures a remarkable dining experience tailored to your preferences.
Discover the artistry of sushi with the sushi platter, featuring highlights such as AB nigiri – the chef's choice of premium nigiri sushi, and Cow-wow, a tantalising braised short rib with Asian slaw. The feast continues with an array of cold starters, including the iconic Tuna pizza with umami aioli and white truffle oil, and the New carpaccio, a symphony of sashimi with yuzu soy and crispy garlic. Our favourites were the Tuna truffle ceviche, featuring truffle, yuzu, and casava chip, as well as the vibrant Crispy Korean salad with Korean chilli dressing.
As the journey unfolds, the hot starters were promptly presented, a collection that includes Rock shrimp tempura with amazu ponzu, AB beef bao with ssamjang, and the sweet yet savoury Korean fried chicken.
The culinary adventure reaches its zenith with desserts, including the exquisite Chocolate in a cup, a combination of gianduja cake, banana foam, and vanilla gelato, and the crispy Apple harumaki, featuring cinnamon cream cheese and toasted vanilla bean gelato.
Facilities
W Dubai – The Palm provides a gateway with UAE-based tour group Arabian Adventures for tourists looking to explore the country. After immersive days exploring Dubai, guests can unwind and recharge with the resort's diverse facilities. From a grand outdoor pool and state-of-the-art fitness centre to rejuvenating spa treatments, every member of the family is catered to. For those seeking top-tier hairstyling and beauty services, the renowned Rami Jabali Salon awaits on the ground floor.
Experience a fashion and homeware haven at W The Store, curated in partnership with locally-based Sauce & Cities or head to AWAY Spa, which boasts ten treatment rooms, a steam room, a sauna, experiential showers, a hammam, and a couples' suite. Alongside its tranquil ambience, the spa also features a Beauty Bar for touch-ups and 'Quick Fix' treatments, ensuring a holistic and rejuvenating experience.
Book now
The Wonderful Room is available from AED1,030 per night. Visit website.