This upcoming addition, known as Anantara Santorini Abu Dhabi Retreat, is set to open its doors in the fourth quarter of 2023 with the option for exclusive full-resort bookings
This elegant extension to Anantara's expanding Middle East portfolio is situated in Ghantoot, a pristine coastal enclave nestled roughly midway between Dubai and Abu Dhabi. Offering uninterrupted vistas of the Arabian Gulf, it stands in contrast to the towering cityscapes in both directions. Anantara Santorini is conveniently located a 25-minute drive from Dubai's Al Maktoum International Airport and a 35-minute drive from Abu Dhabi International Airport.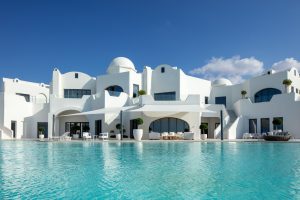 Designed to mirror the iconic architecture of its namesake island, the resort's low-profile white structures seamlessly blend with the natural surroundings. Within these buildings, guests will discover an array of ultra-private accommodations featuring spacious interiors, sun-soaked terraces, and breathtaking sea views. The opulent spaces are adorned with refined decor, characterised by soft, neutral furnishings that extend throughout the resort.
Visitors can indulge in relaxation on the resort's private beach, take in the expansive outdoor pool with Gulf views, and enjoy private cinematic screenings on demand in the indoor cinema, complete with late-night movies paired with custom gourmet cuisine. Bespoke spa treatments can be savoured in private beachside cabanas, and the 24-hour butler service ensures that guests' every need is met around the clock.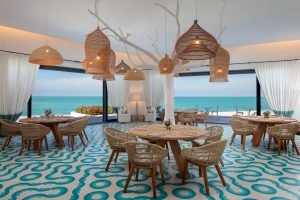 Anantara Santorini's culinary offerings include an upscale restaurant dedicated to the region's heritage, highlighting local ingredients and spices. In keeping with the property's theme, an ocean-side restaurant will serve delectable Greek dishes. Evenings can be spent at the bar, where a wide array of beverages will be served into the late hours, accompanied by ambient music spun by a DJ.
This exciting addition in the United Arab Emirates marks another step in Minor Hotels' expansion efforts in the Middle East. The company currently boasts eight Anantara hotels and resorts in the UAE and a total of 11 in the wider region, with a global portfolio comprising 26 properties across five different brands. Furthermore, Minor Hotels has a robust pipeline of upcoming projects across various brands, including future properties in the UAE, and Qatar, and upcoming debuts in the Kingdom of Saudi Arabia and Bahrain.