From breathtaking views to exquisite amenities, Conrad Abu Dhabi Etihad Towers offers a pristine getaway in the capital
Home to 12 award-winning restaurants and bars, a 74th-floor observation deck, three outdoor pools, a private beach and a vibrant spa, the iconic Conrad Abu Dhabi Etihad Towers is hard to miss your staycation bucket list in the country. Expect to be mesmerized by the towering landmark from afar but be warned the splendour experience is only just the start of the luxury getaway.
The entrance welcomes you to an ultra-spacious lobby adorned with lavish decor, high ceilings, neutral tones, sprawling carpet motifs, and natural light falling through the hotel's glass-panelled atrium. Once through with a quick check-in, we were met with an expansive corridor guiding us to the exquisite amethyst-encrusted lift that ascended to our suite.
ACCOMMODATION
The hotel features 377 chic, stylish rooms, suites, and serviced residences including deluxe rooms, interconnecting rooms for families, two-bedroom suites, four-bedroom suites, and plenty more. Apt for three adults, the King Junior Suite features an extravagant accommodation with a spacious area with an extended workspace, beige interiors with framed photos spotlighting UAE's rich history, a king-sized bed, widescreen TV, centralized light and curtains remote control, a plush sofa spanning across the suite's windows, 24-hour room service, and ample storage space for longer stays.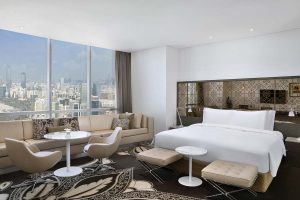 What caught our eye was the floor-to-ceiling windows serving unrivalled vistas of the city and the Arabian Gulf. The elegant bathroom is complete with luxury amenities from Byredo, a tub against a mosaic accent wall, and a dedicated shower room within. For those looking to stay in and order from the comfort of their rooms, a private dining menu brimming with a wide range of culinary delicacies is available.
CULINARY OFFERINGS
The drive from Dubai warranted a hearty lunch at the award-winning SOLE Ristorante, offering indoor and outdoor seating with an inviting ambience. To our delight, it was a breezy afternoon, so we opted to dine al fresco against the backdrop of the expansive swimming pool. The menu was soon presented by our server, who further enlightened us on the diverse Italian dishes and recommendations for an enhanced dining experience.
A Naples staple was served in a cocotte pot, to begin, starring a wood-fired eggplant parmigiana layered with tomato sauce, buffalo mozzarella, and fresh basil; and Made in Sud fried calamari comprising crispy calamari shrimps and white Mediterranean baits with a side of savoury Garlic lemon aioli. Mains starred a classic Pasta al forno, prepared from scratch by the team at SOLE, featuring wood-fired baked pasta with meat ragout, bechamel and scamorza cheese.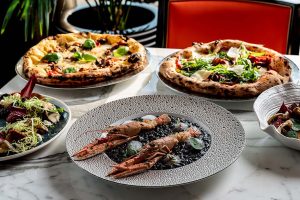 The magnificent dish was without a doubt one of the best pastas we've ever had (and probably why you'll see us making frequent trips to the capital.) This was followed by a decadent, crisp Italian-style Capodimonte pizza with burrata cheese stracciatella, beef prosciutto, and parmesan flakes was an exquisite explosion of flavours. For dessert, we feasted on the traditional tiramisu, served in a mini glass jar. Even though we were quite stuffed, we were tempted to order a second and third serving of the signature Italian favourite.
We woke up early the next day for a sumptuous buffet breakfast at Rosewater. Adults and kids alike can expect an extensive selection of breakfast favourites featuring a live pancake and waffle station, a fresh juice stand, and a dosa station. Start off with your choice of juice, coffee or tea alongside a fresh fruit platter and viennoiseries before moving on to diverse delights.
The widespread buffet is divided into multiple cuisine specialties catering to every diner's palate – Arabic station for Foul mudamas, Baked shakshuka, Grilled Halloumi cheese, and Falafel; Asian station for Congee, Broccoli and tofu with ginger sauce, Wok-fried vegetable noodles, Chicken naban with Japanese tartar; Western station for sauteed mushrooms, roasted potatoes, and boiled eggs; and Indian for Pongal, lemon rice, and Chole masala. Our favourite was the unique honey station featuring a honeycomb for diners to scrape. After breakfast, we headed down to the private beach, choosing to lounge for a bit before a cooling dip.
FACILITIES
The five-star hotel is equipped with a wide range of amenities, from premium shopping outlets and state-of-the-art fitness facilities to luxurious spa services and a private beach with lounge beds. Before the drive back to Dubai, we reserved a relaxing massage treatment at Conrad Spa. With 13 treatment rooms, rain showers, couples suites, and plenty more at the exuberant spa, guests can explore a range of offerings from the extensive spa menu.
The experience starts with a series of well-being elements including a refreshing drink served with dates, followed by calming fragrant steam before being whisked to the treatment room. Commence the rejuvenating journey with an exfoliating foot scrub and then move to the heated spa bed for the massage. The 60-minute Platinum ultra-lift massage uses AMRA Skincare products to provide a relaxing experience, tailored to specific areas of concern. The massage aims to release tension and stress within the muscles using the body oil, catered to anti-ageing and includes Vitamin B3 for dry and sensitive skin. The body massage is followed by a soothing scalp massage with a fragrant hair spray.
BOOK NOW
The King Junior Suite is available from AED1,460 per night. Call +9712 811 5555. Visit website.