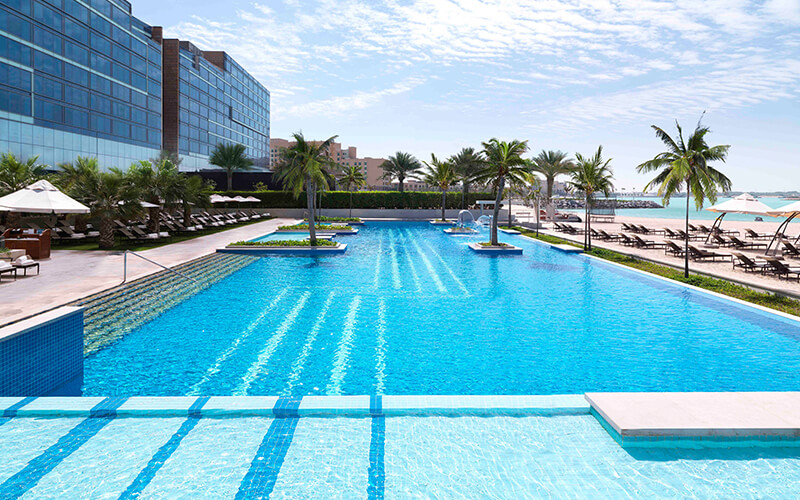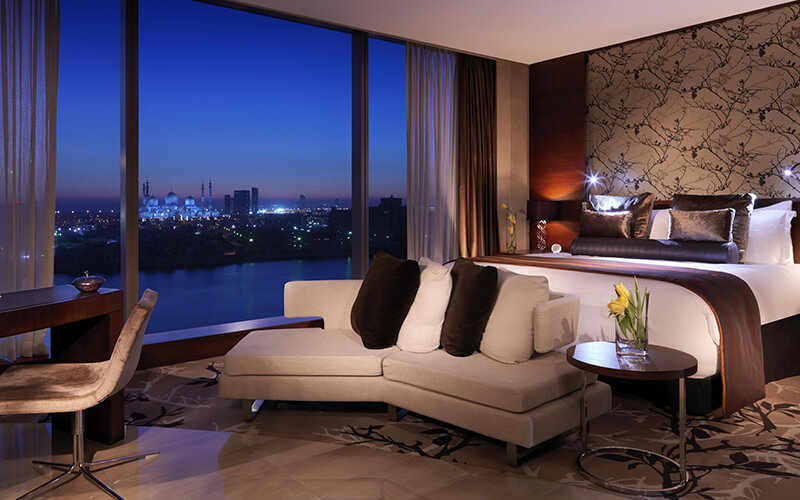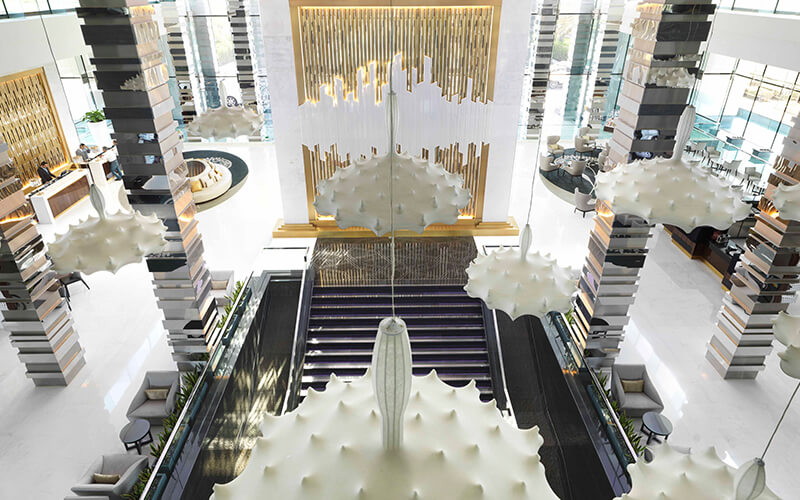 Fairmont Bab Al Bahr's striking exteriors can be spotted from afar when taking the short one-hour drive from Dubai to the UAE capital. The architecture involved in creating this geometric, futuristic-looking building is certainly impressive, and its blue glass and LED lighting modules are said to imitate the flow of water at the nearby Abu Dhabi Creek. Fitting, when the term "Bab Al Bahr" derives from the Arabic phrase meaning "gateway to the sea."
We check-in to our Fairmont View room on Thursday evening, just in time to catch the sunset from our room's floor-to-ceiling windows. The hotel rests on the Khor Al Maqta waterway separating Abu Dhabi from the mainland, with stunning views of the capital's primary attraction; the Sheikh Zayed Grand Mosque. There are no balconies attached to the hotel rooms, which is no problem for us as we're visiting during the summer months. However, I imagine this may be a deal-breaker for tourists wanting to soak up that holiday heat. Our room is decked out in luxurious gold and dark brown furnishings, with a king-sized bed, lounge area, desk and flat-screen TV. The bathroom features "his and her" sinks, a wet room with a rain shower and bathtub, and a separate toilet room.
The hotel's transparent glass elevator (again, showcasing uninterrupted mosque views) takes us to the lower lobby level, where we find numerous restaurants and access to the pool and beach area. Sun worshippers will be delighted to hear that there are sunbeds and cabanas on the beach as far as the eye can see. Surrounded by towering palm trees, the Olympic-sized pool, with a jacuzzi and dedicated children's area, is encased in its own peaceful, tropical oasis – during the day at least. As the sun goes down and the daily happy hour kicks off (4pm to 6pm) the volume gets louder as the adults-only pool bar gets livelier.
DINING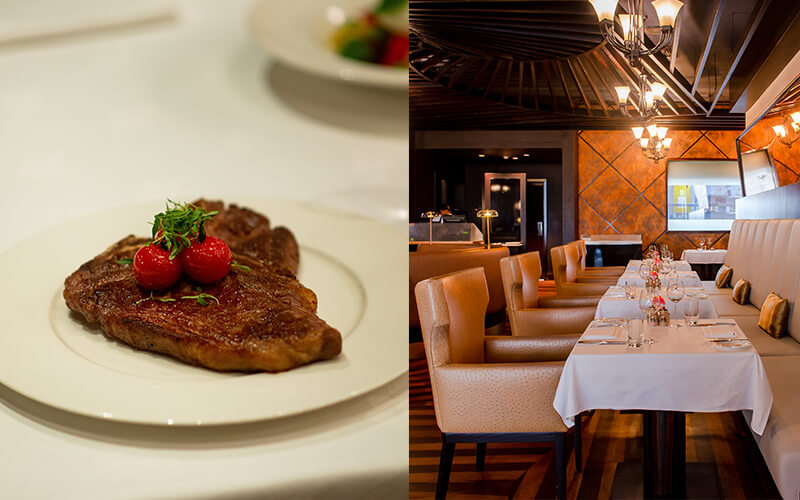 We head to Marco Pierre White's Steakhouse and Grill on our first night, eager to check out the British-born chef's first namesake restaurant in the region that opened back in 2009. It's a dimly-lit, classy venue which has been recently renovated, with a flame-lit feature wall and a dry-aging fridge to entice steak lovers. We enjoy a selection of high-quality dishes, and service throughout the evening is faultless. Read the full dinner review here.
Breakfast the next morning is served in CuiScene, the hotel's international all-day dining restaurant. It's an impressive buffet selection, with delicious made-to-order eggs on offer, a wide array of pastries and sweets, as well as plenty of fresh fruit, yoghurt and cereals for those looking for a lighter option.
Breakfast closes at 10:30 sharp, and in what feels like the blink of an eye, CuiScene (and its neighbouring restaurants) are transformed into a combined venue to host one of the largest brunch spreads I've ever seen. Incorporating CuiScene, Marco Pierre White's Steakhouse & Grill, and The Sports Café – which are all conveniently located on the same corridor, the Fairmont Friday Brunch serves up more than 200 delicacies, so there's certainly no shortage of choice at this 4-hour affair.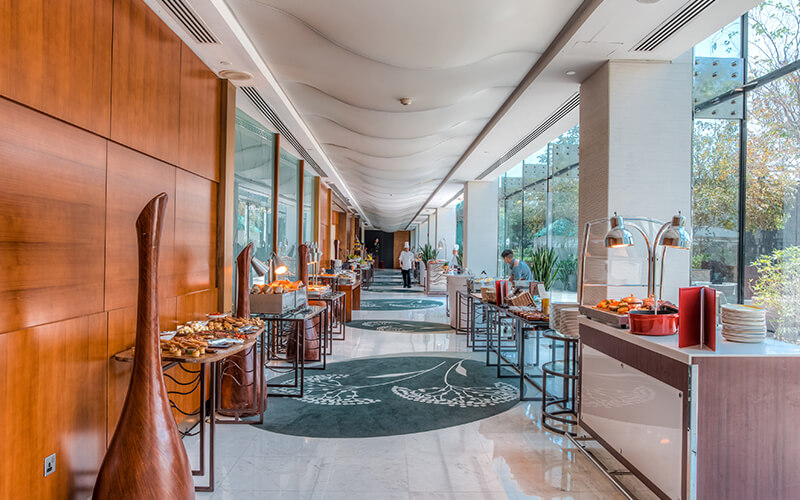 Making our way through the numerous live cooking stations along the corridor, which range from freshly shucked oysters and made-to-order kebabs, to fresh pasta and pizza making stations, we quickly realise we're going to have to be tactical at this brunch if we are to try as many dishes as possible. Small portions will be key here. Before long, our plates fill up with "a bit of this, a bit of that" – an attitude I tend to try and avoid at buffet brunches. But with a selection as vast as this, it's hard not to fall into the trap. Nevertheless, the quality of dishes served at the brunch is of a great standard. Highlights include the special of the day from Marco's – the prime tenderloin with mashed potato and roasted root veg. The beef is lightly seared and served pink; just how I like it. There's an impressive seafood selection on offer too, with the grilled lobster, fresh langoustines and crab sticks ranking as the best bits for me.
Live music plays throughout the afternoon, adding to the upbeat, bustling atmosphere of the brunch. But the party doesn't stop at 4pm. Pack your swimsuit for this one, as pool and beach access is included in the price, meaning guests can enjoy a mini daycation to kick-start their weekend. The pool bar quickly fills up, but there are plenty of quieter spots to enjoy the sunset if you're after a more relaxed post-brunch vibe.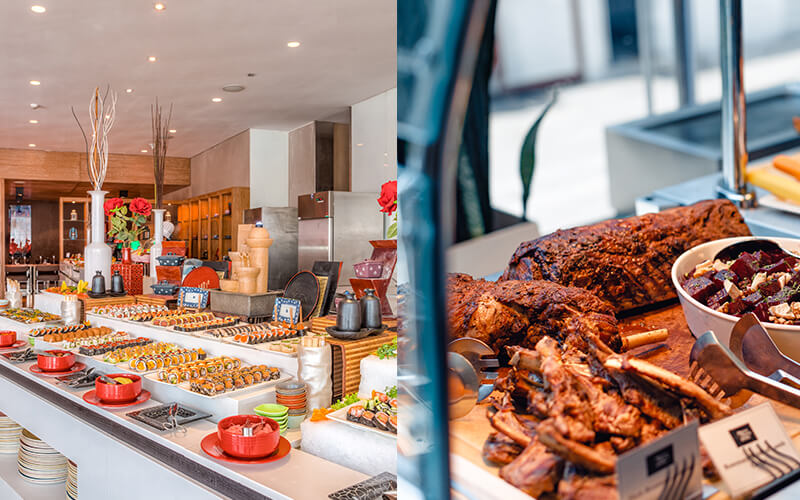 The Fairmont Friday Brunch is one that the whole family can enjoy, especially as kids can enjoy their own buffet area alongside an afternoon of fun-filled entertainment, courtesy of KidzFactory. Packages start at AED 345 per person, inclusive of soft beverages.
Details: To make a dining reservation at Fairmont Bab Al Bahr, email dining.bab@fairmont.com or call +971 2 654 3238. For hotel stays, contact +971 2 654 3000. If you enjoyed reading this article, you may be interested in reading more of our UAE hotel reviews here.