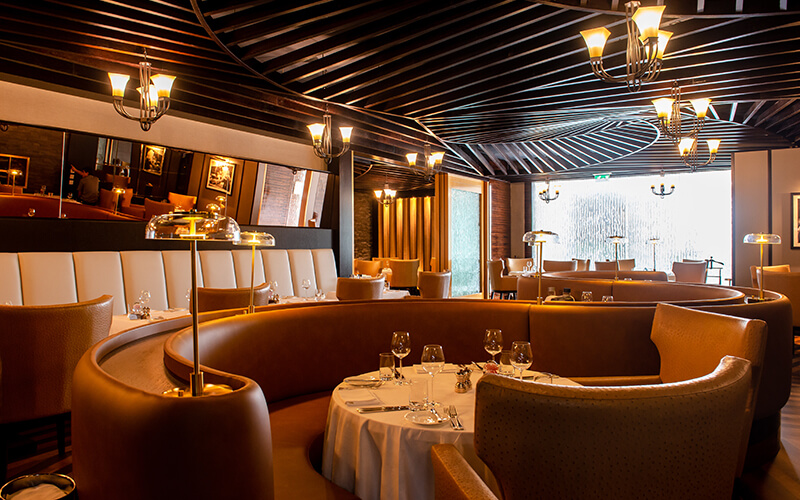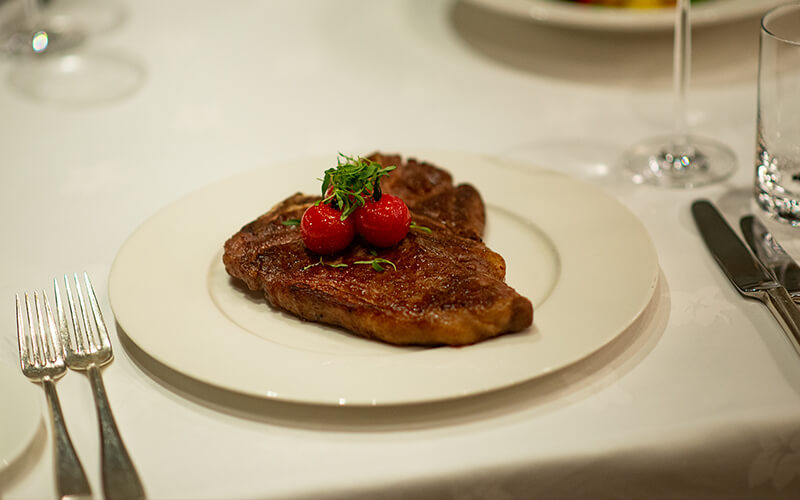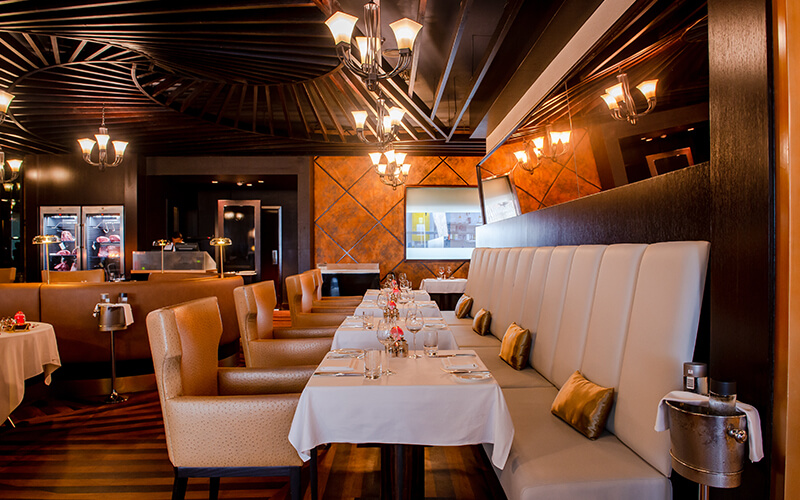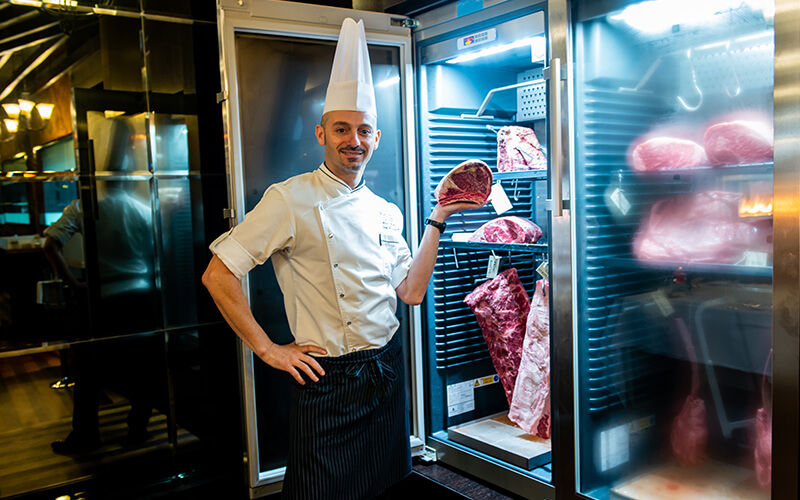 What's it like?
Marco Pierre White, the British-born chef, restauranter and TV personality, first ventured into Middle Eastern market back in 2009, opening his first namesake restaurant at Fairmont Bab Al Bahr – Marco Pierre White Steakhouse & Grill. Tucked away on the lower-lobby level of the hotel, the recently refurbished eatery is a cosy, intimate dining venue that's perfect for a date night. It's dimly lit on the Thursday evening that we visit, with the main beam of light descending from the flame-lit back wall – adding to the venue's cosy ambience, despite the blistering summer heat outside.
The interiors are decked out in dark brown wooden furnishings, with large plush leather armchairs. The tables, which consist of large booths and individual tables, are sensibly laid out across the restaurant. A trivial observation, you may think – but one of my pet peeves is feeling as though you may as well have booked a table with your neighbour when restaurants cram tables so close to each other. Fortunately, MPW doesn't fall into this trap.
And just in case we didn't already have steak on the brain upon entering, we strategically take our seats with a direct view of the dry-aging fridge, and eye up the potential cuts on offer.
What were the food highlights?
While steak takes centre stage at the restaurant, there are plenty of options for the non-carnivores out there. The menu is divided simply into hors d'oeuvres, salads, soups, steaks, sides, mains and veggie options. To start, we try the baked Camembert and Hickory smoked beef ribs. Unfortunately, the Camembert doesn't have the gooey, molten centre I was hoping for. But what the cheese lacks, the ribs most certainly make up for. Melt-in-the-mouth meat that falls off the bone, smothered in a sweet BBQ sauce and served with a crunchy Russian slaw – the dish is utterly delicious. However, be warned; this portion is not for the faint-hearted and could've easily served as a main or a starter to share.
I'm sure it will come as no surprise to hear that we opted for steak as our main course of choice, but with a selection as good as Marco Pierre White's, I'd be shocked if you didn't do the same. With 10 cuts to choose from, including rib-eye, tenderloin, striploin and T-bone, there is something to suit everyone's steak cravings. The tenderloin wagyu is super tender and lean, cooked to my preferred temperature of medium-rare, and served with a hearty portion of pommes frites and a side of indulgent mac and cheese.
We also share the premium Master Kobe during our visit. Typically cut from the Wagyu breed of cattle, Kobe is densely marbled and highly rated on the grading scale. The beef is lightly seared and served medium-rare to our table, with each bite boasting an abundance of moisture and flavour. It is worth noting that this richness in flavour, created by the densely marbled strands of fat throughout the beef, make it a heavier dish in comparison to a leaner cut, but delicious all the same. All steak dishes are served with a choice of triple-cooked chips, pommes frites or a green salad with truffle dressing, with sauces and additional sides charged as extras.
Marco's strong English heritage is apparent throughout the menu, with British classics including chicken and leek pie, shepherds pie and fish and chips all featuring. For desserts, we try the Cambridge burnt cream, which Marco maintains has been around in Britain long before the French came up with the crème brulee, according to our waitress. Either way, it's as indulgent as its French counterpart, with a slightly salted burnt finish that cuts through the cream's sweetness.
How was the service?
The staff are faultless in their service throughout the evening. Nothing is too much trouble, and they ensure our dining experience is smooth-sailing from the moment we walk in.
The bottom line:
Marco Pierre White Steakhouse & Grill is a classy venue where impeccable service and high-quality food come out on top. If you're in the capital midweek, be sure to check out the Great Steakout. Taking place every Wednesday from 6pm till 10pm, guests are invited to choose from a selection of unlimited steaks throughout the evening. Prices start at AED 280 inclusive of unlimited steak, sides, sauces and soft beverages.
Details: To make a reservation, contact dining.bab@fairmont.com or call +971 2 654 3238. If you enjoyed this article, you may be interested in reading more of our restaurant reviews here.