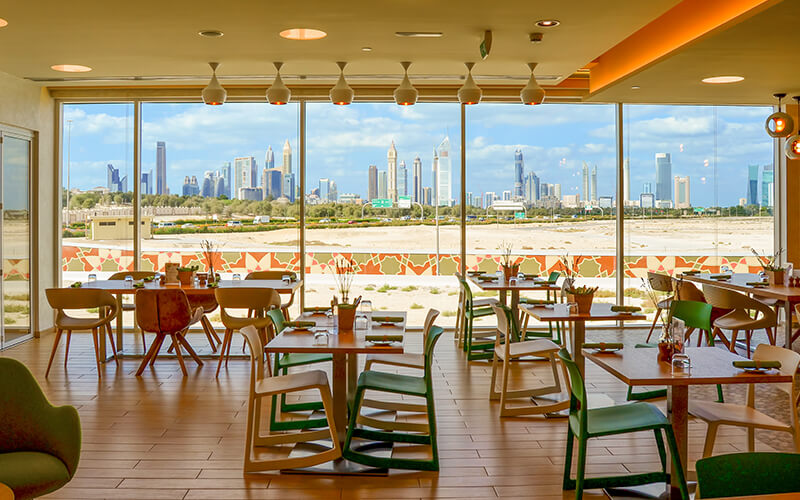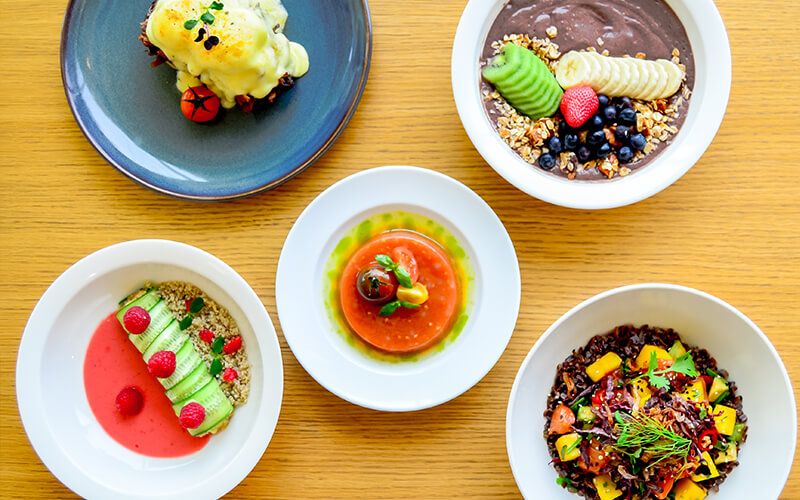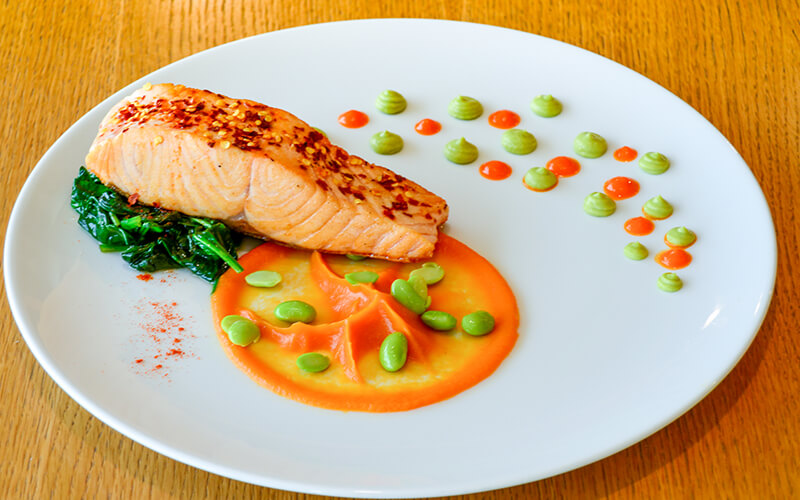 What's it like?
Situated at Dubai Herbal and Treatment Centre, with stunning views across Downtown Dubai and the Burj Khalifa, this bright and airy eatery is an ideal spot for a light lunch or a post-treatment meal. Serving up a menu that is every health-conscious foodie's dream, Eat Well's focus centres around providing dishes that are first and foremost packed with flavour, while catering to numerous dietary requirements – be it paleo, vegetarian, vegan or gluten free. After the launch of the restaurant's new summer menu, we head down on a quiet Thursday lunchtime to sample some of the latest nutrient-rich dishes on offer.
What are the food highlights?
To begin, we try the vegan-friendly sushi with raspberry vinaigrette. Four ultra-fresh, maki-style cucumber rolls filled with avocado, mango, and quinoa arrive at the table, which we enjoy with a sharp contrasting raspberry, maple syrup and lime dressing, presented in a striking pink swirl on the plate. I'm a huge fan of the salmon tartar, which is topped with flavoursome wasabi caviar and green peas, adding a pop of colour to the dish. The portion is on the large size, so perhaps one to share if you have a fellow tartar lover with you!
But if you haven't time for three-courses on your visit, head straight for the mains. The spiced salmon is the highlight for me, served with wilted spinach, confit tomato, sweet potato puree and edamame. This dish is packed with flavour, and cooked to perfection – juicy, tender and beautifully seared. The seabass with lemon risotto is also a hit; fall-apart pan-fried seabass (with that all important seared crispy skin) served on a bed of melt-in-the-mouth Arborio rice – a superb dish.
With room for one more course, we browse the sweet menu – and quickly realise that dessert at Eat Well need not be an indulgent affair. Of the five choices (which are all vegan friendly), only one is listed as containing sugar – the citrusy meringue, served with passionfruit puree, orange, lemon and grapefruit. This stole the show for us (and I refuse to believe it is because of its sugar content…) but the fondant is also a must-try for chocolate lovers.
The bottom line:
For those looking for a nutritious, flavoursome meal – all while not carrying the burden of guilt after an indulgent dinner out – then Eat Well is the ideal spot. Every Friday, the venue also hosts a healthy brunch from 11.30am to 3.30pm, which is perfect for the whole family – there's even a dedicated children's room with professional caretakers to keep the little ones entertained.
Details: For more information or to make a reservation, call 054 476 6326 or e-mail info@dubaieatwell.com. If you enjoyed this article, you may be interested in reading more about Eat Well's offerings here.