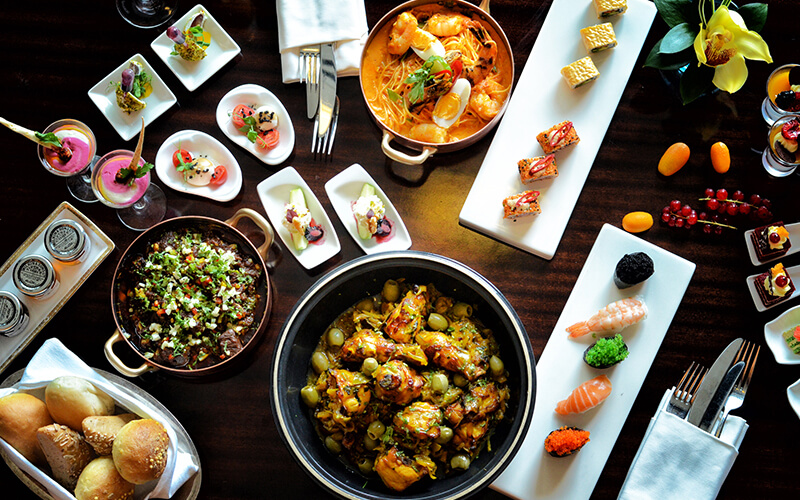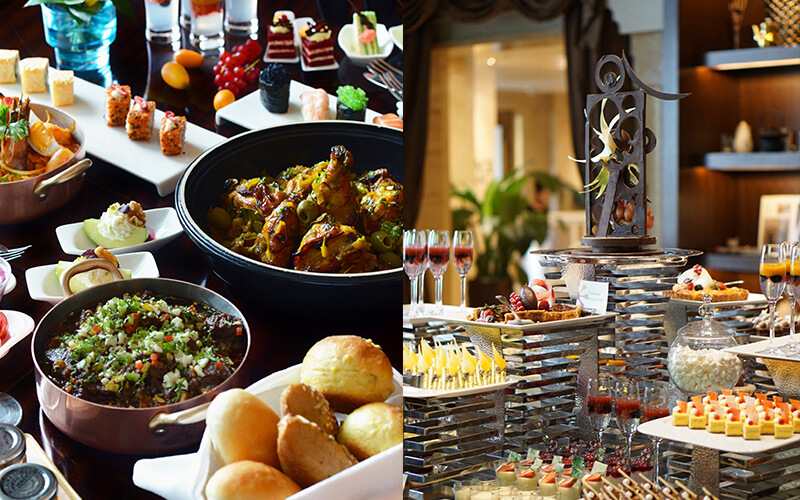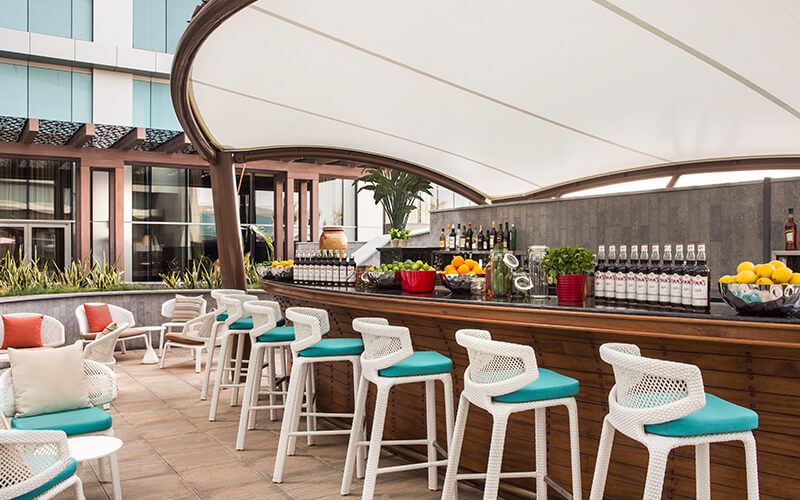 What's it like?
To say that The Terrace on the Corniche is The St. Regis Abu Dhabi's all-day dining restaurant, you certainly wouldn't think that upon arriving for the Friday brunch offering at this luxurious resort. The brunch experience begins in the hotel's self-titled bar at 12:30pm, where large leather arm chairs and a mahogany bar area add to the venue's classy, old-fashioned library feel. Here, we're welcomed with a 30-minute drinks reception, where guests are encouraged to sit-back, relax and socialise with other diners ahead of the main event at 1pm. I'm a huge fan of this laid-back introduction to the afternoon, as it slows down the furore that is normally involved in getting to brunch on time and being in your seats precisely when the clock strikes the hour, to ensure you're not missing out on any of the action.
What are the food highlights?
The Terrace on the Corniche serves up a lavish buffet for its Friday brunch diners, and an extensive number of colourful dishes and elaborate cuisines catch my eye as we make our way through the main dining area to our table outdoors.
We begin with a selection of small appetisers, with highlights including the watermelon feta salad (a fool proof combination, in my opinion), a juicy prawn cocktail, beetroot hummus and seared smoked salmon. Next up, we begin our tour of the live cooking stations, where fresh pasta is prepared in front of our eyes and tender roast meats, including parmesan crusted roast beef, salt-crusted salmon and roasted prime ribs, are served at the carvery station with all the trimmings. At the mains counter, don't miss the seabass roulade – tender, flaky fish filled with a rich cheese sauce, which goes perfectly with the potato gratin if you're after the ultimate indulgent dish. Lamb chops and fillet steaks are also available and cooked on request – mine was seared perfectly for my preferred medium-rare cooking style.
A few courses in, and we're beginning to feel quite full – and the idea of heading back to the buffet seems daunting. To our delight, small servings of delicious dishes – including scallops, foie gras and mushroom risotto are all brought to our table in relatively quick succession.
Remember to save room for dessert, as you won't want to miss sampling a selection of treats from the dedicated dessert and cheese rooms before you leave. Head back towards the St. Regis Bar for an impressive selection of sweet treats and live cooking stations on offer, including freshly made American pancakes and waffles. Highlights include the solid chocolate logs, donut trees and free-flowing chocolate fountain, with an expansive pick'n'mix section for dipping.
How was the service?
Staff at The Terrace on the Corniche don't falter from the high-class service that you'd expect at a venue as grand as The St. Regis. Waiters and chefs alike are extremely accommodating and are on hand to offer us recommendations throughout the brunch.
The bottom line:
For a buffet brunch, The Terrace on the Corniche ticks the boxes in delivering a great selection of well-executed and thoroughly enjoyable dishes. What's more, despite the hotel's grandeur, this Friday brunch is surprisingly laid-back, making it the ideal option for families or those looking for a quieter afternoon in the capital.
Want to go?
Brunch packages start from AED 345 inclusive of soft beverages. For reservations, please email restaurants.abudhabi@stregis.com or call 02 694 4553.