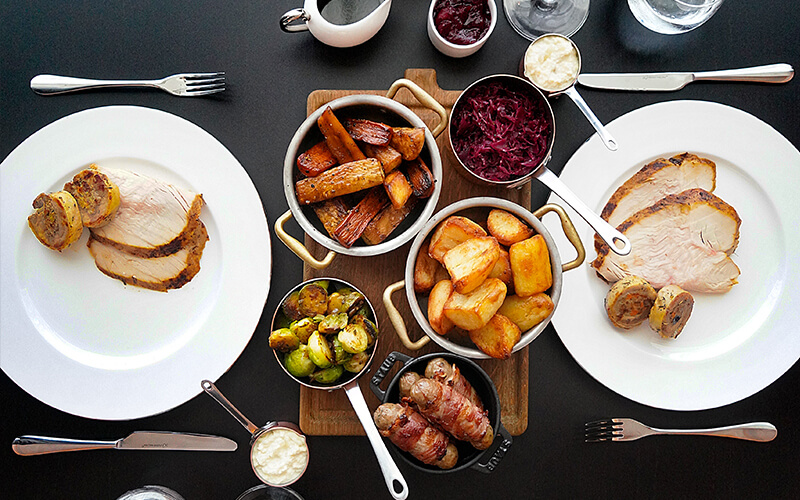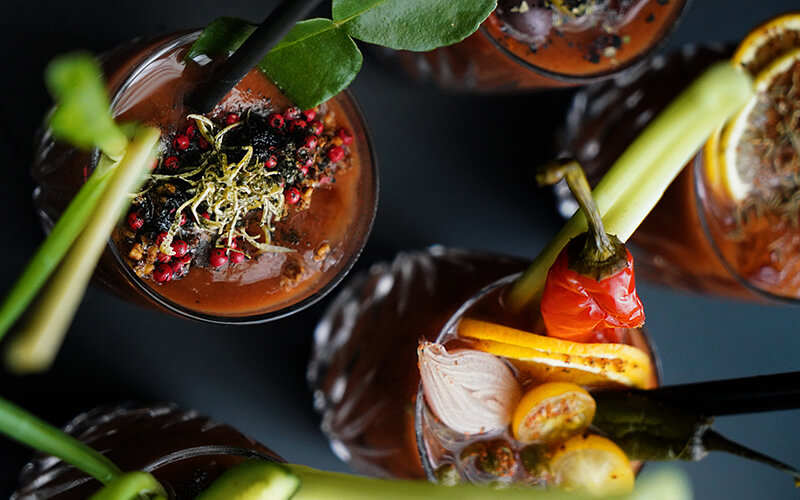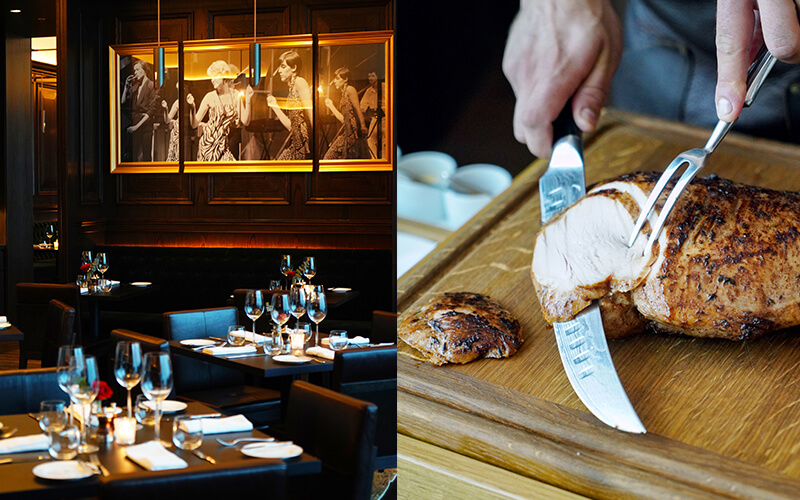 Reviewed by Giorgia Guantario
What's it like?
Hidden behind a dark wooden entrance at the lobby level of the stunning Abu Dhabi EDITION, the Oak Room is a sophisticated, yet surprisingly informal steakhouse with a rock'n'roll vibe. We are welcomed by a friendly member of staff who escorts us to our table, passing in front of an impressive bar before reaching the dining area. The dark wood is a recurring motive throughout the restaurants, but the huge windows counterbalance this choice by letting in a great deal of natural light. Black and white photos of Mick Jagger and David Bowie adorn the walls, and sitting on the dark green velvet banquettes, we can't help but feeling like we are back in a fancy pub in the middle of London – just with better weather.
What are the food highlights?
The weekend roast menu is very straightforward, and we appreciate the decision to respect this British tradition without any frivolous additions. The menu doesn't feature any starters, not that it needs any, except for some warm sourdough bread and homemade Marmite butter, served with one of the best Bloody Mary's we've ever tried. It's fair to say I am not usually a fan of Marmite, but Oak Room's butter would change anyone's mind on this yeast-based spread – the butter is light and silky, while the Marmite flavour is subtle, but still rich in umami. However, if Marmite is definitely a no, this can also be swapped for normal butter.
For the main course, the menu offers an option of beef, roasted lamb shoulder with spinach stuffing, roast chicken, salmon fillet or a vegetarian roast – all served with classic staples such as roast potatoes, Yorkshire pudding and roasted vegetables. We opt for the beef and lamb shoulder – while the second is plated in the kitchen, the beef is served off a wheeling trolley and carved right in front of us. The experience itself is brilliant, as the meat sommelier tells us more about the beef and carefully plates it. The meat is the real star of the roast – it's perfectly cooked, flavoursome and melts in your mouth. The mains are accompanied by a huge Yorkshire pudding and crispy roast potatoes. The roasted vegetables, which include very well-seasoned and crunchy green beans, carrots and celeriac, and the cauliflower cheese, are elegantly served in small saucepans. The portions are just right, and whilst we are tempted to try another main, we are glad to have left some space for the delicious desserts that followed.
Before presenting us with an array of mouthwatering desserts drawing on British and French traditions, our friendly waiter explained they had changed the offering slightly for Valentine's Day. From a simple, yet delicious crème brûlée, to a romantic, heart-shaped Mille Feuille, we struggle to choose a favourite – at least until we are presented with the most impressive version of a Vacherin we've ever seen. The Oak Room's rendition of this French dessert features a pavlova-like structure, served inside a white chocolate sphere that melts under the heat of warm strawberry syrup and reveals a rose-shaped raspberry sorbet with a poached strawberry core. The mix of textures, temperatures and flavours is a delight for our palate.
To finish off, we are offered a selection of British cheeses, which we are told changes every week, served from another trolley, and accompanied by homemade crackers and the same delicious Marmite butter we began this incredible feast with.
How was the service?
The staff are friendly, helpful and well-versed on the menu. The trolleys are a great idea to keep guests engaged and give them an overall great experience that goes beyond a simple roast.
The bottom line: The weekend roast at Oak Room is a must-try for fans of a traditional British Roast. The main options are simple, yet delicious and mastered to perfection. The desserts, with their British and French influences, are a reason in itself to come back for another roast; while the welcoming staff and informal, yet elegant atmosphere make it the perfect place for families and couples alike.
Want to go? To make a reservation, call 02 208 0000 or email restaurantreservations.auh@editionhotels.com.
To read more of our UAE restaurant reviews, click here.