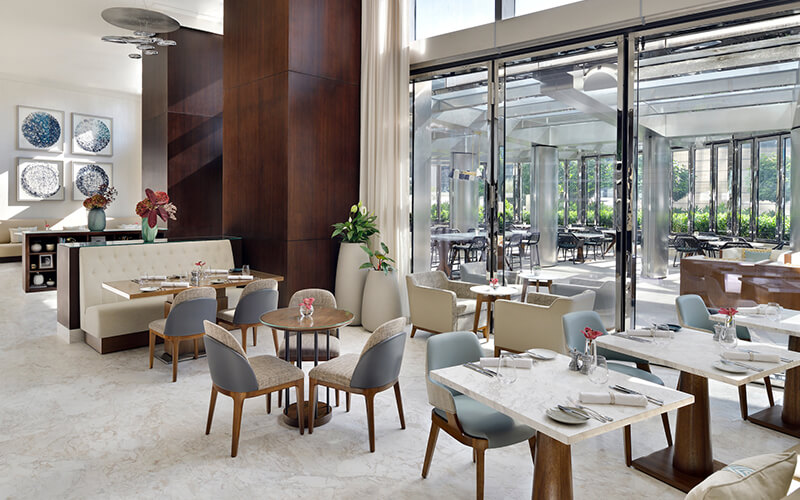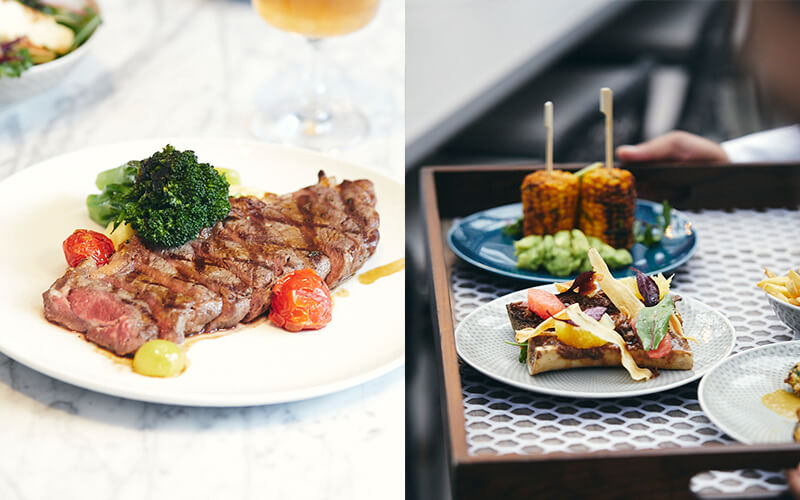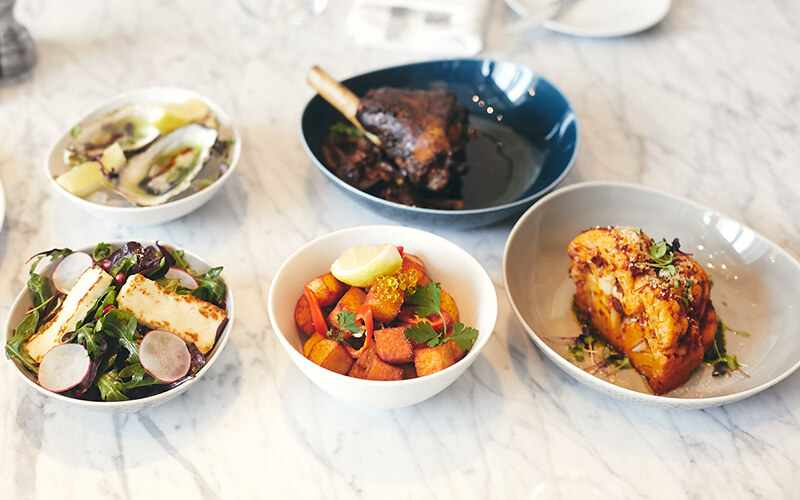 What's it like?
The newest addition to Downtown Dubai's glittering skyline opened its doors in late 2019. Helmed under Emaar Properties, Address Sky View offers a spectacular vantage point for stunning panoramic views from its rooftop infinity pool on the 54th floor. But don't be fooled in thinking that its jaw-dropping views are all that this luxury property has to offer. On the second floor, as with all Address outlets, is The Restaurant – the brand's all-day dining offering serving international cuisine. The expansive outlet is subtly divided into mini dining spaces to mirror the allure of a luxury home, from the Living Room and Dining Room, to the Library and Patio. The Restaurant's interiors are sleek and contemporary in keeping with the Address brand, but when offered a choice of where to sit, we make a beeline for the outdoor veranda and take our seats at a cosy table for two. Before long, we're soaking up the sunshine with a drink in hand as the live music begins to play.
What are the food highlights?
The new Friday brunch falls under the "sharing is caring" concept, with all dishes served directly to the table. The menu is divided into various courses, starting with "small bites", and progressing through "experimental" and "traditional" stages before concluding with dessert. The starters soon start to arrive, including smoked oysters, batata harra (spicy potatoes), halloumi and pomegranate salad, and miso-glazed eggplant. The eggplant comes out as the favourite, as we enjoy four caramelised pieces that sit atop a bed of hummus, pomegranate seeds and zaatar croutons – we only wish there were more!
Next up is the "experimental" course, where we see influences from international cuisines in each dish. The lamb shank is cooked to perfection, with a crispy outer shell and served tender and pink on the inside. It's presented with a Purslane salad (a leaf often eaten in African countries), Shimeji mushrooms and a fiery black pepper sauce, and is a well-rounded, tasty dish. The madai papilotte (Japanese perch) is utterly delicious. Cooked and presented to the table in a plastic pouch, the fish is beautifully cooked and bursting with flavour. Sadly, the chard wagyu striploin (despite this being what I was looking forward to the most) falls short in comparison to the other two dishes and is too chewy for my liking.
The "traditional" course features seven dishes, which we enjoy in two sittings. Highlights include the whole roasted spiced cauliflower, dressed in smoked paprika, arugula pesto and red chilli infusion to create a fiery, vegetarian delight. The chargrilled sweet corn is also a huge hit. Coated in a harissa mojo sauce and served with a hearty helping of guacamole, it makes for a deliciously moreish dish.
To finish, a trio of miniature desserts are brought to the table. The baked egg bubble waffle, topped with green tea ice cream, marshmallows, Oreo biscuits and chocolate sprinkles, is so simple yet so satisfying, I only wish the portion wasn't to share!
The bottom line:
Brunch at The Restaurant is a relaxing experience, filled with top-notch food and great service. As the afternoon draws in, be sure to head upstairs to the pool deck for a sundowner (you'll thank me once you see the view) or visit the newly-opened Ce La Vi for after-party vibes.
Details: Packages start from Dhs295 per person, inclusive of soft beverages. Premium packages are available. Call +971 4873 8888 or email dine@emaar.com for reservations. If you enjoyed this article, you may be interested in reading more of our Dubai restaurant reviews here.