Sponsored: Conveniently located just off Sheikh Zayed Road, in the buzzing Barsha Heights community, is The Grand Millennium Dubai. The luxury hotel is home to a number of vibrant venues, offering unmissable experiences both in terms of dining and nightlife.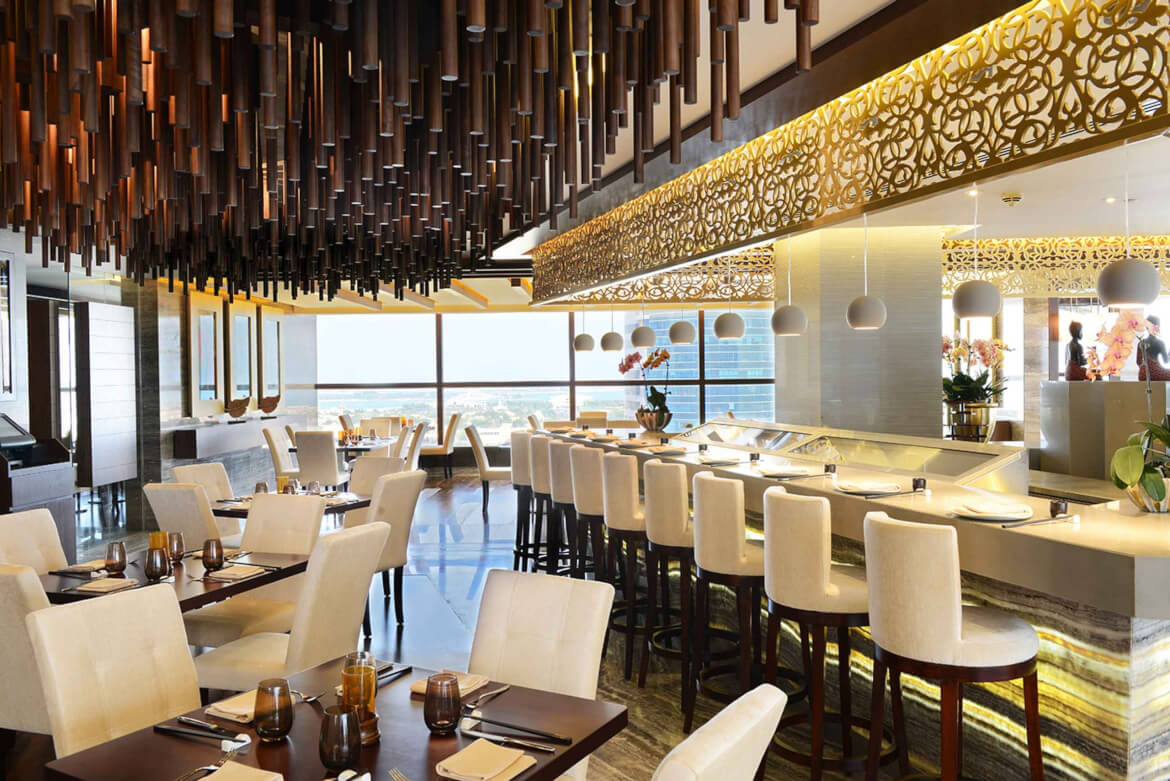 One such destination within the hotel is Toshi, a pinnacle in Pan Asian cuisine, featuring five Asian cuisines under one roof. We made our way to the elegant and modern restaurant to undertake a culinary journey through Thailand, Malaysia, China, Indonesia and Japan, in the form of Toshi Theme Nights.
Featuring the finest and freshest ingredients selected daily by the culinary team, Toshi Theme Nights offer an expansive selection of culinary delights and being a Wednesday, we could not wait to see what Toshi's Thai Night had in store for us.
Highlights:
We highly recommend a walk around the bountiful buffet, to get an understanding of what's on offer for the evening. This is because Toshi's Theme Nights boast an extensive assortment of light bites, heartier mains, comforting classics and even a live cooking station.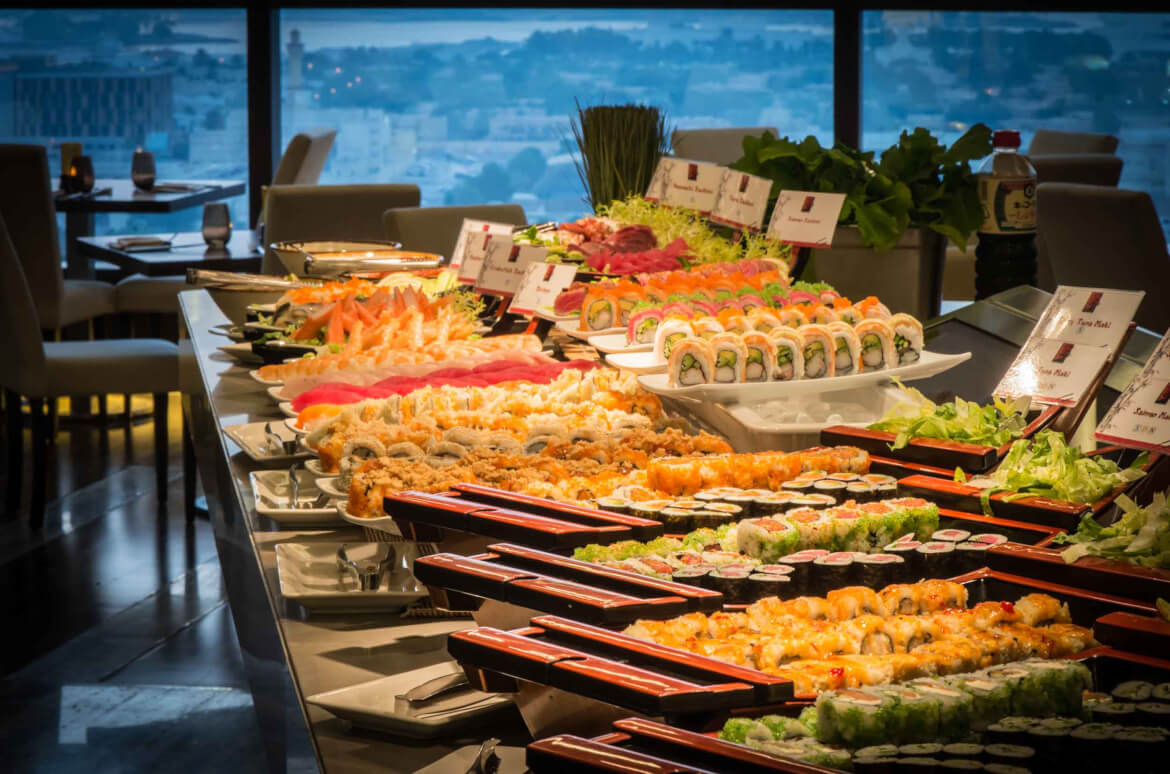 With my dining partner opting for a tall glass of Ginger ale on ice to start, I opted to tuck into a warm bowl of Tom yum soup. The hot and sour bowl of goodness was packed with shrimp, something that will definitely please the seafood lovers. If chicken is your choice of protein, opt for a cosy bowl of Clear chicken soup.
Spoilt for choice, we reached for servings of Prawn crackers, Assorted dim sum, Potato chips and Shrimp balls, dishes sure to keep the kids happy. The umami-packed Char siu chicken was a soft, succulent and perfectly cooked dish. We knew we were off to a good start.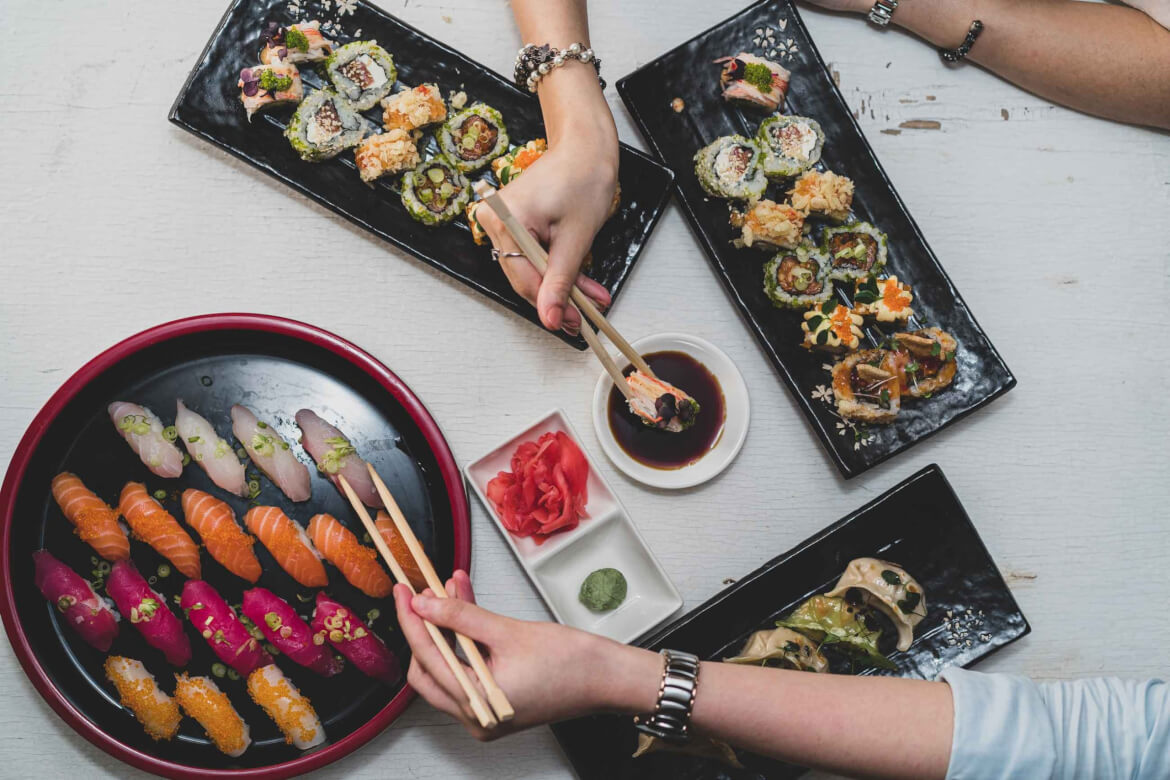 Taking a break from the hot section, we decided to pay a visit to the vast and impressive Sushi and Sashimi station. You will be tempted to try every single dish and we absolutely recommend that you do. With plates piled high with Tuna and Beef tataki and Kimchi, Seafood and a delightful Cucumber salad, we made our way to our table; before heading back for a round of California rolls, Ebi tempura and Futomaki rolls, Spicy tuna and salmon maki rolls and Steamed shrimps and mussels; followed by a helping of Cuttlefish, Hammour, Tuna and Salmon sashimi, accompanied by wasabi, pickled ginger, soy sauce, chilli sauce and more.
Fresh, buttery and lush, we polished every bit of the food from our plates. And this was only half of the dishes on offer from the buffet.
After a short breather, we made our way to the Live section featuring an array of ingredients in a variety of marinades. Pick a plate and the meat or seafood you would like to try, hand it over to the kitchen staff and after a few minutes, you can look forward to freshly-grilled skewers of succulent Squid, Mackerel, Hammour, Salmon, Lady Finger, Mussels, Sea Bass, Red Mullet, Prawns, Beef and Chicken.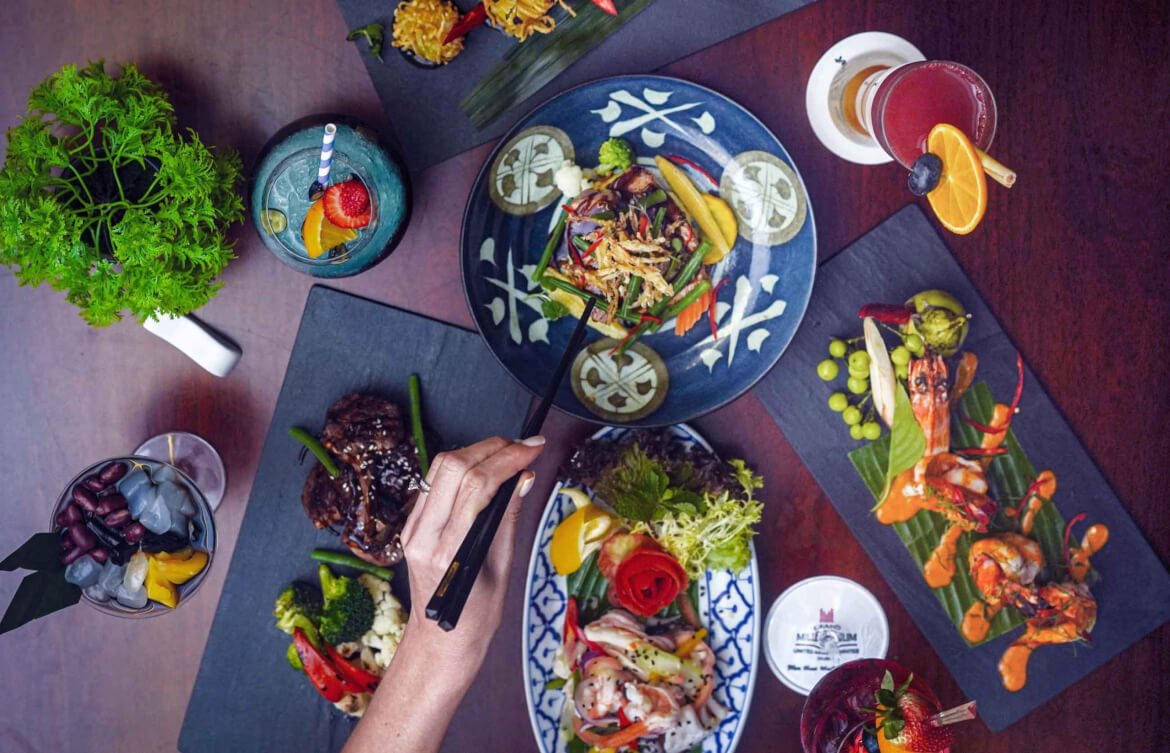 On to the mains, the counter offered Eggplant with a sweet chilli sauce, the much-loved Peking duck dish, Shrimps pad Thai, Steamed rice and an aromatic Green chicken in a creamy coconut curry – all must-try dishes while dining here.
Every great meal needs a great sweet selection to end and this is just what Toshi's Theme Nights offer. A sharing platter of fresh fruit, including Strawberries, Dragon fruit, Kiwi, Gooseberry, Pineapple, Watermelon and Sweet melon was served tableside. The selection also included an array of cakes such as Apple crumble, Orange and chocolate, Red velvet and Vanilla; together with desserts such as Chocolate mousse and Mango mousse. The pick-and-choose concept offered the perfect end to a wonderful evening.
The verdict:
A family-friendly restaurant that offers something for every palate. The welcoming venue is apt for mid-week feasts, casual meals, family get-togethers and gatherings with friends.
Book now:
Thai Night on Wednesday, and Sushi and Sashimi Night on Sunday, Tuesday and Thursday from 6:30-11pm at AED245 per person (inclusive of soft beverages and water) and AED299 per person (inclusive of free-flowing house beverages for three hours).
Asian Seafood Delight Night with live entertainment on Friday from 6:30-11pm at AED325 per person (inclusive of soft beverages and water). Hops and grape on a la carte menu.
Call +97155 561 2122 or email toshi.gmhd@millenniumhotels.com. Visit Instagram or the website.