Sponsored: Nestled within the five-star DoubleTree by Hilton Dubai M Square Hotel & Residences, The Spice Tree is an all-day dining venue offering a selection of multi-cuisine dishes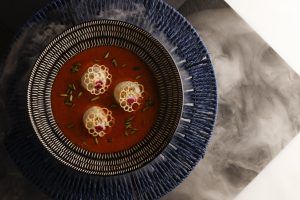 The Spice Tree welcomes diners to a culinary voyage across the world while seated at the dining venue's expansive indoor space or al fresco. Upon arrival, prepare to be mesmerized by the dining venue's stunning wall art decor and vibrant, colourful umbrellas suspended from its high ceilings to provide an elevated ambience. 
The highlights
The exquisite menu curated by chef Sarthak Kochar features an array of multi-cuisine dishes, suitable for every palate. With the assistance of our server, we opted for the Mirchi popper, fig tamarind chutney & tapioca crisp; and Lamb galouti as our appetizers. 
A platter of mint chutney, a spicy pickle and a sweet tamarind chutney made its way to our table alongside a portion of crispy crackers as a complimentary start to our experience, which we devoured just in time for our appetizers to arrive. The Mirchi popper, fig tamarind chutney & tapioca crisp is a unique South Indian take on jalapeno poppers, and is stuffed with mustard seeds, dry mango powder, mustard oil, fennel seeds, mustard seeds, mozzarella cheese and crusted with panko crusted batter and deep fried. The star of the show was the Lamb galouti, a smoked lamb mince seasoned with home-ground spice rolled in saffron bread and pan-fried on the griddle, offering a melt-in-your-mouth succulent kebab.
Before we moved on to the mains, we order the classic Masala thumbs up (Indian cola with jaljeera) and Gulkhand bahar, a sweet blend of rose syrup and gulkand paste with a citrus touch of lemon juice. 
Seabass Parda Yakhni Pulao is a flavourful Kashmiri signature main featuring perfectly cooked basmati rice simmered in rich fish stock, infused with a blend of the chef's special home-ground spices alongside a succulent pan-seared sea bass steak and 24 karat gold leaf. If you're looking for a vegetarian main, the Makhmali cottage cheese beckons with steemed cottage cheese dumplings stuffed with cardamom, nuts, and topped with a creamy tomato-based Makhani gravy and gold leaf.
Desserts called for the decadent Mango lassi Mousse, a deconstructed dessert mousse created with an Indian touch by using fresh mangoes, churned yogurt, saffron, honey, and a touch of cardamom. A joyful end to our dining experience!
Book now
DoubleTree by Hilton Dubai M Square Hotel & Residences. Call +97150 387 2085. Visit website or Instagram.