Sponsored: Sited at The Club at Palm West Beach, Gallery 7/40 offers a unique blend of sculpture, photography, and painting skillfully coupled with culinary arts.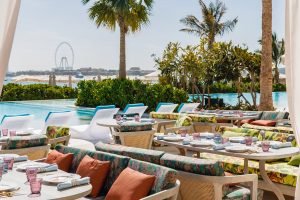 The restaurant's modern design honours the creations of contemporary Italian designers and Catalan modernist architect Antoni Gaudi, showcasing custom-made mosaic flooring, Murano glass chandeliers, and artwork from renowned artists across the globe. Be sure to make a beeline to admire the artworks from esteemed artists and intricate details at every nook and cranny of the dining venue while tucking into classic French, Italian and Japanese dishes.
The highlights
Gourmands can avail the set menu for lunch or dinner during Dubai Food Festival at Gallery 7/40, we visited for an early lunch and were quickly mesmerized by the vibrant, playful decor and unique interiors adorned across the sprawling space.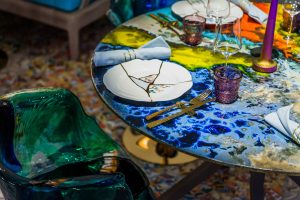 With the Dubai heat kicking in, we opted for the comfy indoors against the picturesque backdrop of the lush outdoor greenery and the restaurant's outdoor space. Shortly after, our server arrived with a selection of freshly-prepared soft bread alongside the morish Melitzanosalata (Greek smoked eggplant dip with parsley, olive oil, and garlic). A warm Smoked eggplant soup was later presented with a side of Greek yoghurt with walnuts for a hearty emulsion of flavours.
Next up, an array of appetizers covered our gorgeous table – Charred vegetables, The Greek salad, and Chicken souvlaki. The Charred vegetables were scrumptious with a crispy charred bread topped with feta, bell peppers, eggplant, zucchini, and finished with a drizzle of paprika oil. The classic Greek salad came with fresh tomatoes, cucumber, thinly sliced cucumber, capers, and was topped with oregano, olive oil, and Greek feta cheese. Our favourite, the succulent Chicken souvlaki, was perfectly marinated and topped with cherry tomatoes beside pitta bread and a yoghurt dip.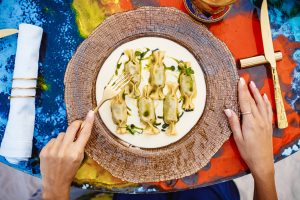 Mains called for the delectable "Candy" ravioli featuring roasted pumpkin, spinach and smoked cheese ravioli doused with pecorino cream and olive oil for a silky, rich sauce meshed with the sweet and soft ravioli – a great ending to our experience before departing.
Book now
21 April to 7 May. Contact +97158 550 0740. Visit website.