Sponsored: Club Vista Mare's brand-new beachside destination introduces an exclusive set menu for Dubai Food Festival
Taking over the previously occupied Breeze Beach Grill, Ría Restaurant & Beach Bar brings forward a tranquil, upscale dining atmosphere to relish in Levantine cuisine, inspired by the fresh Mediterranean shores. Ría, which translates to a small river, incorporates earthy elements throughout its decor with lush greenery, a fresh fish counter featuring the finest catches of the day, and rustic wooden interiors, adorned with unique vases and minimalist artwork throughout the dining venue.
Ideal for families, friends, and dog owners alike, beachgoers can opt for the indoor or outdoor area boasting picturesque views of the beach accompanied by soulful beats played by Ría's in-house DJ.
The highlights
Considering the sunny afternoon, my dining partner and I opted for the cool indoors, where we were promptly presented with the tantalizing set menu brimming with dishes including Padrón peppers, Zucchini fritti, Spicy potatoes, Roasted Cauliflower, Hummus, Tarama, Makanek skewers, Mizuna & grilled corn salad, Greek moutabal, and plenty more options to choose from.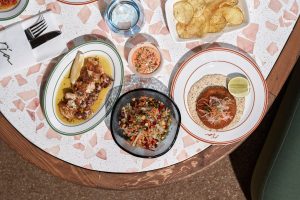 Our salads arrived first, Blueberry & feta salad and Moroccan quinoa & carrot salad, for a refreshing start to our dining experience. The Moroccan salad was a delightful blend of carrots, quinoa, pistachio, pomegranate seeds, braised apple, and lemon dressing while the splendid Blueberry & feta salad came with wild blueberries and Greek feta cheese with olive oil and Balsamic vinegar.
For appetizers, we devoured the sweet and spicy Aubergine fritters whole balanced with the rich, creamy feta cheese and the classic Rock shrimp tempura served perfectly crisp yet succulent. The sharing-style main Grilled fish arrived soon after featuring seabream accompanied by two sides including broccolini doused in lemon oil and mashed potatoes topped with truffle shavings. The freshly-prepared grilled seabream was complimented with lemon oil sauce, tomato oil, and truffle sauce for a wholesome end to our meal.
Book now
21 April to 7 May. AED150 per person (minimum 2 people) for a choice of one starter, one salad, and one sharing main course. Email reservations@riarestaurantbar.com. Visit website.