After bidding farewell to its location at La Mer, the licensed modern-Indian restaurant Masti is now at the heart of the buzzing Downtown Dubai. The moment we arrived at the venue, we couldn't help but reminisce of our time at its previous location while taking in the rustic chandeliers, art deco-style lighting, ornate picture frames, vibrant tropical hues, and Masti's signature wall showcasing its accolades over the years.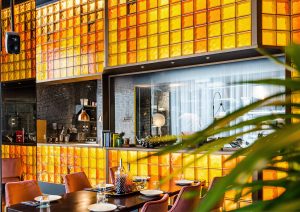 Be sure not to miss the rainbow-hued stained glass elephant head behind the bar. Expect an extensive menu, paying homage to its creative interpretation of authentic Indian cuisine to take diners on a culinary voyage across its take on the new India. The playful presentation of new additions and all-time classics, paired with bespoke concoctions presents a refined setting to our dining experience.
The highlights
As we were escorted to our seats, we noticed the show kitchen at the entrance followed by a spacious dining area leading way to the outdoor terrace. As it wasn't a cool breezy evening on the day, we opted for the indoors opposite the grand bar area where a spirited ambience awaited us as the resident DJ sets the mood with electrifying tunes. To begin, we ordered the spiced Chicken tikka masala with fresh, crispy dosa waffles and pickled onion as a savoury start to our selection of appetizers.
The highlight of the menu, Heavenly eggplant bharta, came in two delectable variations of charcoal-roasted eggplant married with a tangy roasted tomato and creamy truffle mushroom. The wholesome dips are served with pearl millet khakra (crispy cracker). Moving onto something slightly traditional, the classic Tellicherry pepper & garlic prawns with kafir lime podi offered a flavorful marination to the crispy succulent prawns.
Fascinated by the bar's gorgeous design, we made a quick beeline to the bar to explore its extensive drinks menu before the mains arrived. What caught our attention was the Pop-beat, a creative emulsion of apricot, passion fruit, wormwood, and salted popcorn; and the refreshing Purple colada featuring black currant, pineapple, coconut, and sage.
Masti's signature Burrata butter chicken, a charcoal-roasted chicken tikka doused in creamy makhani sauce and topped with plump burrata cheese arrived alongside the Angus beef cheek vindaloo slow-cooked in warm spices and finished over burning embers. The exceptionally tender meat was presented beside a fiery red sauce, crisp okra, and tangy Sanaa. Pair mains with Pickled onion & jalapeño, Garlic & tarragon, or the Za'atar & rose naan.
An artfully presented Chocolate & the tribe dessert was served to the table right after, featuring an intricate ensemble of coffee cremeux and lemon honey ganache, and topped with coffee-flavoured ice cream, coffee espuma, cocoa crunch, lemon confit, roasted hazelnuts, and crisp thin strips of chocolate and coffee for a decadent end to our meal.
Book now
Contact 800-MASTI. Visit website.