A more relaxed and casual incarnation of London's legendary Reform Club, the Dubai version serves up British favourites with a double helping of sun.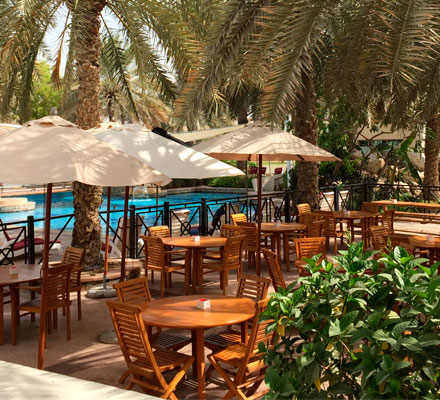 Chef Ryan Wadell has led the brigade from the start, and his focus is squarely on bringing traditional favourites to a new and exotic location. No grey London streets and skies, this Reform is all about casual dining and relaxing in the sun. Whilst the summer focus is clearly indoors, cooler weather brings ever more activity to the outside terrace, with cinema nights, a huge barbecue and music under the stars.
Foodies will delighted with the menu which includes all the British classics you would expect, but with a range of lighter new flavours that reflect the location. It's a clever mix. Starters cover all the bases, ranging through traditional favourites like seafood cocktail to a bacon and black pudding salad hearty enough for the biggest appetite, though you may be swayed by the Cumberland scotch egg or the Severn and Wye smoked salmon instead. Vegetarians will not be disappointed, the sweet potato and red pepper tart is a contemporary favourite.
For social tables there is a range of substantial sharing options under the titles Ploughman's, Countryman's and Fisherman's platters, and the dishes are as generous as you would expect. But do make sure you leave room for the rest of the menu!
Main courses tend to the traditional too, with substantial roasts, a duo of duck and even a pearl barley risotto. There's even a minimalist offering of pie and chips with gravy. On the fish side, plenty of choice including mackerel, sea bream and Scottish salmon, but it is the Josper Grill that is the star of the show. This ferocious device grills with such heat that it imparts a lovely light smokey flavour to food cooked on it, including my delicious rump steak. This came with generous hand-cut fries and your own choice of sauce (peppercorn), and was tender, succulent and delicious.
If you followed the menu's advice to 'Leave Room for Pudding', you encounter another menu that offers you both desserts and puddings, properly drawing a distinction between the two. And the choice is good – when did you last see lemon posset amongst the options? All in all – a substantial and satisfying spread.
If you want to go: For three courses, around Dhs500 for 2, excluding drinks. Call: 04-4542638.
Best For: A taste of home comfort with friends.