First things first – if you're a lover and a true appreciator of a cooked-to-perfection steak – visiting Lexington Grill is a must.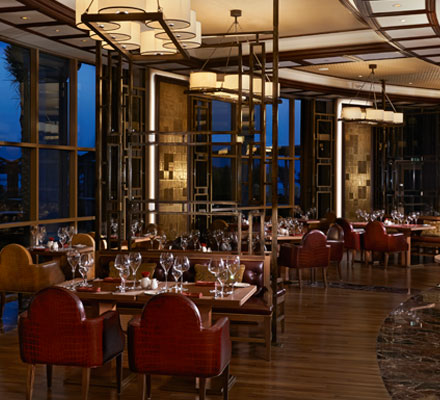 From the moment you enter the restaurant, you're transported into an ultra-stylish, atmospheric setting; much like those you see in glamorous New York movie scenes after dark. The tastefully designed outlet wraps around in the shape of a horseshoe, with deep red and brown leather interiors – flawlessly complementing the marbled steaks and fine grape beverages on offer.
But, the real experience begins when the restaurant's seasoned Sommelier arrives at the table to treat you to an aperitif of your choice, made in front of you.
Starters shortly follow, and with options including Alaskan crab cake, Atlantic smoked salmon, steak tartar, fresh burrata with tomato and more, you're spoilt for choice. Plus the added enticement of irresistible smelling meat flowing from the kitchen, it's hard not to over-order.
The real difficultly, however, comes at the main course. From U.S Dry Aged 'Great Plain's Certified Black Angus Beef, U.S Prime Greater Omaha' Black Angus Beef, to Australian Natural 'Kobe Style' Wagyu and beef short ribs braised for 12 hours, plus delights from the sea like grilled king prawns and Maine lobster, it's not an easy decision. I opted for the 'Kobe Style' Wagyu tenderloin, medium-rare. The delivery? Perfection – cooked faultlessly, with such divine, unique flavours that I chose to keep my black peppercorn sauce on the side (just remembering the dish triggers a craving).
Should you have room left for dessert (my dining partner and I 'managed' to share a delectable Baked Alaska), there's a sublime selection available including mouth-watering classics like apple crumble and New York cheesecake.
My thoughts overall? Those who spend an evening at Lexington Grill will not just be served dinner, but treated to a culinary journey of taste, class and remarkable gastronomy.
If you want to go: Around Dhs400 per person for three courses, excluding beverages.
Best for: An intimate dinner with friends or a loved one.