A grand affair, Bateaux Dubai has been a popular haunt for tourists and residents alike for years. Boasting views of the creek glistening with lights in the evening, this is the ultimate spot for special occasions and, of course, a romantic evening for two.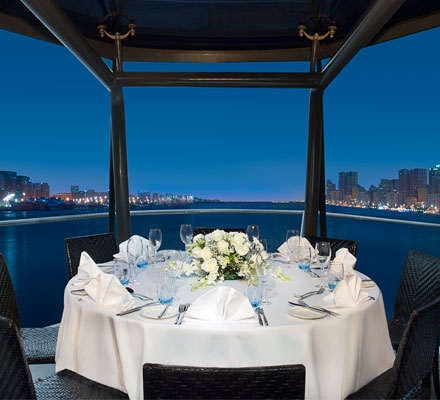 Though it has been floating along the creek since 2004, we were surprised to find almost every table was occupied on a weeknight. Paying close attention to every detail, from the food to the ambience, you are truly spoilt when aboard this glass-walled boat.
With a vast menu offering something for every palette, it is clear to see Chef Arackampallyil Sanal 's passion for fine, flavoursome fare. We experienced the Couples Package, which comes highly recommended for a date-night treat. Included in the marvellous evening is a freshly-prepared 5-course a la carte gourmet dinner, assorted canapés, palette-cleansers (the mango and raspberry sorbet is a real delight), dessert and house beverages – you'll be full to the brim by the time you disembark the bateaux!
Due to the expansive menu, you may be a little overwhelmed by choice but fortunately the waiters on-board are on hand to help. Providing something for every palette, along with no shortage of vegetarian options, the offerings are truly international and weave in elements of regional cuisine. For starters, we enjoyed a selection of warm and cold mezze such as haloumi spring rolls, spinach fatayer and hummus, along with a confit of Scottish salmon with spiced crust served with rich Patagonian calamari and a sprinkle of other trimmings. After eating these, we were a little apprehensive about how we were going to consume several more courses, but with dishes as delicious as the ones on offer it was impossible to resist.
For mains we indulged in a rich, mouth-watering Australian black Angus tenderloin with mushroom cream, which was beautifully complimented with goat's cheese ravioli and celeriac mousse. We also opted for a gorgeously-vibrant dish of fried couscous served with eggplant, purple sweet potato cream and drizzled with a divine red pepper sauce.
Of course, the desserts served aboard Bateaux Dubai were incredibly impressive. This was, possibly, the hardest course to choose just two options from but we eventually decided on the decadent chocolate fondant and a mango and yoghurt cheese cake, which was fluffy, tangy and has left us lusting for more ever since.
Perfect for any time of year, Bateaux Dubai provides an unforgettable evening of pampering worth experiencing at least once.
If you want to go: Worth every dirham, the Couple's Package is Dhs1,250 for two. Call 04-8145553.
Best for: A magical evening for friends, family and couples.