The Noodle House aims to capture the bustle and flavour of Oriental street food, and serves it up in a vibrant atmosphere with its kitchen proudly on display.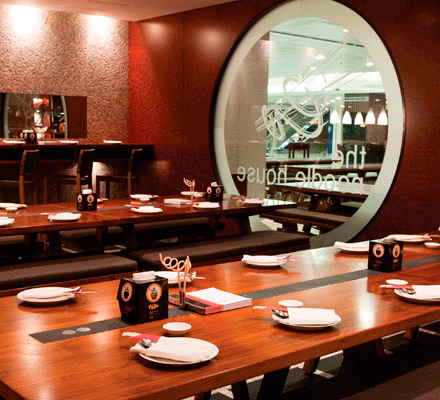 This branch (one of seven in Dubai alone) is in Madinat Jumeirah, thronged with visitors and buzzing with excitement. This is not the place for a quiet and romantic candle lit dinner, but it most definitely is the place for a fun night and some truly excellent food. The dishes may be cooked fast, but there is absolutely no compromise on ingredients or quality.
Indonesian executive chef Taufik Sutisna has recently reworked and extended the menu so that it now includes no less than 15 noodle dishes – from noodle salads and noodle soups to wok-fried noodles and everything in between.
Staples such as wasabi prawns and Thai green curry continue, supported by a number of new dishes bringing all the flavours of the far east and adding some unexpected twists. Our wasabi prawns were hot and crispy, and came with the addition of a delicious fresh hand-cut mango salsa. New dishes on the menu include gado gado: an Indonesian mixed-vegetable salad with egg, peanut dressing and prawn cracker garnish, prawn satay, chargrilled prawns, with red curry sauce and sticky rice cake, and a Singaporean curry laksa, noodles with chicken, prawns and a tofu fish ball.
For me, a particular highlight of the meal was a new beef and noodles dish, because unlike the expected stir-fry, here the beef had been marinated and cooked for a minimum four hours to tender perfection, then flash-fried with the noodles to crispy perfection. The surprise of meltingly tender cubes of beef and hot, crispy noodles was a delight, and a completely unexpected combination that worked triumphantly.
In fact, the new menu encompasses dishes from Thai, Indonesian, Malaysian, Singaporean or Chinese cuisines, and the execution of all of these many and complex flavours is refreshingly accomplished. The Noodle House promises authentic flavours of the far East, and in this they succeed handsomely. This is not fast food, this is great food served fast.
If you want to go: Great food made even more affordable. Call 04-3666730.
Best for: A real taste of the Far East