A health food café that also serves grape, hops and burgers What's the concept? Based in Jumeirah Beach Hotel, Talise Fuel is often over looked up favour of bigger, more established restaurants at the hotel, or mistaken for being accessible only by Talise gym members. This is a shame, as the café offers one of …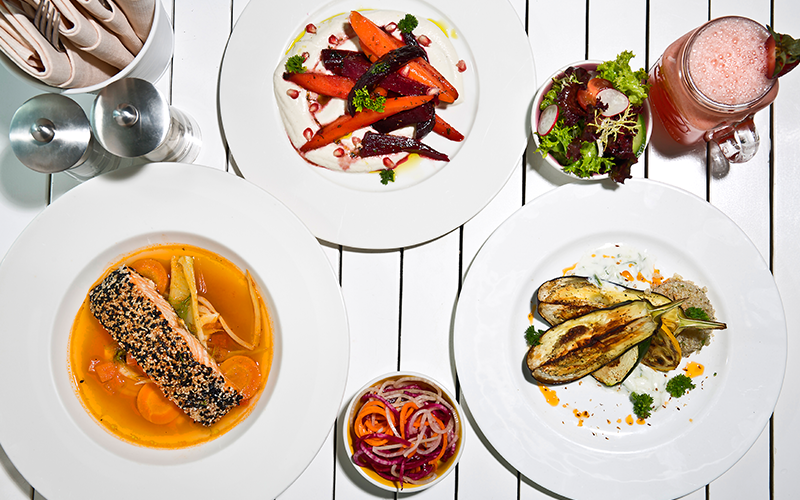 A health food café that also serves grape, hops and burgers
What's the concept?
Based in Jumeirah Beach Hotel, Talise Fuel is often over looked up favour of bigger, more established restaurants at the hotel, or mistaken for being accessible only by Talise gym members. This is a shame, as the café offers one of the most comprehensive (and delicious) health food and specialist diet menus available in Dubai. Diners can expect options for vegans, vegetarians, the lactose intolerant and those avoiding gluten. There's plenty on offer for those not on a diet too – and there's even a grape and hops menu available throughout the afternoon and evening.
What's the food like?
Far from being preachy or bland, the menu offers a healthy take on many classic café favourites. There's a high protein Wagyu beef burger and a a delicious penne ragu. There's a mouthwatering grilled prawns dish, with Asian marinade, bok choy and roasted vegetables. For those who like full control over their meal, you can pick the "customize your meal option". This comes with a choice of 10 different proteins, 7 different carb options, along with customizable vitamin dense superfoods and relishes. protein bowls.
How was the service?
The staff were on the ball and friendly. Service was to a high standard, on arriving at the café, we were quickly led to the table. The team knew the menu thoroughly and could easily discusses the different nuances of the different intolerance options on the menu. All dishes on the menu had a breakdown of calorie content, protein, carbohydrate and fat, which the serving team where happy to talk through.
What's the atmosphere like?
Talise Fuel is popular with gym members and families visiting the hotel's beach club. Laid-back and perfect for daytime dining, the café is worth visiting for either lunch or breakfast. When BBC Good Food Middle East visited, the venue was busy with lunchtime diners. During the winter months, opt for a table on the café's outdoor decking. It looks over the beautiful marina area and iconic Burj Al Arab hotel.
Details: A meal for two without drinks costs around AED 200. For more information, visit Talise Fuel.