A luxurious stay awaits guests this Ramadan at The Abu Dhabi EDITION, nestled in the heart of the capital's charming Al Bateen Marina neighbourhood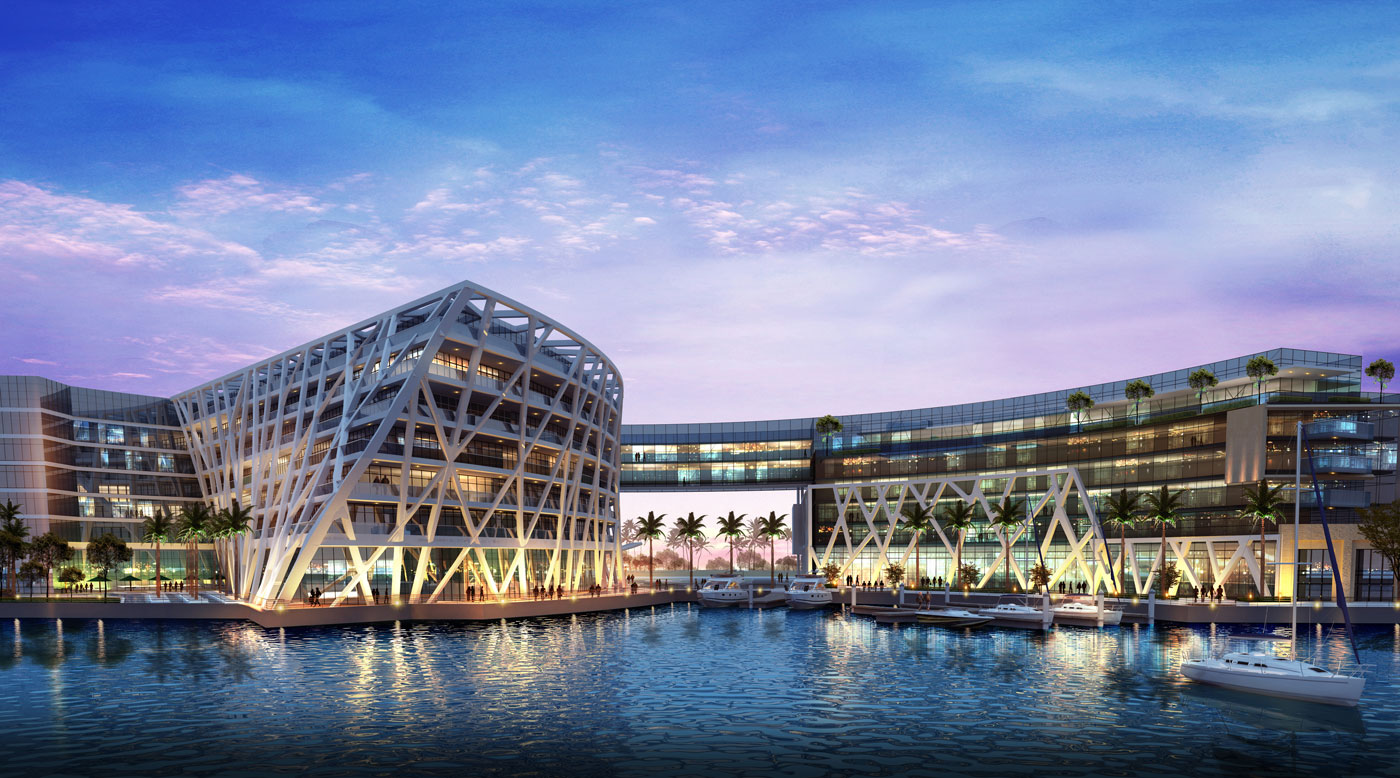 The Abu Dhabi EDITION, a luxury lifestyle hotel located in the capital's downtown district against the backdrop of the Al Bateen Marina waterfront, is as stunning on the exterior as it is inside. We were thoroughly mesmerised by the modern, sleek architecture that exudes grandeur. Warm lighting and polished, sophisticated décor welcomed us at the contemporary lobby.
As far as dining experiences at the hotel go, there is a lobby bar, pool bar, three-story social space, and three signature restaurants where Michelin-starred Chef Tom Aikens conveys his culinary ethos – namely Alba Terrace, Oak Room and an all-day dining spot, Market.
Accommodation spaces vary across 198 guest rooms with Marina or City views and 57 exclusively serviced residences. This month of Ramadan, the property has released an exclusive GCC Residents Package, including Iftar and Suhoor, that you can take advantage of. We were ushered over to check-in, a process that was smooth and quick and in no time, were on our way to our room.
Accommodation:
Clean lines, a neutral palette, wood panelling, grey oak timber flooring with solid pale khaki rugs in the main room, and off-white marble flooring in the bathroom awaited us in our Deluxe Marina room. A walk around the 49 sq. metre space revealed two spacious closets; an elegant bathroom decked out in plush Black Tea amenities developed by world-renowned perfumery Le Labo; a tub that looked out to the bedroom, separated by a privacy screen; a well-appointed bed; lounge spot; and a spacious balcony that overlooked the Marina and the hotel below.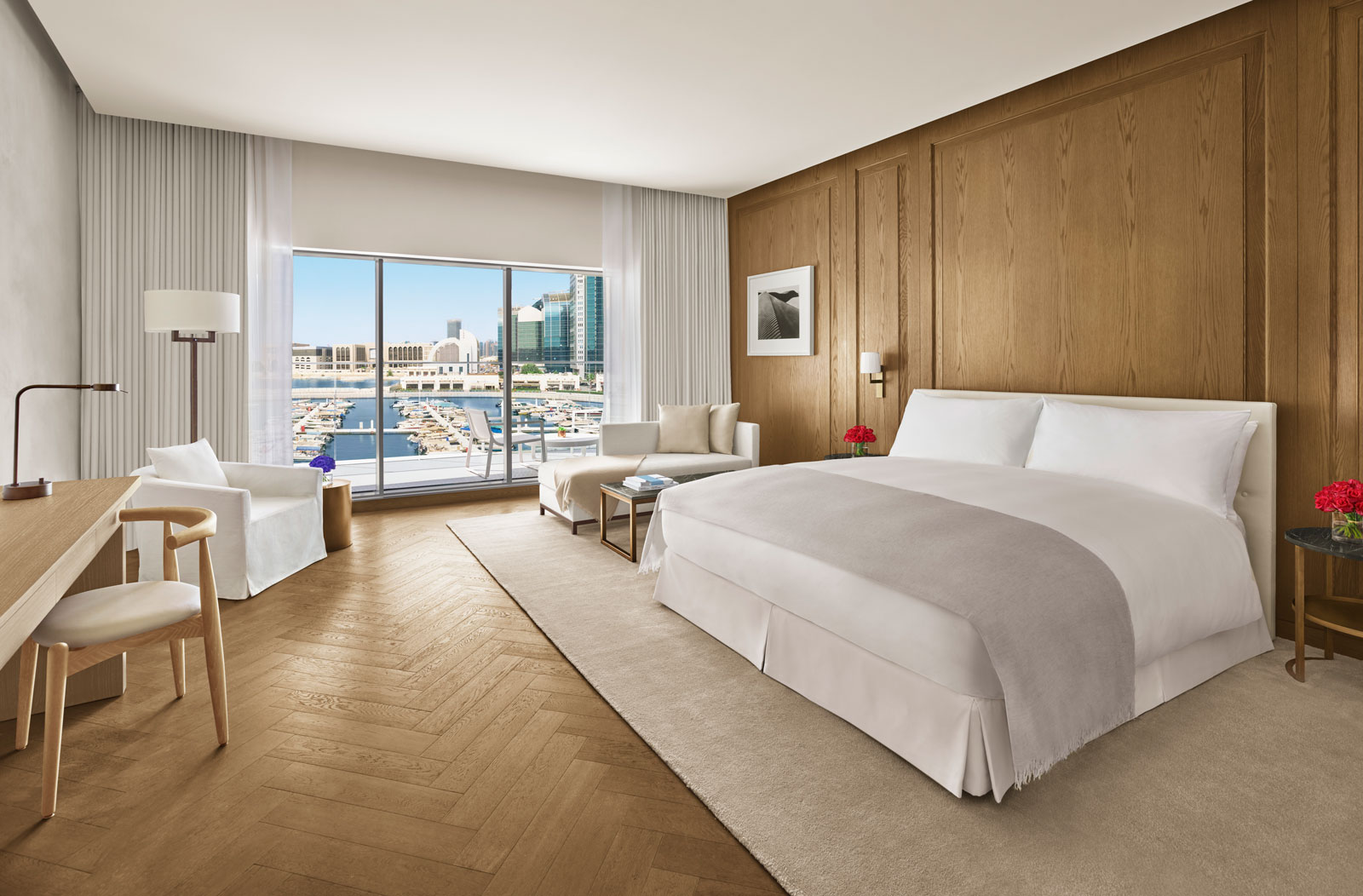 We're fans of hotels that offer re- fillable glass bottles of water, and The Abu Dhabi EDITION did not disappoint. A complimentary shoeshine service comes with the room, if you need it; and we must talk about The Edition Robe, provided by La Bottega. Deserving its own mention, this bathrobe will have you forgetting any others you've ever tried on before.
Culinary Offerings: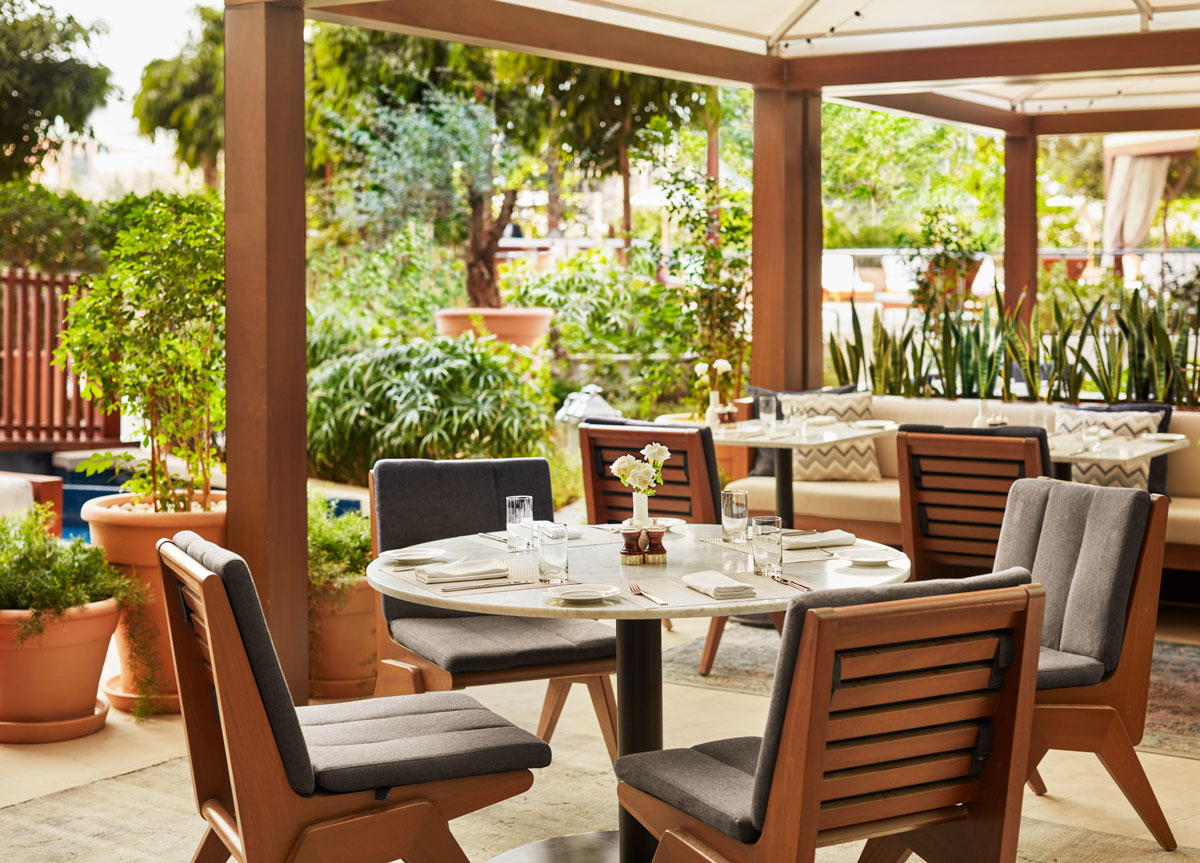 Lucky for us, it was the weekend, and this meant we could indulge in the sensational Weekend Spritz experience at Alba Terrace. Described as a little more than a lunch, but not quite as extravagant as a brunch, The Weekend Spritz offers a leisurely Mediterranean- style afternoon on the gorgeous, lush terrace of the restaurant. An array of starters were served to whet our appetite, including a Signature charcuterie board featuring smoked duck breast, beef coppa, truffle salami and wagyu chorizo, accompanied by sour apple chutney, grape chutney and celeriac remoulade; a vibrant Paprika marinated monkfish, with red pepper aioli, avocado and slow-cooked tomato, that simply melted in our mouth; and a crisp, fresh mint, feta and cucumber salad with peas, broad beans and quinoa.
Even though we were completely satisfied by each dish, the star of the show had to be the impressive Burrata cheese trolley, featuring a condiment assortment that you could pick and choose to craft your own creation. A breather was required at this point, and we chose to sip on brews, each better than the last. Take your pick from mocktails, soft or house beverages, grape, hops and bubbly; or innovative concoctions infused with ingredients such as fresh and burnt orange, lemon, marmalade, mint, espresso and even vanilla. Classic fresh-from-the-wood- oven pizzas showed up next, boasting a light thin crust, smoky exterior and toppings including ricotta, mozzarella, button onions, spinach and the tempting truffle. My dining partner and I opted to share three mains, each portion enough to please without overly filling you. The Baked red mullet escabeche with red pepper dressing and chives was a stunner, brimming with colours and flavours; while the Grilled garlic gambas with lemon and garlic aioli, and the Veal and lamb meatballs with couscous, pomegranate and parmesan were simply sublime. A delightful Tiramisu, a selection of sorbet and Mille feuille with strawberries and orange confit presented an exquisite end to our spectacular Saturday affair.
We skipped dinner and lounged in the room with Netflix, in our comfy bathrobes.
Waking up bright-eyed the next morning, ready for a grand breakfast at Market by EDITION, we chose to dine outdoors to make the most of the cool weather. Expect picturesque views of the Al Bateen Marina. Fresh watermelon juice and hot coffee with almond milk had us happy and almost ready to tackle the day, but not before we inhaled a hearty breakfast. The pastry section featured a myriad of freshly baked goodies, such as Coconut brioche, Cinnamon rolls, Chocolate doughnuts, Lemon Cronuts, and Cheese and Plain croissants. Savoury dishes were to-order, and I tucked into Baked shakshuka eggs sauce, garnished with sumac yogurt, whereas my breakfast companion picked a generously portioned serving of Avocado and eggs on grilled rye toast, with flax and sesame seeds, cashews, nuts and lime zest. Sides are also available in the form of cold cuts and smoked fish. What we also absolutely loved about breakfast, was its timings. Available from early morning until 12:30pm, it allows for a lie-in and sometimes that's just what you need.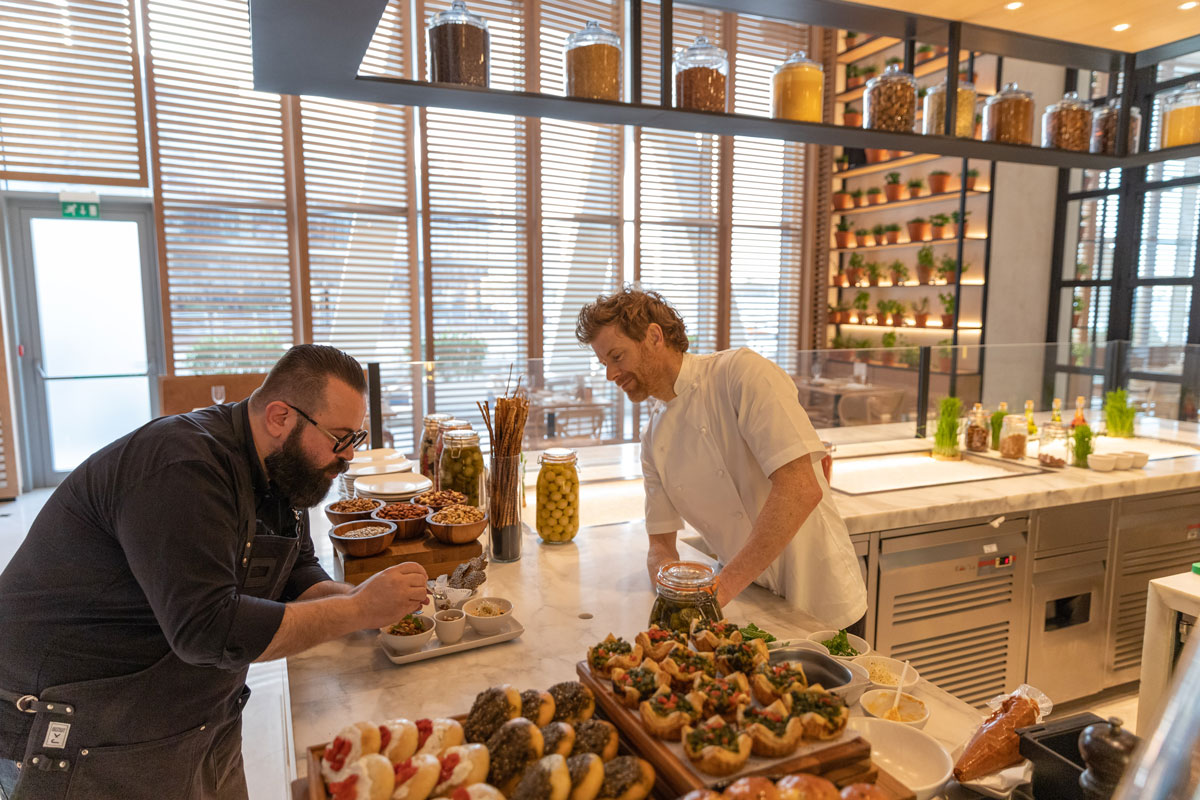 We were fortunate to be invited to the preview of Iftar at Market by EDITION. If you choose to break your fast at this stunning setting, complete with lanterns and ambient lighting, look forward to a traditional Iftar with a contemporary touch, created by The Abu Dhabi EDITION's exclusive partner, Michelin-starred Chef Tom Aikens in partnership with avant-garde local Chef Mohamad Orfali, exclusively for the month of Ramadan. The menu comprises distinctive dishes designed both collaboratively and by the individual chefs, alongside bites from live stations.
As the sun sets, diners can reach for dried fruit and sip on water or fresh juices. In no time, our table was covered with a Trio of Tom's mezze comprising pumpkin hummus, muhammara and marinated chickpeas with flaxseed and turmeric crisp; and Orfali's deconstructed Fattoush, featuring heirloom tomatoes, red onion pickle and sumac bread. Both presented a fine start to the evening occasion. From the live stations, you can reach from delicacies such as Cheese sambousek, Kibbeh, Spinach fatayer, Chicken moussaka and Vine leaves; followed by Lentil or Mushroom soup, Chicken shawarma, Chicken shish tawook, Lamb kofta, Beef kebabs, Garlic prawns, Zucchini and eggplant and Corn on the cob with Garlic sauce, Chimichuri, Beetroot moutabal and labneh to accompany. Heartier options include Lamb ouzi with cucumber yogurt and pine nuts; or gravies such as Butter chicken and Potato harra. Before we could move on to the main course specials, a Pita bread trolley stopped by, with the option to rustle up our preferred mini flatbread topped with sumac, za'atar or olive oil. We tucked into a Freekeh with braised lamb neck and shiitake mushroom, crispy fried onions, pine and cashew nuts from Orfali, and Turmeric and saffron brined chicken skewers with a cinnamon glaze, over cauliflower tabbouleh – from Aikens. The chicken was flavour-packed and delectable, but I personally found the Freekeh with lamb a tad too rich. My dining companion on the other hand, devoured the dish. Desserts are aplenty from the restaurant's sweet carts, but we stuck with the main treats including Chef Tom's Rose water and raspberry baba with crème mousseline, glazed almond and mint, and Chef Mohamad's Hitaliyeh with mastic ice cream and Aleppo pistachios.
Facilities:
Guests are free to use either the hotel or the residence pool. We stopped by the hotel pool to catch some rays, which was sheer bliss. Relax and sip on complimentary fruit-infused water or the detox juice with cucumber and greens. For those who want to get in a spot of exercise, you can visit the state- of-the-art fitness centre; or pamper yourself with a stop at the Spa with seven treatment rooms.
Insider Tip:
Keep an eye out for signature chair pieces by local, emerging designer, Latifa Saeed – in the hotel lobby. Forming part of her 'Braided Series', the pieces are inspired by the distinctive way Emirati children braid their hair and the labour-intensive process of weaving, a strong trait across numerous Emirati crafts, namely sateefa, telli and sadu. The collection pays homage by intertwining modern fabric to upholster with a range of contemporary form and furniture designs.
Book a Stay:
GCC Residents Package from April 1 to 30 at AED1,300 onwards (inclusive of overnight stay in a Deluxe Room, daily evening meal and breakfast. Guests can opt for daily Iftar at Market at EDITION). Iftar at Market at EDITION from sunset-9:30pm at AED198 per person. The Weekend Spritz at Alba Terrace on Saturday from 12:30-5pm (three- hour experience) at AED215 (soft package), AED325 (house package), AED445 (bubbly package) and AED550 (upgrade to cabana and pool access). Call +9712 208 0000. Visit the website or Instagram.