A homegrown brand that has set out to fulfil one's craving for mouth-watering modern Indian cuisine, Bombay Bungalow has curated a remarkable Iftar menu for the Holy Month of Ramadan.
The artistic venue, located at the urban seaside lifestyle destination, The Beach Mall, JBR, captivates with its sensational décor visible through large floor to ceiling glass windows as one walks along the beach. Alternatively, should you enter from the Jumeirah Beach Residence side, prepare to be awestruck with vibrant colours all around. As soon as you step through the door, prepare to be greeted by the aromas of classic India dishes. Perfect for when the sun sets and you're looking to break your fast.
As we waited to be seated, a glance around revealed striking paintings, two colossal replicas of trees at the centre of the restaurant, creative furniture in turquoise and white, grand arches and chandeliers, empty bird cages, carpets, lanterns display balconies and antique counters. An instagrammable restaurant indeed! The outdoor terrace offers uninterrupted views of the Ain Dubai, and we'd absolutely recommend al fresco dining if you get the opportunity to do so.
The highlights:
We took our seats inside, being a particularly warm day, and were immediately presented with the Iftar set menu. Break your fast with dates and dried fruits, followed by special Ramadan beverages, including Tamarind, Apricot or your pick from sweetened or salted Lassi; and traditional Arabic coffee.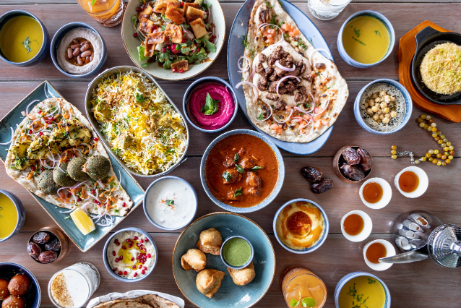 The family-style sharing experience finds inspiration in traditional homemade Indian classics, infused with Middle Eastern cuisine.
Promptly, a selection of traditional and contemporary cold and hot mezze arrived, accompanied by an aromatic and soul-satisfying Lentil soup. We tucked into a scrumptious Fattoush, adorned with ruby red pomegranate jewels and a drizzling of sweet tamarind chutney, followed by a sampling from the Trio of dips – hummus with black and white sesame, hummus with fresh mango and hummus with beetroot – all interesting flavour blends that had us impressed. We were informed that the restaurant will swap out dishes from the Iftar menu, to keep it exciting for diners. You can thus, expect to find a different dip, such as moutabal, and different mains.
Hot dishes followed, in the form or downright delectable Veg samosas with mint chutney. These two-bite delights were hands down one of our favourite dishes of the evening. Khatta beef (black lemon and cardamom meat) was served on a large flatbread, over a thick paste of ground chickpeas; while the wood-fired succulent Murgh methi tikka (pieces of chicken flavoured with fenugreek) and Hara Bhara kebabs (fried patty made with green-coloured vegetables) arrived on a thick, hearty chapati (unleavened flatbread).
The main event followed with a big bowl of Biryani of the day, which happened to be chicken. I enjoyed the fragrant, well-spiced rice with juicy pieces of chicken; while my dining partner helped himself to servings of the Curry of the day, in this case, it was a deep red Beef Vindaloo and a creamy Lamb korma with naan and roti to accompany. To say we were absolutely stuffed by now, is an understatement.
Since every good meal ends with a good dessert, we shared a serving of the Moong dal kunafeh that satisfied our every sweet craving.
The verdict:
A striking restaurant, Bombay Bungalow offers a spacious yet cosy setting that feels like home, to gather together with loved ones and create memorable moments over a glorious meal.
Book now:
Daily Iftar during Ramadan from sunset onwards. AED110 per person. Call +9714 427 0758. Visit the website or Instagram.