Positioned within voco Dubai, alongside Sheikh Zayed Road, Celcius Restaurant has curated a treasured Iftar dining experience for the Holy Month of Ramadan.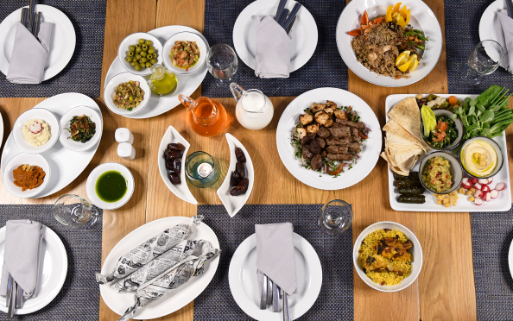 We arrived shortly after sunset, and a short elevator ride up took us to the spacious restaurant. Expect a warm and inviting ambience, with interiors in tones of beige, grey-blue and tan. Eye-catching lamps and lanterns surround, covered in mirror work and lovely lights, setting the tone for a friendly Iftar.
The highlights:
Each table is set with dried fruit, within reach when the time comes to break one's fast; followed by pours of water to quench one's thirst. Thereafter, diners are encouraged to make their way around the vast Iftar buffet to pick and choose their favourites.
Expect counters brimming with cashew nuts, prunes, raisins, almonds and dates, sited opposite a stand serving ice-cold Jallab, Laban and Qamar al din, which I opted to try. Post this, we reached for servings of Baba ghanoush, Tabbouleh, Quinoa salad, Greek salad and Chicken Hawaiian salad brimming with crisp vegetables, before spotting a DIY salad station just down the line that is perfect for those who like to create their own nutritious dish. Dips were such as Moutabal, Labneh with mint, Muhammara and Hummus were up next; followed by cold and hot appetizers, including Vine leaves, Kibbeh, Falafel and Shawarma wraps, Cheese rolls, Arabic lentil soup and Moroccan lamb harira soup.
After piling our plates high, we went back to our tables to enjoy our meal. A short breather ensued, where we sat back a bit, catching up with friends around our table.
Heartier options that diners can tuck into, include Vermicelli rice, Macaroni bechamel, Seafood biryani and the much-awaited Lamb ouzi, teeming with spiced rice and fall-off-the-bone meat. Speaking of meat, look for the one-bite Lamb kofta and Chicken tawook, or the juicy Lamb kebabs. Alternatively, the flavourful Chicken with potatoes and the earthy Lamb okra stew aim to please; while the contemporary-style Beef steak with mushroom sauce, and a side of Roasted potatoes will satisfy meat lovers. Steamed veggies, Paneer tikka and Fish harra complete the myriad of Iftar offerings.
Full to the brim, but not enough to skip dessert, we made our way over to the sweets counter to select our favourites. Take your pick from fresh fruit with cream, Raspberry cheesecake slices, a creamy rice pudding, Arabic coffee mohalabia and the iconic Umm Ali. Not done yet, picture platters piled high with Halawet el jibn, Basbousa, Pistachio Turkish delight, Katayef nuts, Turkish baklava, the crowd-favourite Cheese kunafa, Balah el sham, Maamoul dates and more. Suffice to say, you will leave a very happy diner.
The verdict:
Apt for an Iftar with family, friends and colleagues, Celsius at voco Dubai offers a feast in a bright, comfortable setting.
Book now:
Daily Iftar during Ramadan from sunset onwards. AED149 per person, with 10 per cent discount on groups of 10 and more, and kids under 12 dine complimentary. Call +9714 308 0430. Visit the website or Instagram.