Before I could even step into the remarkable Roberto's, I was met by breath-taking Burj Khalifa views which never get old. Dim, ambient lighting, sociable servers, cheerful tunes and grand décor take up space around as you make your way through the impressive homegrown DIFC dining and lifestyle destination.
The modern Italian restaurant is one of the distinct Dubai-origin dining concepts that has successfully gone international. But the brand does not rest. A decade later, plans are afoot to grow in the Middle East and expand operations to Asia. Mustafa Turgul, Roberto's Brand Ambassador and co-founder, has been at the heart of the brand's evolution since the start; and together with the Roberto's team, they've crafted the Roberto's experience that is as much of a lifestyle or fashion statement as it is a dining or lounge experience.
When it comes to epicurean experiences, one can take their pick from indulgences curated by the award-winning Group Executive Chef Francesco Guarracino and Head Chef Danilo Valla, who collaborate with the celebrated 9-Michelin starred culinary mastermind, Chef Enrico Bartolini for every new menu.
The DIFC setting is contemporary and elegant, featuring a lounge, an open kitchen, indoor and outdoor seating with two separate terraces that offer glorious Burj Khalifa and Downtown Dubai skyline views. Not only that, Roberto's also offers at-home catering, home delivery and their recently launched, 'Roberto's at Sea' experience – a luxurious maritime culinary experience on a 58-foot yacht.
This March to April, Roberto's boasts a multitude of celebrations in honour of its decade (details below), including a special 10th anniversary menu that I had the opportunity to try and I can confidently say, you're missing out if you don't.
The highlights:
We were seated on Roberto's Cortina terrace, an intimate al fresco space apt for a cosy tête-à-tête. A three-piece band provided the entertainment for the evening and sips from the restaurant's renowned grape list set the mood for a fine feast.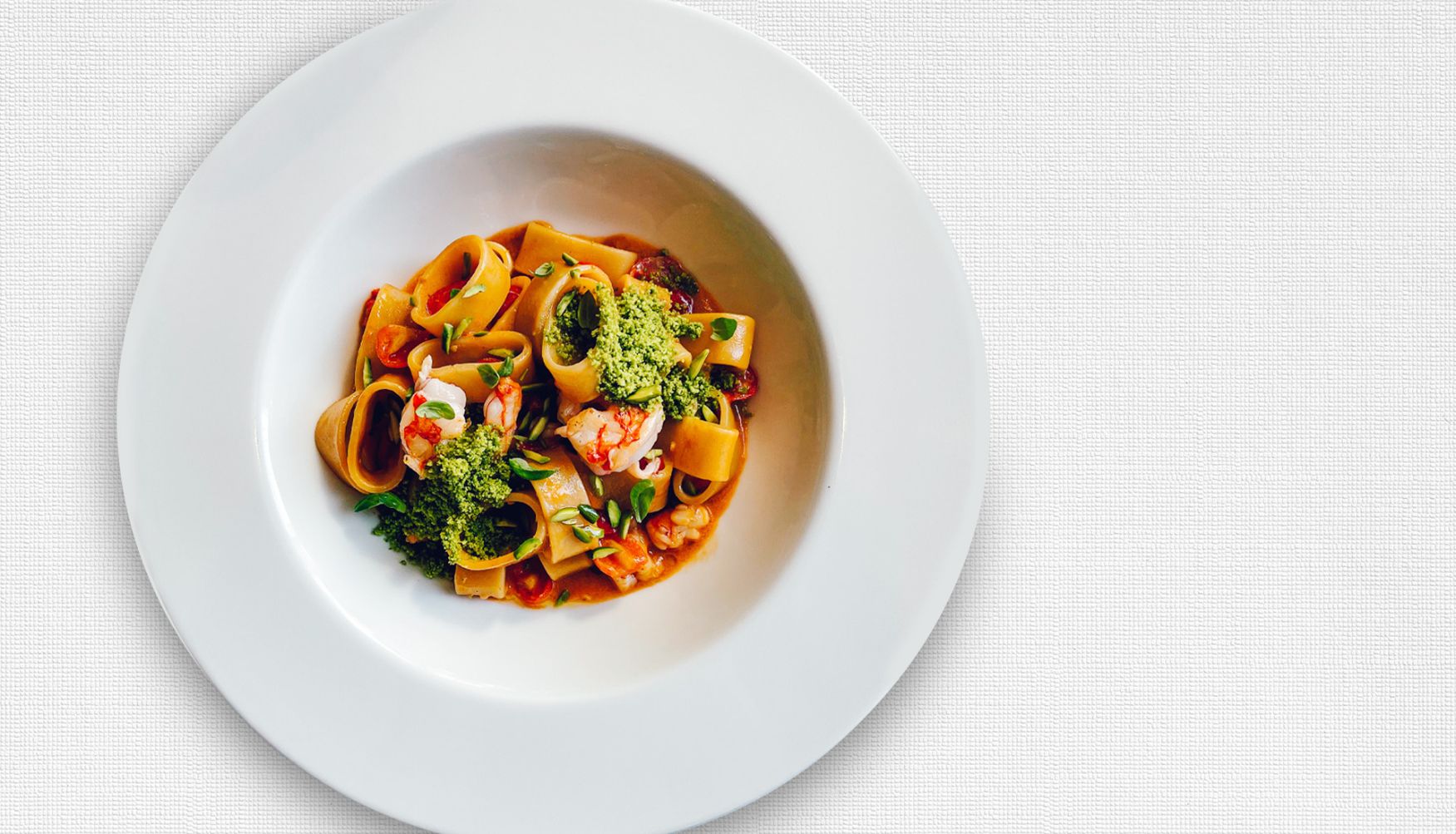 Chef Danilo presented each dish from the Anniversary menu, taking us through the ingredients, flavour emulsions and finally, the art on our plate.
First up was single, bite-sized hors d'œuvres comprising Panino al vapore e caviale (delicate steam bun, oscietra caviar and sour cream) which was as sinful as it sounds; Cipolla mango e foie gras (foie gras mousse, mango and crispy onion), a slightly chewy bite with a burst of sweet and silken umami; and Riso croccante al curry e polvere de finocchietto (puffed curry rice, fennel seeds powder and yuzu).
A breather between each course ensured sufficient space to each dish.
Starters showed up in the form of Tonno affettato, thinly sliced yellowfin tuna with a smoky mayo in the middle that complements the soft fish, coloured tomatoes, salsa fume, tapioca puffs and kafir lime; and Roberto's winning dish Polpo, starring slow-cooked roasted octopus, artichoke and cacio e pepe sauce.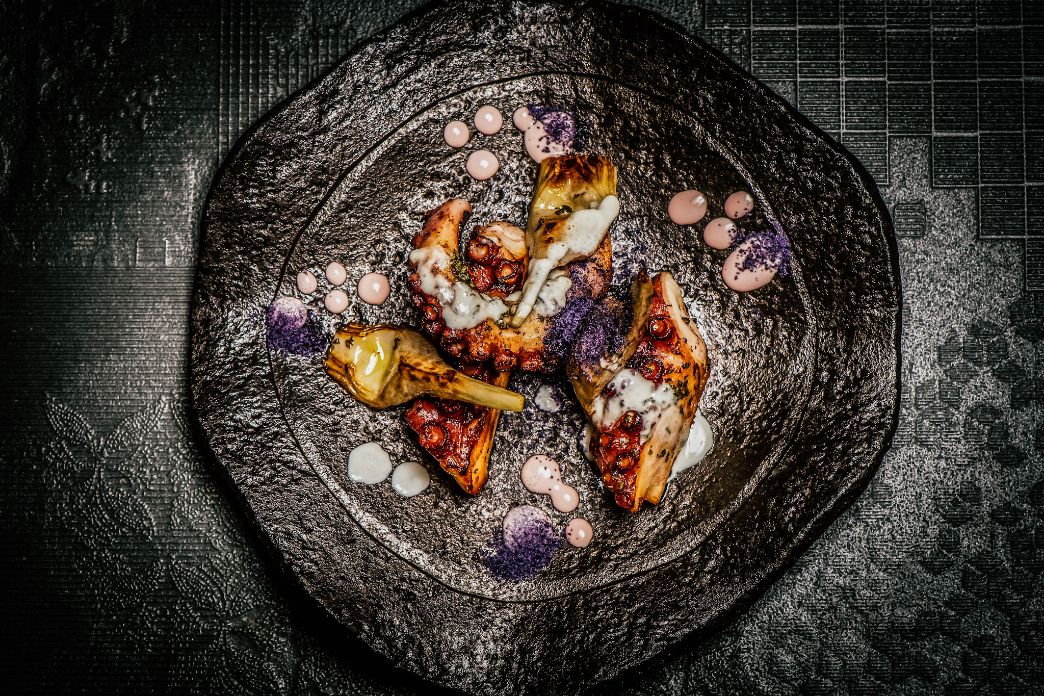 We were informed that Polpo was the first dish that Chefs Francesco and Enrico cooked together; and on tasting a piece, I could see why it could easily be considered a culinary masterpiece. Expect bites of juicy octopus, with a somewhat crisp exterior and a creamy sauce that simply marries the dish together, producing a sublime seafood special.
Seafood at Roberto's is taken seriously, like everything on the menu, where it is fished from the cold waters between the Canary islands and the South of Spain; and delivered to the restaurant in not more than 48 hours.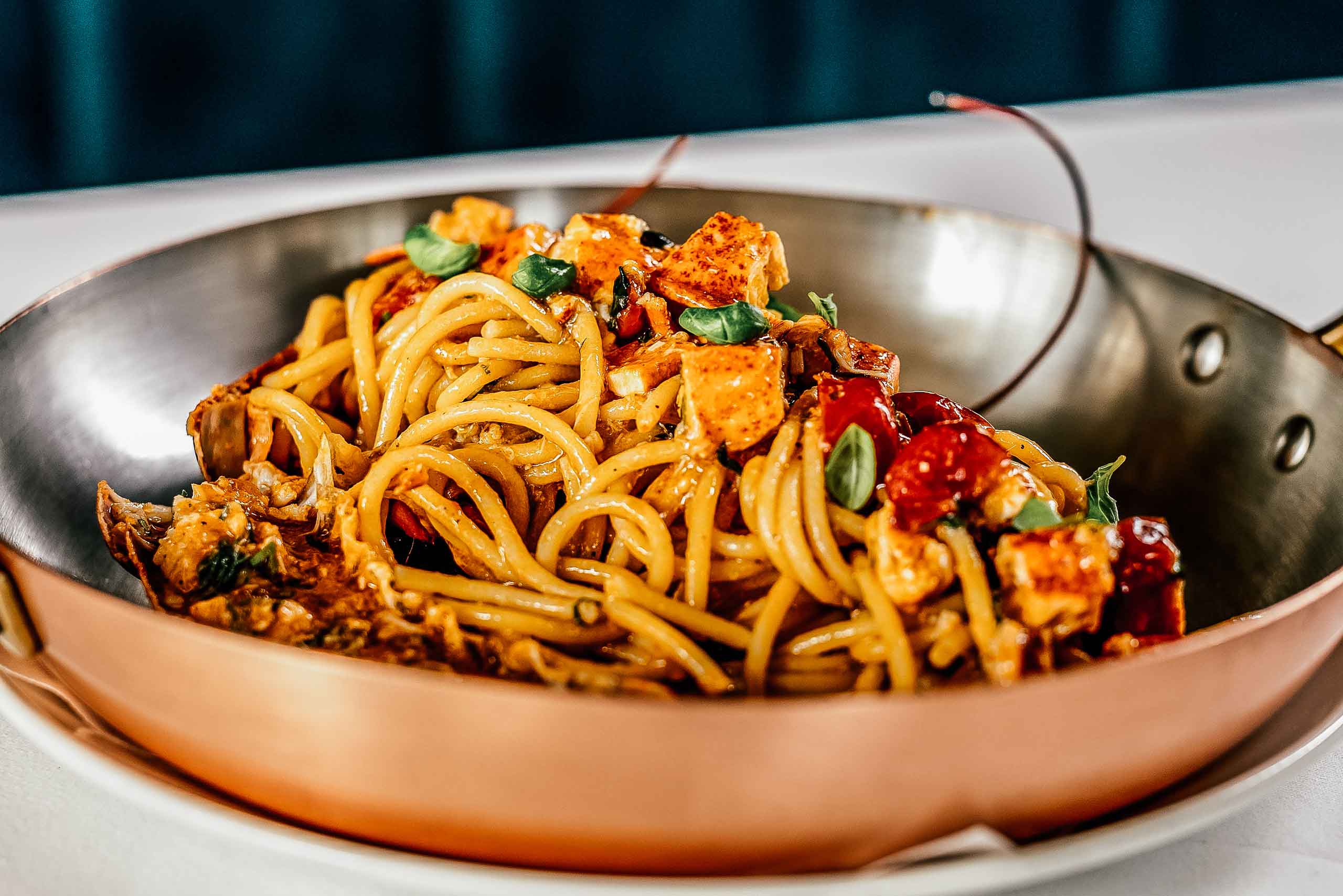 Two types of Pasta followed, the Raviolone which describes Italy in a dish, featuring ravioli stuffed with burrata and pappa al pomodoro and topped with taggiasca olives; and Chef Enricos signature, Risotto alla barbabietola, gorgonzola e noci which was not only pretty as a picture, but tasted sumptuous too. The deep red beetroot risotto sits in a saucer and is surrounded by a moreish walnut sauce, garnished with drops of cherry dressing and topped with earthy gorgonzola essences. It was a phenomenal fusion of flavours.
Branzino is Roberto's grilled wild sea bass with kale and a rich verjus sauce, that was cooked to perfection.
Finally, dessert showed up to our table and it included Ciocco colato, a warm dark chocolate foam that was light as a feather, with hazelnut ice cream; and the pièce de resistance, Gelato verde oro – a melt-in-your-mouth pistachio frozen treat, served with Lorenzo No5 extra-virgin olive oil brimming with delicately-spiced notes.
The verdict:
From the ambience to the dining, Roberto's is unquestionably exceptional. Perfect for a business dinner, your next date night or a soirée, you will enter in awe and leave impressed.
Book now:
Roberto's 10th anniversary menu is currently available until April 14. March 21 is Rawberto's (spotlight on Roberto's crudo bar), March 22 is The Italian Butcher (Chef Danilo Valla showcases a menu with fine cuts from the in-house meat dry-ager), March 24 is The Best of Enrico (9-Michelin starred Chef Enrico Bartolini curates a Gala Dinner) and March 25 is a Decade of Roberto's (the pinnacle of the anniversary celebrations with world-renowned Ben DJ). Call +9714 386 0066 or email reservations@robertos.ae. Visit the website or Instagram.