Sponsored: The glittering gathering at Armani/Pavilion is a treasured, unforgettable experience unlike any you might have been to before
As the sun sets across the horizon, revealing stunning streaks of warm gold, pink and orange across the sky, we arrived at our destination in Downtown Dubai eagerly awaiting Armani/Pavilion's contemporary-meets-traditional al fresco Iftar affair.
Gorgeous lanterns and candles surrounded the entrance in a striking assortment of colours and lights, as we made our way to the tranquil setting of the hotel's enchanting terrace, cushioned within a lush garden. A grand staircase slowly but surely reveals the grandeur that awaits; and in awe, we paused at the foot of the stairs to soak it all in before heading to our seats. Once seated, you have sensational views of the world's tallest tower on one side and The Dubai Fountains on the other. Prepare to be mesmerised!
The highlights:
Iftar at Armani/Pavilion will whisk you away on a culinary journey across the region and the wider world, to the four corners of the UAE, the heartland of the Levant, the vibrant Mediterranean shores and exotic Far Eastern locales. Look forward to signatures specials from the hotel's award-winning restaurants and diverse delicacies brimming with sustainably sourced local ingredients.
Reach for dates and fresh thirst-quenching juices to break you fast, including Qamar al-din, Jallab and the ever-refreshing Laban. Follow this with a walk around the setting, to discover the numerous flavours available across distinct counters. Armani/Hashi features the best of Japanese cuisine, Armani/Amal welcomes with fragrant Indian dishes and Armani/Ristorante offers an exquisite Italian dining experience, with a separate Kids' corner, an immense Arabic foods section, an array of Indian delights and desserts aplenty.
My dining partner stopped by the Kids' corner to pick up bites such as Margherita pizza, Mini beef sliders, Chicken nuggets, Mozzarella sticks and French fries for the little diner at our table; while I headed over to the soup stand for servings of hearty Oriental lentil soup and Traditional Moroccan harira soup with lamb and dates. We devoured our first course and made our way back to see what else the Iftar experience had in store for us.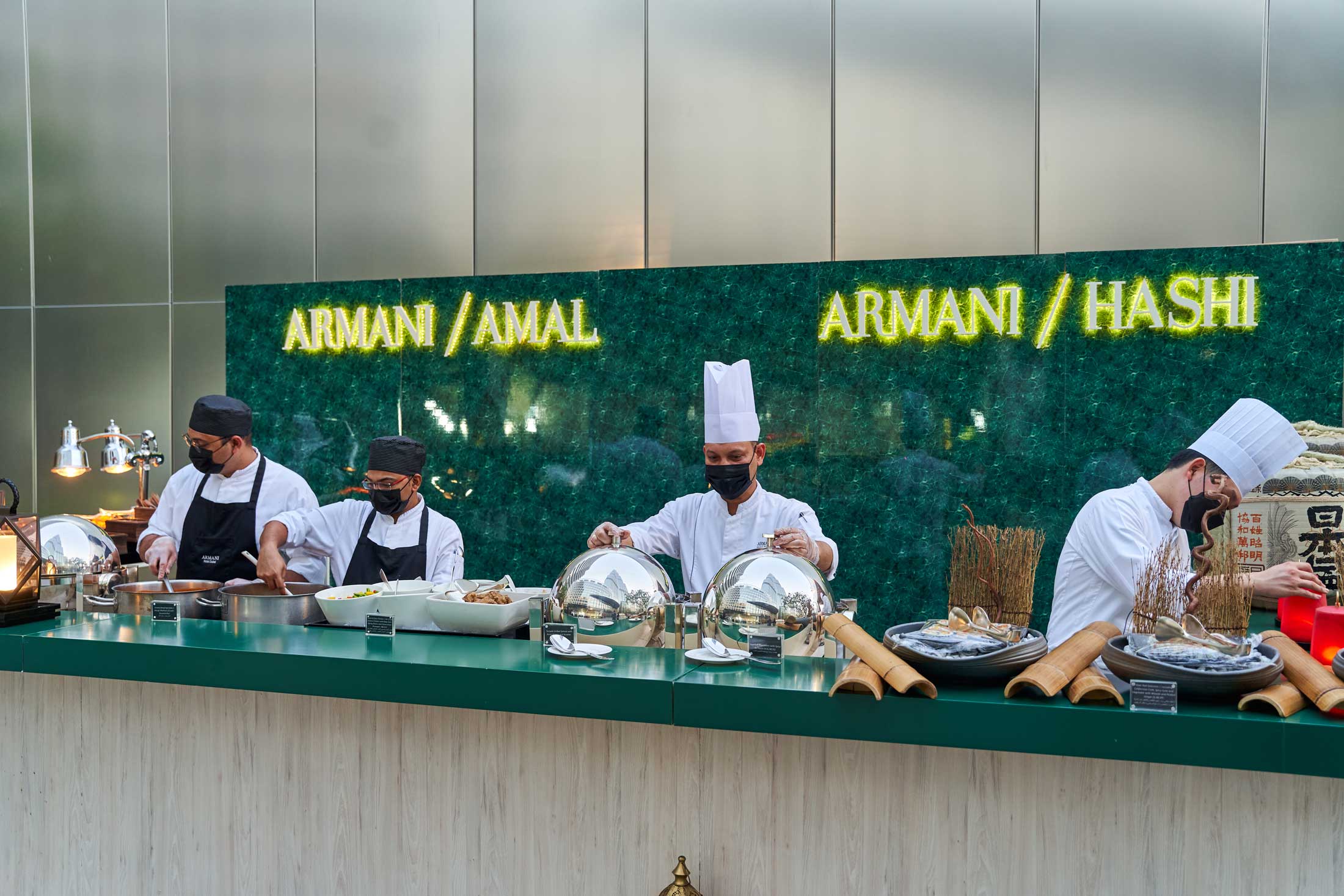 The Armani/Hashi counter beckoned, offering dishes such as Chinese chicken salad with sweet chilli sauce and black sesame that soon became a favourite at our table, Stir-fried beef with ginger and black bean sauce; and a sushi selection starring Maki rolls with Californian crab, spicy tuna and vegetables, with wasabi and pickled ginger to accompany. On the other side of the counter lies a selection of aromatic Indian flavours from Armani/Amal, such as a perfectly spiced Madras prawn curry with a rich coconut milk, Aloo-mutter (potato and green pea curry), Chicken tikka masala, Vegetable biryani, Kachumber salad and small flavour-packed snacks, including tangy chaat and samosas. Plates piled high; we went back to our seats to enjoy our meal.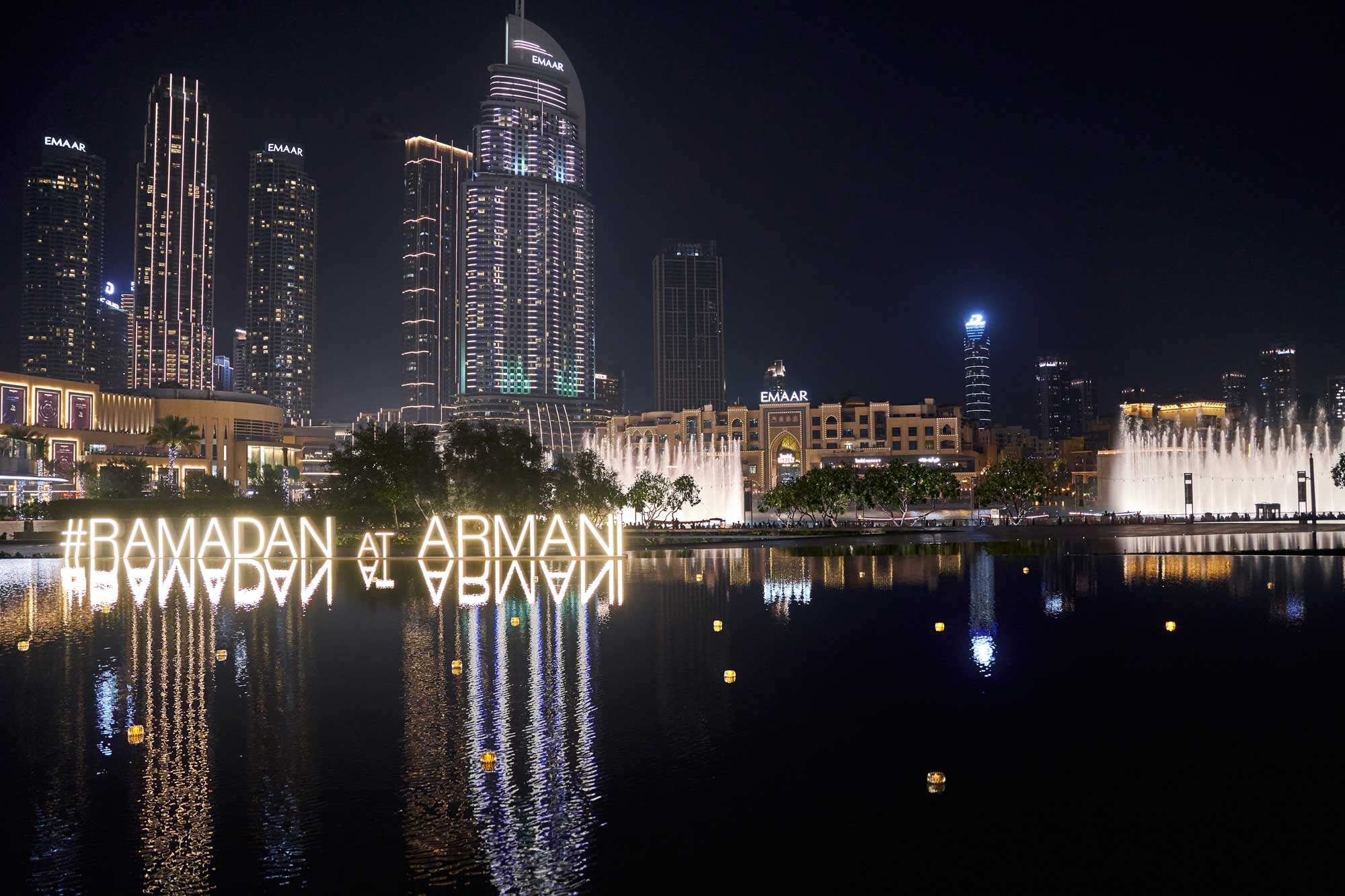 A break was needed, aptly timed with striking views of the illuminated swaying fountains. Tea served from a member of staff in a traditional costume made the rounds, completing our breather.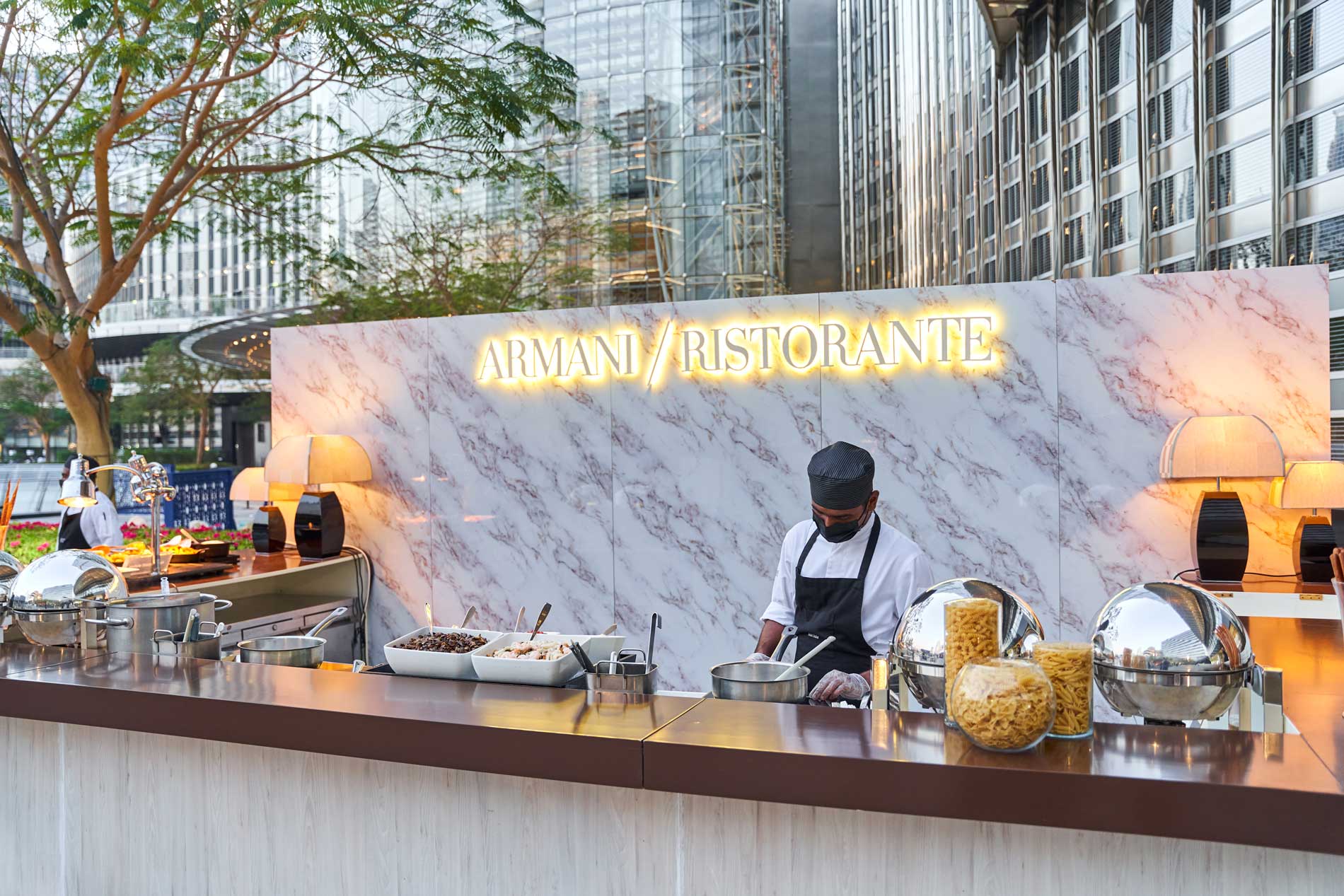 Hot, scrumptious antipasti comprising Mushroom arancini and Frito misto with lemon mayonnaise was up next; followed by helpings of sublime Lobster fregola (risotto style); a child tried, tasted and approved Orecchiette pasta with basil pesto from the live pasta station; and a Shrimp and avocado salad with a creamy Italian dressing from Armani/Ristorante.
The night-time LED show on the magnificent Burj Khalifa then began, taking our Iftar experience to new heights. Take a moment to stop and soak it all in, it was an unforgettable and treasured moment that I'm sure I'll cherish forever.
Save space for the myriad of Middle Eastern dishes, ranging from classic salads to dips such as Muhammara, an impressive Artichoke moutabel, Baba ghanoush and Beetroot labneh and tangy pickles and olives. The counter for hot foods and succulent live grills was teeming with Shish taouk, Chicken and Lamb kofta, Beef kebabs, Chicken freekeh barley stew with chicken and green peas, Kafta bil siniyyeh (lamb patty with mashed potato and tomato sauce), Shish barak (lamb dumplings with garlic-mint yogurt sauce) and Omani prawn and vegetable salona.
One of my top picks was up next, the Shawarma station offering Mushroom and olive fatayer, falafels and shawarmas with traditional Toum and Hummus to accompany. The Salt-crust baked salmon with lemon sauce was flaky and tender and will impress seafood enthusiasts; not forgetting the much-awaited Roasted whole baby lamb ouzi served with traditional Oriental yogurt with cucumber and mint, that we tucked into wholeheartedly.
Every Iftar experience should end with sweets and Armani/Pavilion offers that and more. Take your pick from treats spanning a Turkish cheese kunafa station, a Turkish delight shawarma station, hot and syrupy Lokma and dried fruit; and a kids' corner featuring delightful Candy, Popcorn cones, Chocolate chips, Cookies and Pistachio, Chocolate, Mango, Lemon, Vanilla and Raspberry ice-cream, that I couldn't resist stopping by. The Chocolate fountain with chocolate bars, lollipops and pralines will surely satisfy all tastebuds; and so, will the rest of the desserts, including Fruity gazpachos, Macarons, Maamoul pistachio, Halwat al jiben, Bourma pine, Bokaj cashew, Indian mithai, Rosewater crème brulée, Apricot mahalabia, Berry profiteroles, Coconut mousse, Passion fruit tartlets and Coffee opera cakes.
Soft melodious live music adds to the charming ambience, amidst the company of loved ones, family and friends.
The verdict:
The lavish Iftar experience at Armani/Pavilion is a perfect setting to break your fast, complete with exceptional dining in a remarkable ambience, first-class hospitality and uninterrupted vistas of the Burj Khalifa and The Dubai Fountains.
Book now:
Daily from sunset to 9pm. Iftar at AED295 per person (inclusive of a world of iftar flavours buffet and Ramadan juices).
Nightly from 10pm-2am. Suhoor at AED195 per person (inclusive of a sharing-style nutritionally balanced menu that celebrates both Middle Eastern cuisine and global classics).
Call +9714 888 3666 or email restaurant.reservations@armanihotels.com. Visit the website or Instagram.