Pack your bags, buckle the kids in safe and drive up to the Hilton Ras Al Khaimah Beach Resort for a fun-filled staycation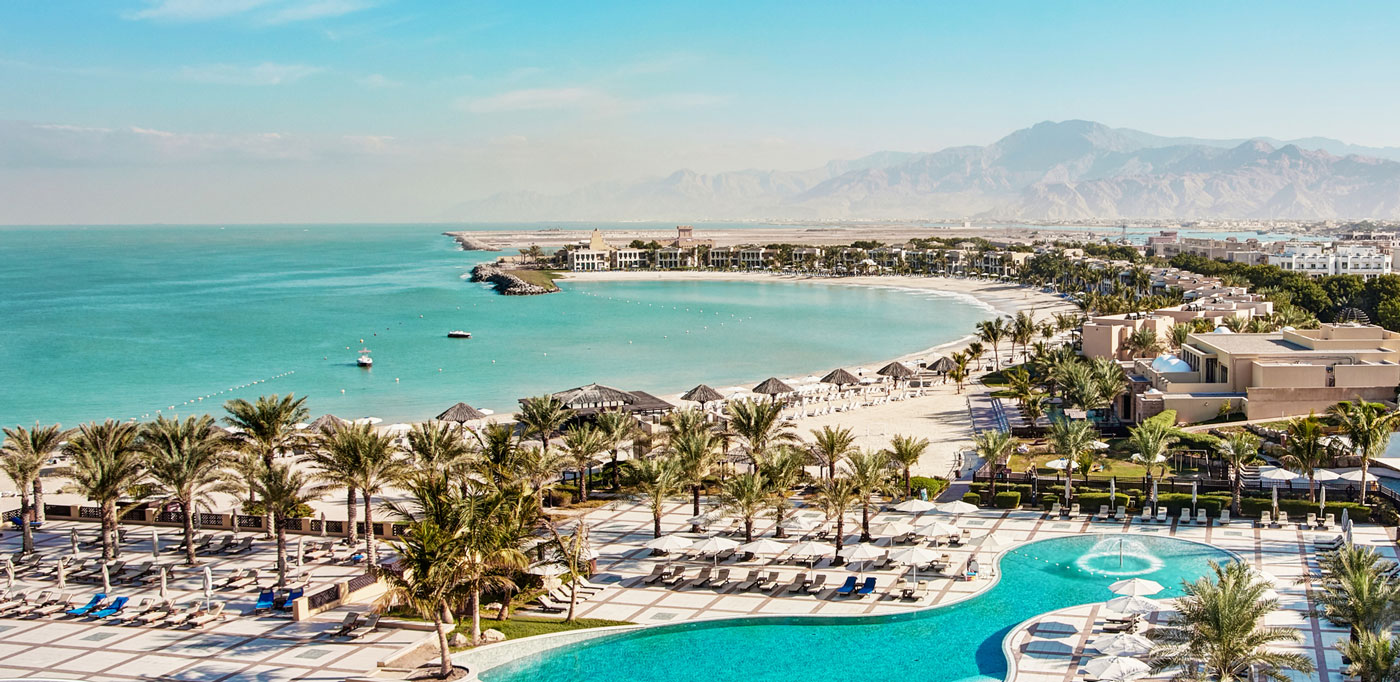 Nestled on an expansive private beach, boasting white sands, lush greenery and blue waters, the family-friendly (and dog-friendly) beachfront property on the coast of Ras Al Khaimah is apt for your next seaside escape.
We arrived at the resort in the afternoon, promptly for check-in; and despite it being a weekday, we were pleasantly surprised to see a crowd. Expect a huge lobby, with a magnificent dome, lanterns and comfortable couches around. A map provided to us at reception displayed the layout of the property, including the locations of 471 rooms, suites and chalets/villas, the numerous restaurants and bars, the various pools, the beach club and spa & fitness centre.
We knew right then a stroll around the property was due; and we were lucky enough to be offered a buggy drive-around by a member of the resort's team. The property is enormous and even if you decide to take a break from fitness or gym sessions, we can assure you lots of cardio during the length of your stay. Food and beverage enthusiasts will be glad to know the resort features distinctive restaurants and bars for your every desire. From Italian classics at the elegant Piaceri Da Gustare, light bites at the Dome Lounge and al fresco flavours at SOL Beach Lounge & Bar to delightful sundowners at Sunset Bar, international delights at The Kitchen and succulent grills at Vida Churascaria & Arriba Bar, you're in for a real treat.
Accommodation:
Our Deluxe Sea Front Suite was on the first floor of a four-room villa; and the setting comprised a whopping 710sq.ft. of living area, bedroom, shower, bath and balcony. Made to comfortably accommodate two adults and two young children or three adults, the space was decked out in modern, lavish beach-chic décor, with breathtaking beach views from the balcony. Over the course of our two-night stay, we spent a lot of time outdoors on the spacious balcony, surrounded by welcoming sounds of the gentle lapping of waves and chirping of birds.
For couples, groups of friends and families of different sizes, the property offers rooms and suites of different sizes and budgets. These range from the King Guest Room for two persons, to the Family Room with Garden access that sleeps four; and the Family Sea Front Villa for four, to the ultimate, the Two Bedroom Sea Front Family Villa for six people. With the multitude of options available, guests are spoilt for choice.
Culinary Offerings:
After sunset, we headed down to Piaceri Da Gustare for dinner, choosing to sit outdoors as the weather was absolutely gorgeous. A sophisticated space awaited us, with friendly staff who were more than happy to offer recommendations for our meal. Before we could begin, we spotted an interesting note at the bottom of the menu, called 'WaitOGrapher'. On asking for more information, we were informed that the innovative programme features a member of staff trained in smartphone photography, to capture diners' celebratory moments. We were thoroughly impressed. Moving on to the F&B part of our evening, the menu is divided into seven sections, namely the Crudi (uncooked seafood), Antipasti, Pizza, Primi, Secondi, Contorni and Dolci. We opted to begin with Polipo all griglia, featuring tender octopus with a side of new potato salad, a delicate avocado mousse and capers; and Carpaccio di manzo, with silken raw beef tenderloin slices, pecorino, egg yolk mousse, truffle aioli and grissini (breadsticks). One bite in, we knew we were off to a good start. Next up was the Linguini al Nero di sepia, brimming with squid ink pasta and seafood such as prawns, mussels and crab meat, in a warm, rustic bisque that was delicious; while my partner opted for the hearty Guancia di manzo (braised beef cheek with carnaroli rice with baby carrots). A breather was needed at this point and we chose to sip on hops and grape. A lush Hot chocolate fondant with mint ganache and raspberry sorbet and a velvety Vanilla panna cotta with sour cherry compote served to round off our epicurean experience. Tummies full, we walked back to our room, ready to turn in for the evening.
A cup of in-room coffee served to wake us up, before we went for a lovely midday swim, working up an appetite for lunch. Lunch is served at The Kitchen, where you can expect counters teeming with flavours spanning the globe. Picture dips, cold meats, salads such as Waldorf salad, Grilled veggies with rocca and shaved parmesan and Tuna with sweet corn, roasted veggies, nuts and raisins, Cheese and crackers and a scrumptious live station for Club sandwiches. Walk around the venue to pile your plate high with mains such as Roasted nile perch with dill lemon butter sauce, pizzas and Grilled chicken from a live station; followed by spiced dishes including, Dal tadka and Beef ghoulash accompanied by steamed rice or bread and continental favourites including Pasta with pink sauce, Mixed vegetable au gratin, Roasted stone bass fish with sautéed greens and more. The desserts' corner is packed with fresh fruit and sweets, that we thoroughly enjoyed. Croissant butter pudding, Basbousa, Maamoul dates, Passion fruits pastry, Strawberry mango tarts, Coconut panna cotta, Pineapple cake, Vanilla crème caramel, Apricot mousse and Hazelnut tarts were only few of the options available; and there is bound to be a palate pleaser for every diner.
Remember the cardio we mentioned earlier? The walk back to our villa was perfect to help digest the food. We spent the afternoon lounging on the beach, with plenty of shade from the trees around.
Dinner was to take place at the renewed Latin / Caribbean restaurant, Vida Churascaria & Arriba Bar. As soon as we arrived, we took our seats outdoors, in anticipation of the live music from a three-piece band. We reached for vibrant creative concoctions infused with jalapeño, fresh lime juice, fresh lemon juice and egg white; soaking in the beautiful ambience and lively tunes. A serving of Pão de queijo (Brazilian cheese bread) offered a mouthwatering start to our meal; and in typical churrascaria fashion, we were given a green/red object to indicate when we wanted to be served and when to stop. Diners can begin their experience with a Curried pumpkin enriched with coconut cream soup; followed by smoky bites from the churrascaria, sides, salsas and desserts. The sides included options such as Caribbean rice and beans, Fried plantains, Sweet potato fries, Latin quinoa salad, Beetroot salad and Green leaves with olive oil and lime dressing. Each unique in their own way, they serve to elevate your grill experience; and although you might be tempted to devour each one, we encourage you to wait for the main event, the grilled meats. Take your pick from perfectly-marinated meats, including Spicy flank steak, Beef picanha, Beef striploin, Jamaican jerk chicken, Garlic shrimp and Leg of lamb in mint and mustard marinade; accompanied by Chimichurri, Black garlic aioli and Spicy pepper sauce. Each cut of meat offered juicy bites, satisfying our taste buds immensely. It was a spectacular culinary experience, that wasn't over just yet. We indulged in Pineapple coated in a sugar-cane distillate and flamed with a touch of crushed black peppercorns and a side of vanilla bean ice cream; alongside Picarones (a type of mini doughnut) drizzled with palm sugar syrup. The restaurant is a must-try on your next stay at the property.
The next morning, we made our way to The Kitchen again, but for breakfast this time. Adults and kids alike, can look forward to all their favourite morning foods, with even heartier meals for those grabbing a late breakfast/early lunch. We began with cereal, where options include Choco krispies, Honey snacks, All bran cereal, Cornflakes or Weetabix; alongside fruit and freshly-brewed coffee. We appreciated the multiple milk options, including vegan and lactose free ones. If you're a fan of dips, reach for helpings of Hummus and Labneh, cheese such as Cream cheese, Cottage cheese, Cheddar and more; followed by Beef pastrami and Mortadella with olives, Smoked salmon and Dried fruit and nuts. From the hot section, look for the Parathas with Vegetables korma, Poha, Foul medames, Baked beans, Sautéed mushrooms, Scrambled or Boiled eggs with Veal sausages and Turkey bacon and Chicken fried noodles or Egg and vegetables fried rice. Visit the live counter for Roasted potatoes, Grilled tomatoes and Hash browns. A statement honey comb is placed for diners to try, alongside Pistachio with honey and Truffle mushroom paste and honey, which you can have with fresh waffles. For the health enthusiasts, try the Oatmeal or Polenta porridge; and carb lovers can reach for Croissants and Pastries.
Facilities:
Guests can frolic about on the property's 1.5km of private beach, or relax and catch some rays at any one of the property's seven pools. Teens who wish to partake in games can visit The Hide – Teens Club; and parents can leave the kids to have fun at the Treehouse – Kids Club.
If you're looking for a revitalising treatment, don't leave without a visit to The Spa, offering a wide range of packages, including body scrubs, customised facials and therapeutic massages using Esse products; while the fitness enthusiasts can pay a visit the gym, starring state of the art equipment.
Book a stay:
Room rates from AED460 per night. Special Eid Al-Fitr rates from AED1,100 for a standard room, or AED1,800 for a Junior Suite Beach Villa (both inclusive of breakfast). Call +9717 228 8844. Visit the website or Instagram.