Nestled within JBR, the award-winning Blue Jade at The Ritz-Carlton, Dubai is an all-time favourite that recently launched their first ever evening brunch.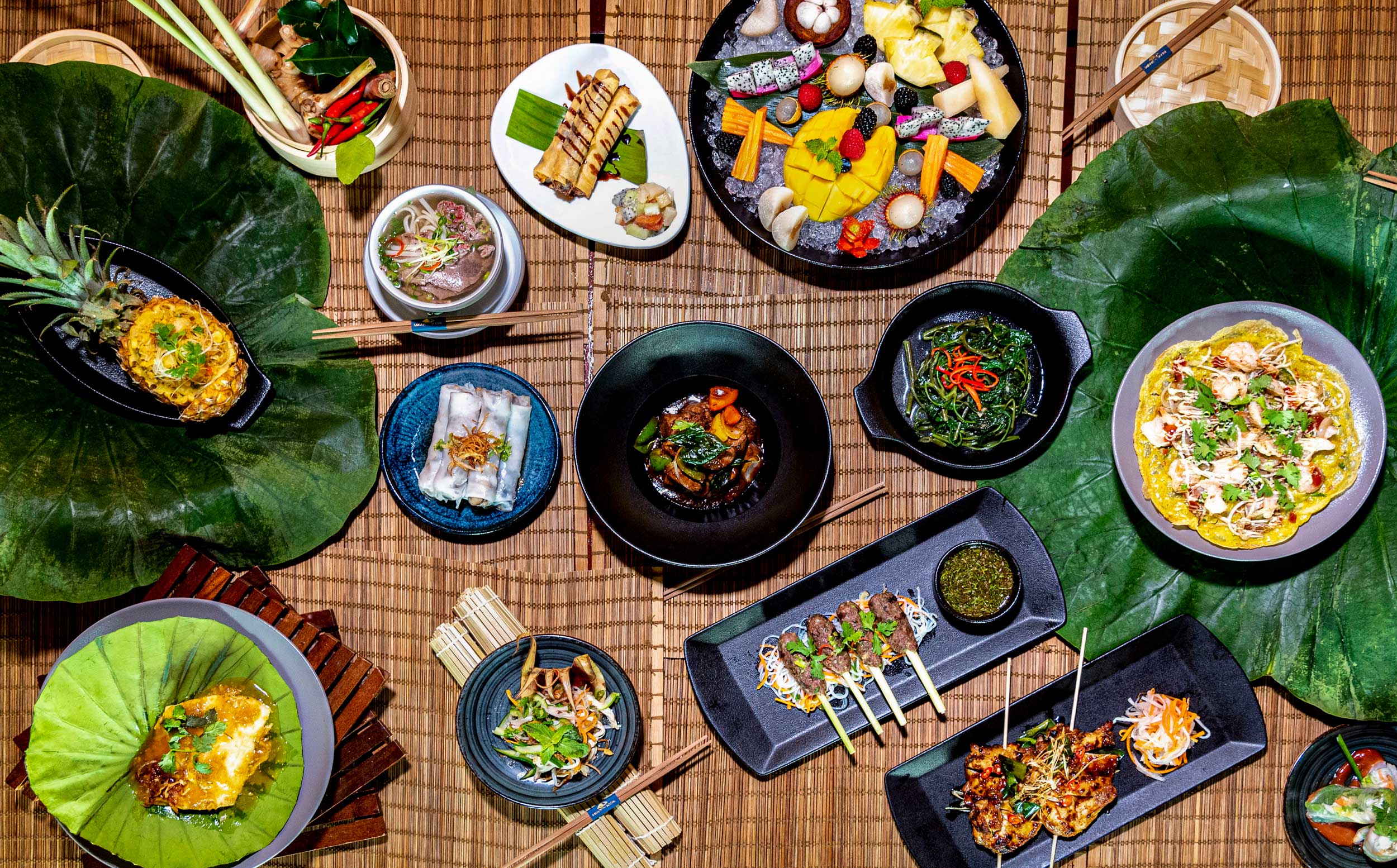 The Saigon Social experience takes diners on a culinary journey from the tranquil waters of the Saigon River, across the mesmerising islands of Ha Long Bay, through the bustling backstreets of Hanoi to the pulsating and trendy Ho Chi Minh City.
The warm, balmy evening called for indoor dining amidst an ambience reflecting rich French-Vietnamese architectural design and décor aesthetics such as bicycles, hanging lanterns and greenery; with a large open kitchen showcasing Blue Jade's culinary geniuses at work.
The highlights:
The Saigon Social evening brunch is filled with signature Vietnamese mains and street food bites in a modern-style interpretation of the classics by Blue Jade's Chef Ta Van Houng; with creative concoctions from the talented beverage team delivering the perfect accompaniment.
We began our meal with a traditional Vietnamese egg coffee, an homage to the destination's café culture; and it was a real treat. In no time, our table was covered with a spread of bites, each unique in presentation and flavour. Expect a plate of light and fresh Cold rolls with chicken, shrimp, noodles and cucumber and carrot lending that needed crunch; a beautiful Banana blossom salad with chicken, roasted peanuts and chilli-fish sauce; a simple Rice flour pancake heaped with multiple toppings; Rice paper rolls with lobster meat, shiitake mushroom, black fungus, onions and lime-fish sauce adding a brilliant balance to the dish; and juicy Vietnamese sausage skewers with lightly spiced coriander-chilli sauce. Do pace yourselves as the menu is vast and varied.
Next up, was an individual portion of the popular Pho Bo with beef, fresh herbs and a gentle heat; also considered Vietnam's national dish. We slurped it up in no time.
While enjoying the live musical entertainment, we decided to sip on a couple of creative concoctions infused with herbs, plants, fruits and roots – the beverages packed a punch. Exotic hops and grape are available too, for those who prefer traditional beverages.
We continued with generous portions of Ginger lotus sea bass, which we were delightfully surprised to learn was a recipe from the chef's grandmother. Grilled marinated chicken with lime leaves; Stir-fried beef tenderloin with sweet basil, ginger, black pepper and soy sauce; Sautéed kangkong with garlic; and the much-loved, Pineapple seafood fried rice with egg arrived soon after. Each impressive dish showcased memorable aromas and sublime flavours.
The Tropical fruit platter with mochi ice cream, Pandan sticky rice with coconut milk and Crispy banana spring rolls with sago dip, served the perfect end to a remarkable meal.
The verdict:
A wonderful way to wrap up a week, the Blue Jade evening brunch (or drunch) is apt for that post-work meet-up, night out on the town with your partner, or even a get-together with your mates.
Book now:
Thursdays from 8-11pm. AED249 per person (District 4 – inclusive of soft beverages), AED398 per person (District 1 – inclusive of soft and house beverages, Asia-inspired sips, hops and grape), AED88 per person (extended beverage package from 11pm-12am). Call +971 4 399 4000 or email dine.dubai@ritzcarlton.com. Visit the website or Instagram.