In a quest to take diners on a gastronomic journey like no other, Trèsind Studio, Dubai joined forces with Bon Bon, Belgium for an exclusive dinner.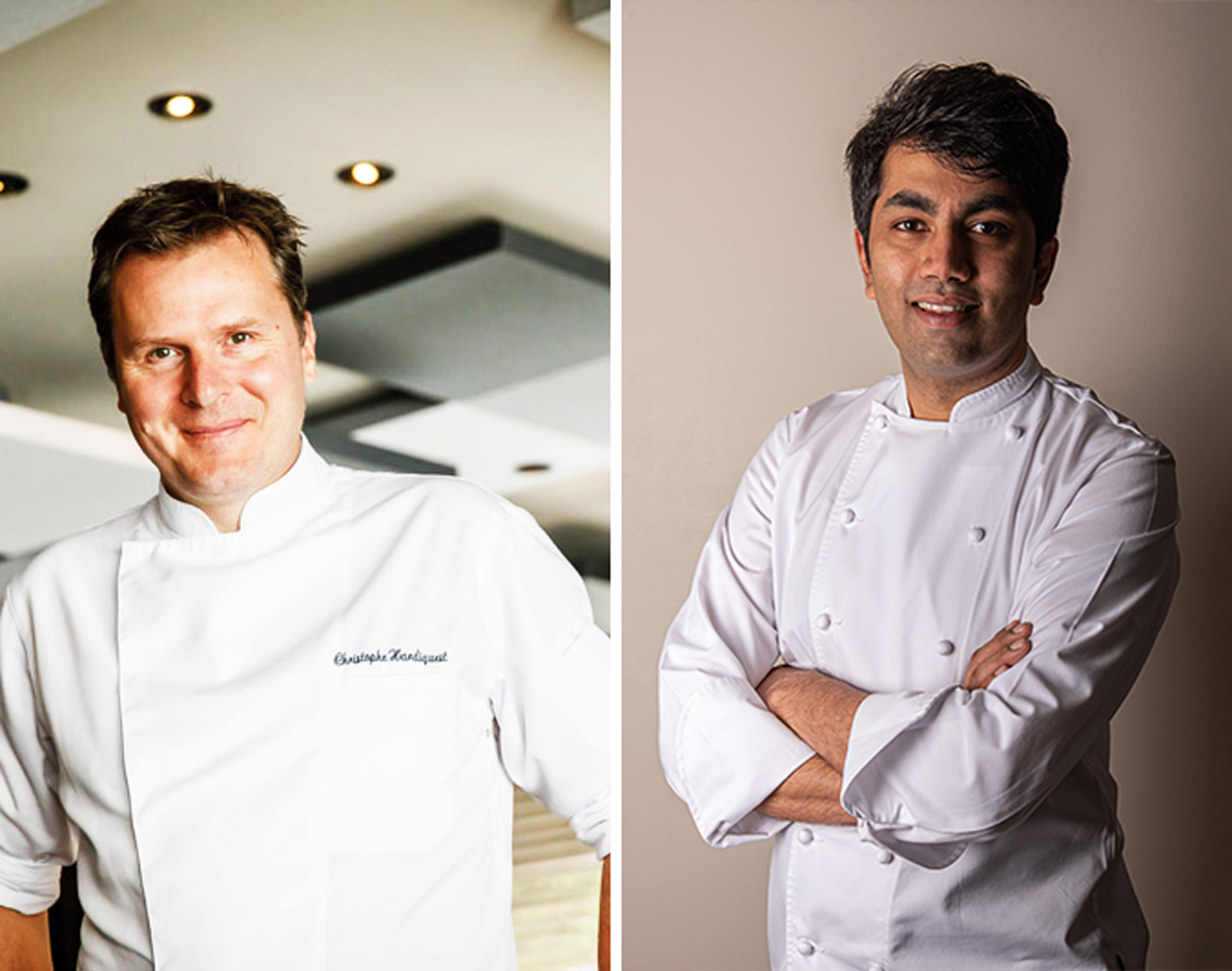 Known for often collaborating with other celebrated chefs, Chef Himanshu Saini, the culinary genius at Trèsind Studio, has been aiming to adjust the perception of Indian cuisine, while elevating the way it is experienced.
Christophe Hardiquest, the executive chef and owner of two Michelin Star Bon Bon in Brussels, Belgium is a culinarian who combines flair with subtlety. His kitchen philosophy balances lavish and common ingredients, in cuisine that is constantly changing, but with a French core.
The highlights:
Our culinary journey began with an elegantly designed, exotic and interesting menu placed at our table. It was anything but simple.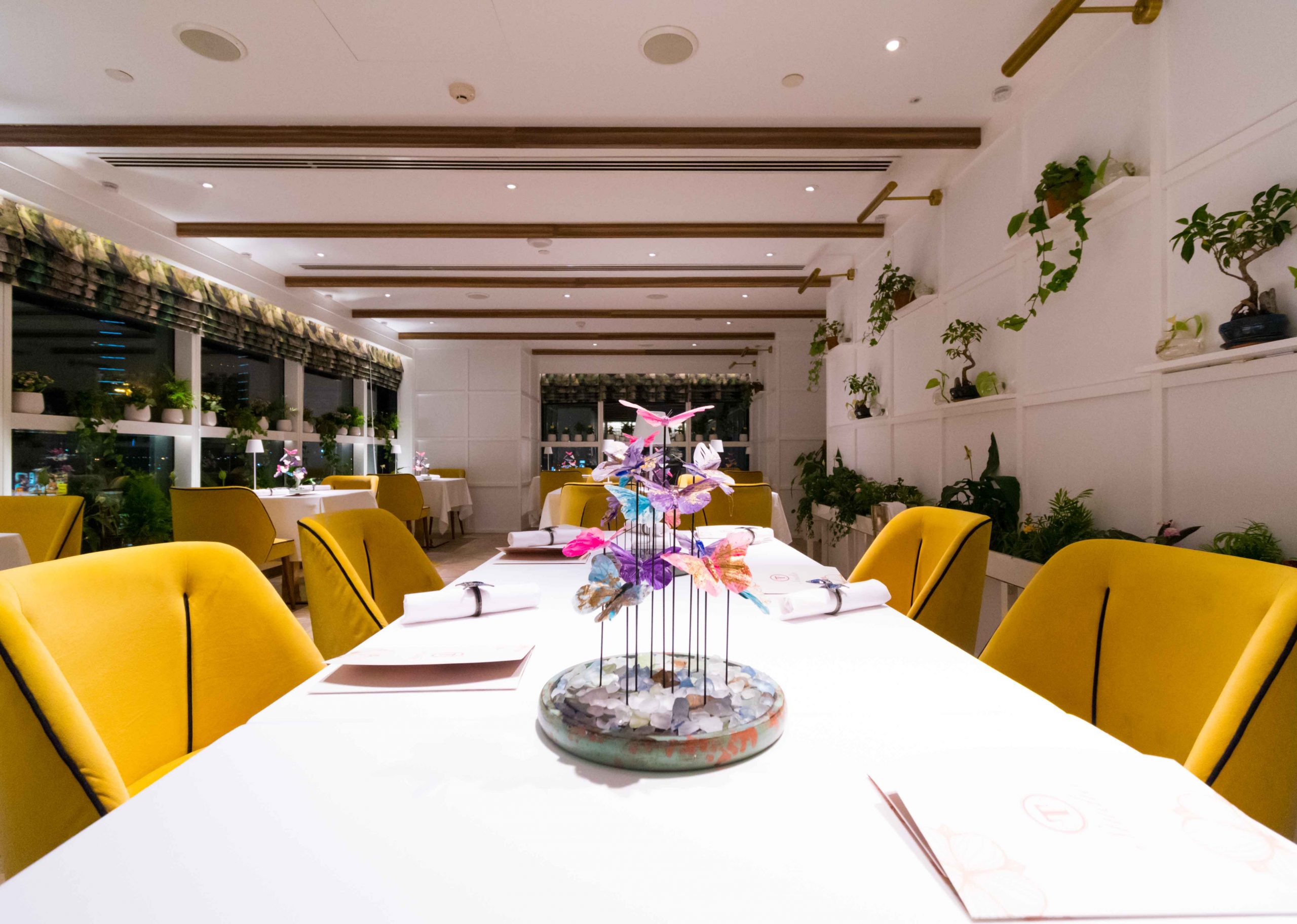 Each dish, within each course was not only presented with a dramatic, creative flair in true Trèsind fashion; but also had a backstory from Chefs Himanshu Saini and Christophe Hardiquest.
We began our evening with a burst of colours and flavours, in the form of a Summer Fruits bowl with Marigold Ice Cream and Ginger Bud Kombucha; followed by an indulgent Cheese Fritter with Ginger Condiments; an innovative Beetroot Kebab with White Chocolate Aero, Berry Chutney and Amaranth Cress; and a delicate Quail Egg Tomasu. Without exaggeration, each dish was inconceivable and yet, utterly sublime.
Small plates followed with a wonderful dessert that presented a pleasant surprise. The popular Rasgulla, a South Asian syrupy dessert, was repurposed into a light and refreshing palate-cleansing citrusy bite with sweet edible flowers. Next was a dish bursting with flavours of the ocean, a Marinated Mackerel piece with Sour Cherry Kriek, Spring Onions and Radish; followed by a perfectly spiced Mustard-infused Chicken Kebab in a Raw Mango broth with Garden Herbs; a Belgian White Asparagus with a lovely lemony-tang from Sorrel, Parsley and Belgian Feta Cheese; a creative Indian-style Spaghettoni Indiani with Jackfruit Focaccia; tender Veal White Pudding with a Snail and Herb Salad and Tarragon; traditional Mutton Curry with String Hoppers; and an aromatic Roasted Duck à la Liégeoise with Juniper Berries and Black Garlic from Brussels.
By the time dessert came around, we really did not think we could be surprised any more. Oh, how wrong we were! From the team at Trèsind Studio came a luscious, sweetened oyster treat, ice cream topped with barfi (milk-sweet) and a pebble-shaped chocolate, aptly titled, 'A trip to the backwaters of Kerala'; and from the team at Bon Bon, came a delectable White Cheese Mousse with Fresh Herbs, Cucumber and Lime.
The verdict:
For an experience that offers food that tastes as good as it looks, Trèsind Studio is a must-visit. Prepare to be incredibly impressed.
Book now:
Call +97158 895 1272, +9714 808 0440 or visit Tresind Studio. Visit Bon Bon.