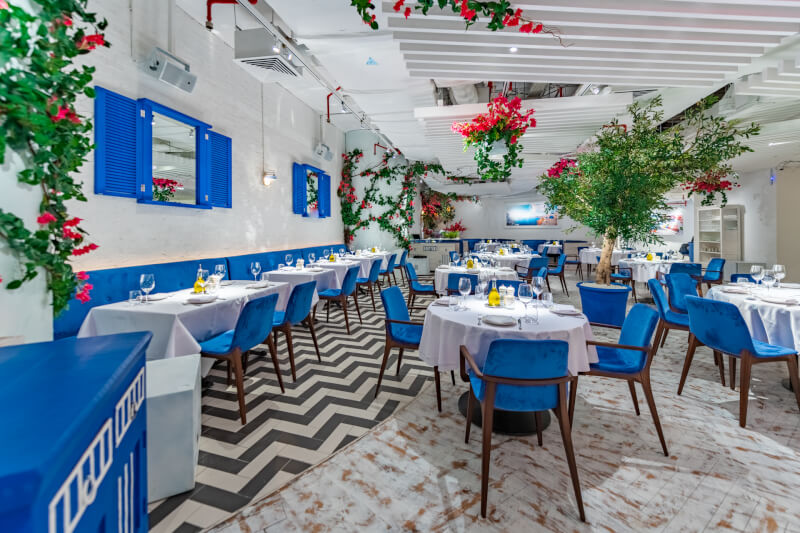 What's it like? Through a private elevator ride to the first floor of Fairmont Dubai, you will find a charming slice of Greece known as OPA. An indoor patio complete with mosaic-tiled flooring, pink flowers and olive trees welcomes you in, with dim lighting prevalent throughout the restaurant for that intimate Mediterranean vibe. The dining area boasts a quaint, velour-upholstered corner booth, where we're seated, and we realize we are in for a treat as the server dressed in Greek wear greets us with a smile. Greek tunes play in the background and diners are kept entertained with plate smashing (Yes, plate smashing).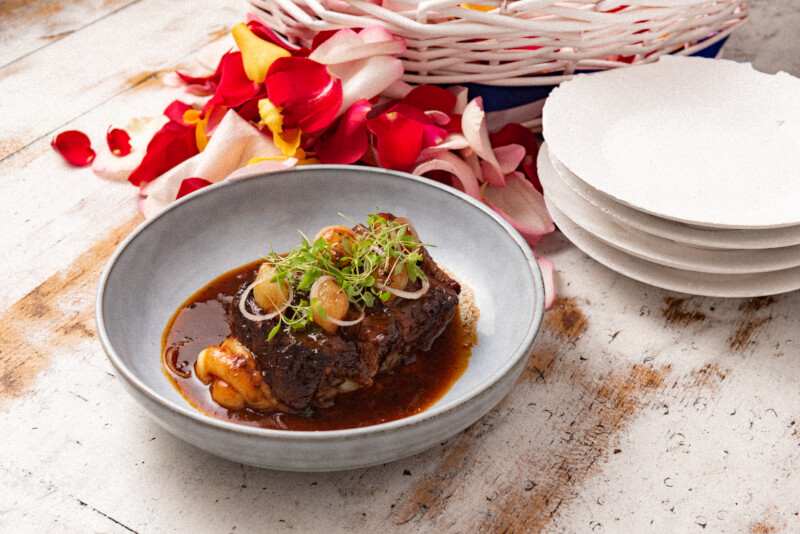 What are the food highlights? To whet our appetites, we ordered the OPA hummus with incredibly moreish crisp lamb pieces, topped with pine nuts for texture. In true Greek style, it's scooped with freshly baked Greek pita bread. The calamari is a great seafood option for starters, fried to perfection. One we also highly recommend is the authentic Greek meatballs (Keftedes) served atop mashed potato. The juicy meat pairs perfectly with the salted, creamy feta cheese. Moving onto mains, we tuck into a succulent KLeftiko (braised lamb shoulder) accompanied by feta mash. But what tops our list this evening, is the pull-apart slow-cooked beef. It melts like butter when it hits the tongue and truly is a carnivores' dream. Greek-style potato chips add the perfect crunch as a side.
We are more than full after entrées, but absolutely have to make space for what our serving attendant calls OPA's top dessert. The crispy filo cup filled with pistachio cream, Greek yogurt ice cream and flaky baklava is served with a heavenly caramel sauce and smashed pistachio. A delectable end to an absolutely lovely meal.
The bottom line: Perfect for both a couple's night out and family get-togethers. The vibe at OPA instantly puts you in a great mood.
Want to go? Contact +9714 357 0557 or visit opadubai.com