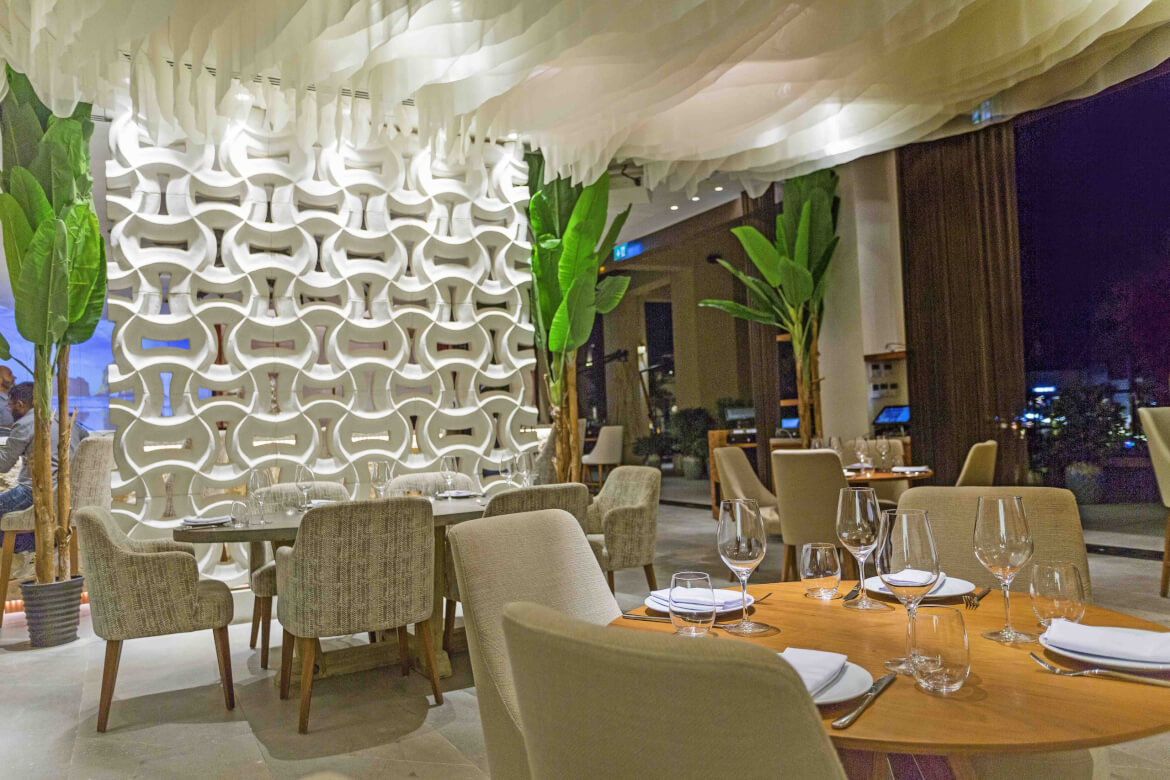 At the very end of the East Marina at The Pointe, and up an elevator to a boho-chic terrace, is the warm, friendly and beautifully designed AIZA. The brightly lit indoor dining space is decorated with suspended wavy ceiling fabric to symbolise the forces of nature, reflecting where the sky and sea collide. The flooring, meant to resemble the pebble-lined streets of Greek-island towns, and the exposed illuminated stone at the bar, pay homage to the island's cliffs and instantly transports you to the Greek islands. Since the weather is absolutely gorgeous this time of year, take a seat at the terrace where the breeze beckons. Beautifully carved wooden tables beneath vibrant gorgeous pink flowers complement the views of the World's Largest Fountain and Atlantis, The Palm, in the distance.
The highlights: My dining partner and I were greeted by pleasant staff, most of whom were Greek, who promptly took us through the culinary and social highlights of the evening. In no time, our table was covered with a spread of sharing-style mezzes, starting with one of my favourites the Taramosalata (smoked cod roe). Best eaten with the accompanying pita or on its own, the authentic dish took me right back to the shores of Santorini. Next up was perfectly crisp salt and pepper calamari; a filling AIZA salad Cretan style with xynomyzithra cheese; and crunchy cheese pies that beautifully complemented the earthy flavour from the black truffle and Greek honey drizzled all over the top.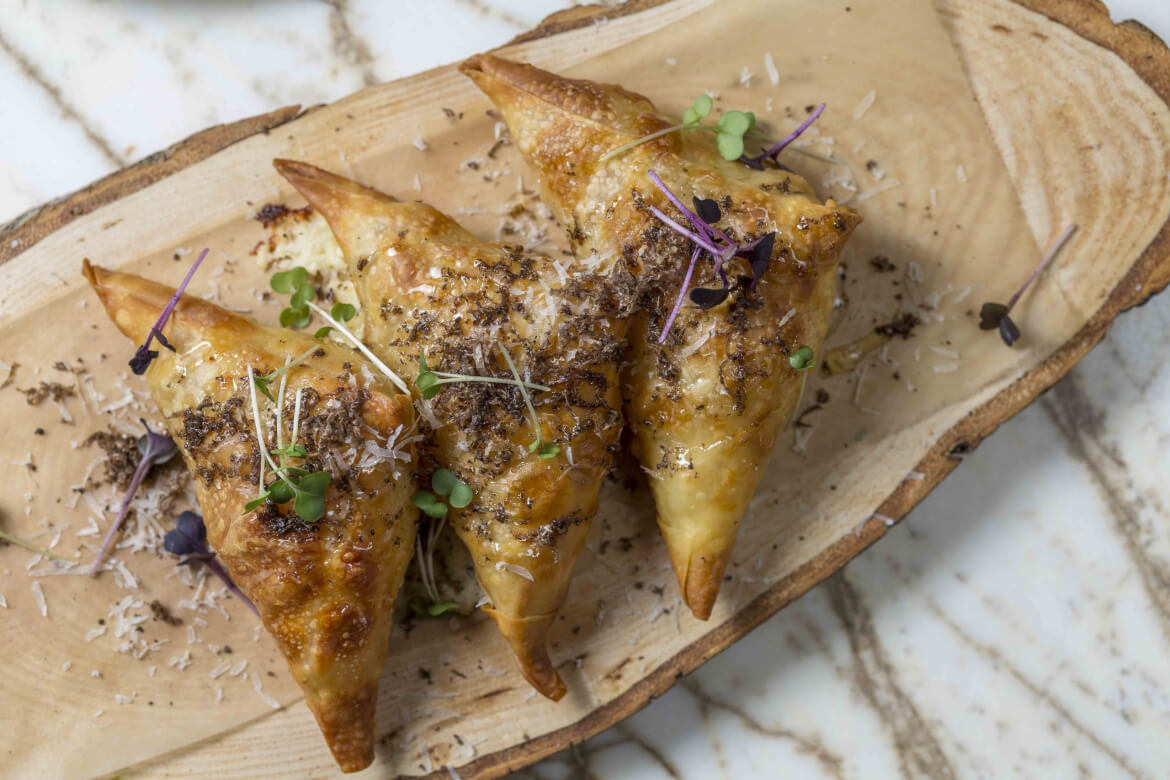 We took our time to unwind, sipping innovative concoctions with interesting ingredients such as peach spices and red fruits, homemade biscuit soda, jasmine tea, and floral Greek honey and apricot, while taking in the stunning views of the surrounding Palm Island; a phenomenal sight from the terrace.
For mains, we chose grilled Tsipoura fillets with lemon, fennel and rocket salad; broccoli with chili, garlic and lemon oil; and a must-try lamb shank ladorigani. Despite the many culinary marvels, the lamb shank cooked in a Josper oven was the highlight of the evening, with perfectly seasoned, fall-off-the-bone tender meat served with roasted potatoes soaked in the juices.
When dessert showed up by the end of our meal, we just couldn't say no. The molten chocolate cake with strawberries and vanilla ice-cream is a great sharing-style dessert to end your meal on a sweet note. To top off our Greek-filled experience, we were treated to a lively performance of the traditional Greek plate smashing – which you can participate in as well – and dances from the staff.
The verdict: Authentic Greek-Mediterranean cuisine complete with beautiful views, music and interiors, AIZA is perfect for a date night or even a fun evening out with friends.
Book now: Open daily from 6pm-2am. For reservations, please contact +971 4 575 5097.