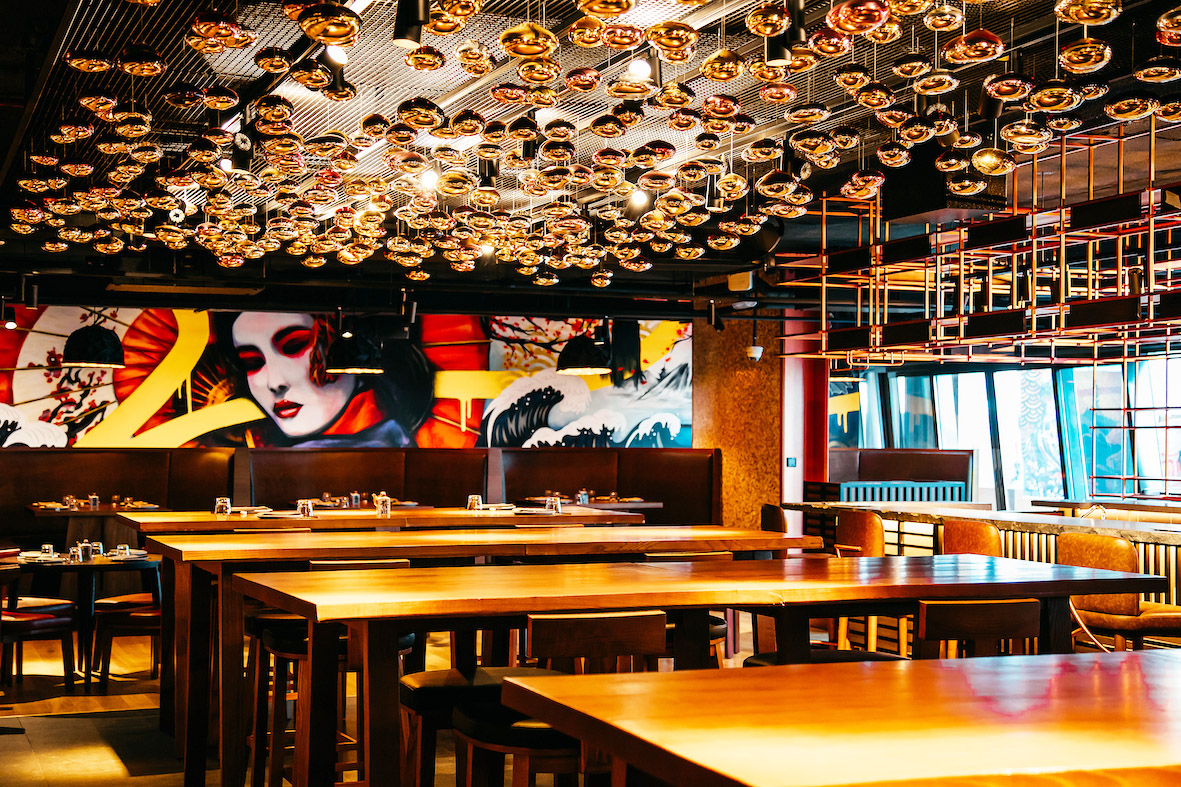 At the Millennium Place Marina, you will find the incredibly trendy Ikigai Resto & Bar with Japan's famous street side eateries or Izakaya as its inspiration. The fun social concept brings Asian cuisine with unconventional twists, synonymous with the culinary style of celebrated Chef and Restaurateur, Reif Othman – the consult on the venue's distinct menu. Along with Head Chef Minho Ted Shin, the culinary geniuses have curated a menu that offers true Japanese soul food.
From the moment we set foot into the eatery, we were captured by the artistic ambience. A stunning, vibrant mural, above booth-like seating sits one side of the restaurant's wall, while the main dining area features high tables with a well-stocked bar on one side and an open-plan kitchen counter on the other. The outdoor terrace with comfortable lounge-type seating looks out to the Dubai Marina. For those who have visited Japan, the space aims to take you right back.
We chose to be seated at the high tables and if you do too, do us a favour and look up, directly above your seat. The edgy décor, styled with wooden interiors and soft mood lighting is mesmerising.
The highlights:
From crispy snacks and raw seafood to indulgent mains and decadent desserts, Ikigai has a brilliant menu to offer. Our evening began with Mushroom tacos topped with truffle mayo. One juicy bite in, gave us the perfect gateway of what was to come. And we were right! Next up was a Spicy edamame, Hamachi with a citrus white ponzu and a lightly seared Salmon with jalapeño soy, a close contender for the star dish of the evening.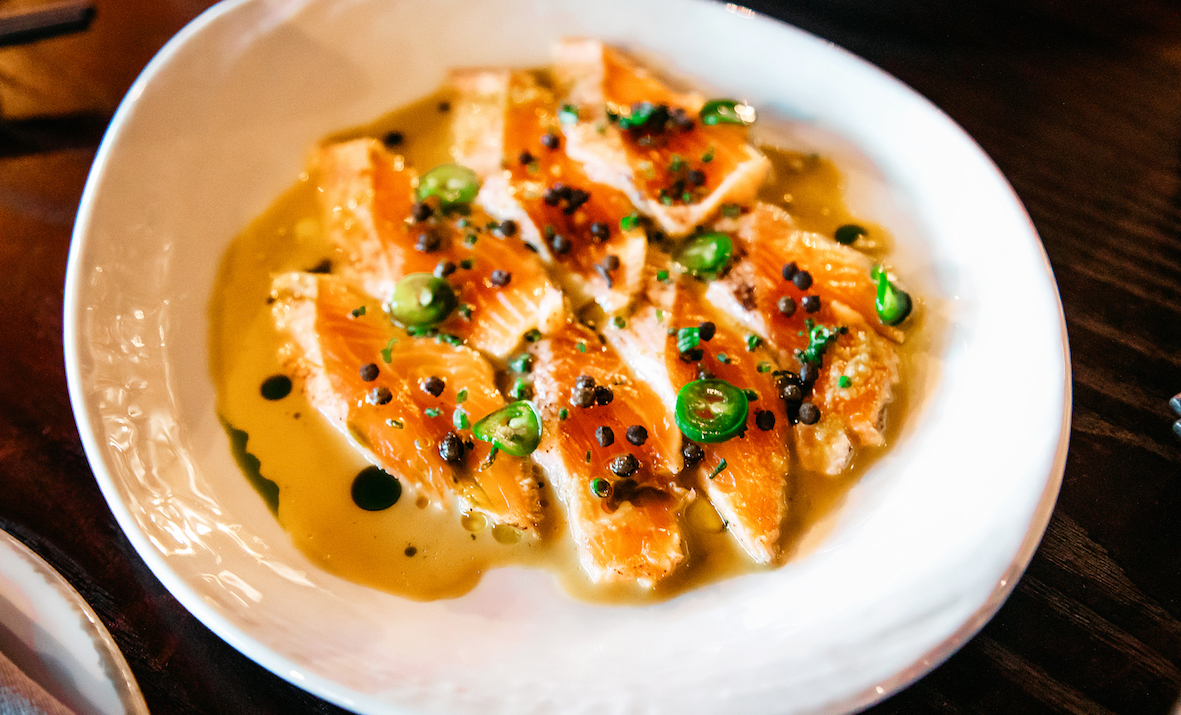 But then came the Wagyu beef tataki with goma truffle sauce that swept us away. If you have to order just one raw dish, this takes the prize! If you're not a truffle fan (we can't be friends, sorry), try the Salmon with jalapeño soy.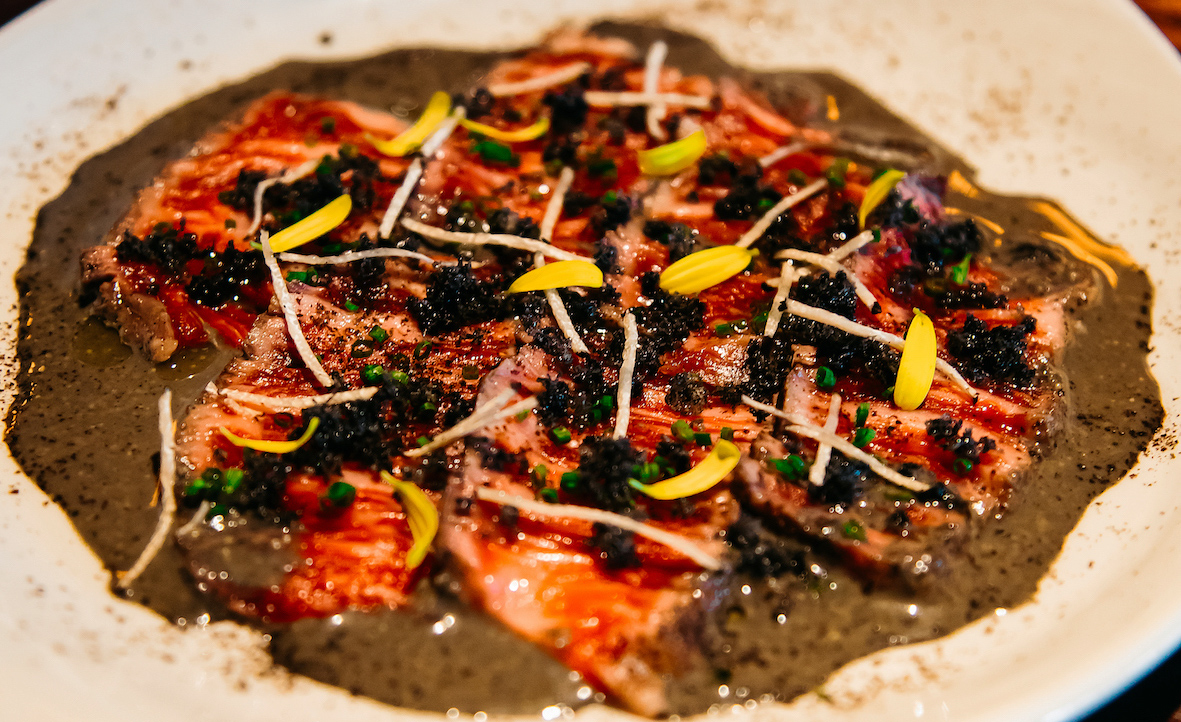 Sashimi enthusiasts will be pleased to find Otoro, Hamachi, Unagi, Ikura and more. Fresh, silky smooth with a melt-in-your-mouth texture, this section of the menu will surely be your happy place.
Mains presented itself in the form of Grilled tiger prawns with all the umami goodness of kombu butter, and Bibimbap with marinated wagyu beef and an onsen egg. A sharing dish, the rice was mixed at the table and turned out to be quite a show. The stir-fried spicy ramen side with wagyu beef was as generous a portion as the main, and something worth writing about because the sauce had robust flavours with a slight kick.
We took a breather and sipped on innovative beverages with ingredients such as passion fruit, yuzu purée, cucumber syrup, green apple syrup and cranberry. The restaurant also offers fermented-rice beverages, among their extensive list of sips.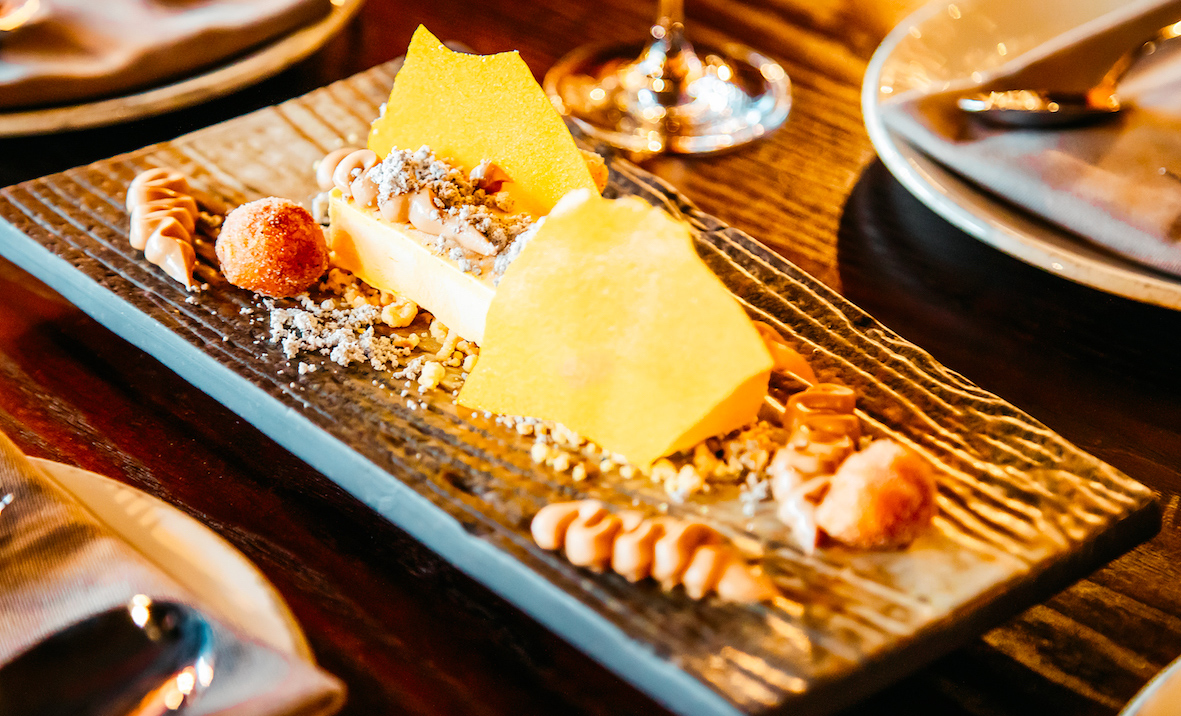 We absolutely could not have had another bite at this time but when the sweet potato semi freddo with fried mochi, and the Valrhona chocolate goma fondant with vanilla ice-cream arrived, we just had to try it and round off the meal with a spectacular ending.
The verdict:
Where purpose meets passion, there's Ikigai! Gather with friends and family for laid-back catch-ups, tempting sharing-style plates and chilled concoctions at a gorgeous contemporary setting.
Book now:
Daily, restaurant open from 12-11pm and bar from 12pm-1am. Contact +9714 550 8114. Visit the website.