The renowned Lebanese fine dining restaurant has officially made its debut in Dubai Mall's Fashion Avenue, marking an exciting addition to the city's culinary scene. Originating in Dbayeh, Lebanon, in 2009, Babel has since grown into a must-visit culinary destination, with a presence in Lebanon, Kuwait, Egypt, and Qatar.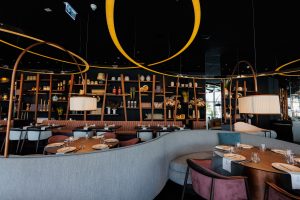 Spanning an impressive 9,500 square feet, the dining space promises to transport guests on a historical journey to the banks of the Euphrates, once home to the world's mightiest city, Babel. Diners can witness an airy indoor dining area with an open kitchen concept and a dedicated fresh seafood display. The venue also offers both indoor and outdoor seating options, with smoking and non-smoking sections. The venue boasts a spacious terrace overlooking the iconic Dubai Fountain, making it the perfect setting to relish the forthcoming cooler months.
The highlights
Our evening commenced with an assortment of starters that cascaded onto our table, filling the air with anticipation. These preludes to our meal included Tabboulet el bahar, a unique take on the traditional tabbouleh featuring succulent shrimps, where the freshness of the ingredients and briny shrimp flavours harmonised beautifully. We then savoured the iconic Hummus alongside smoked Artichoke with lemon sauce, where the smoky artichoke essence perfectly complemented the zesty lemon sauce.
We then ventured into Muhammara, followed by the tangy Balila, an exquisite medley of chickpeas, coriander, tomato, cumin, and lemon sauce that graced our palates with its aromatic spices. The star was undoubtedly the Ravioli shish barak – a dish that left a lasting impression, where delicate ravioli parcels, filled with savoury richness, were perfectly enhanced by creamy yoghurt and parmesan cheese.
For our main course, the Kebab with toasted pita bread offered a comforting blend of smoky grilled meat marinated in delectable spices. The Lamb shank, served on fragrant oriental rice, showcased tender meat and aromatic spices, while the cheesy Lobster thermidor provided a rich flavour.
As we embraced the final course of our culinary exploration, the Double chocolate dessert arrived, showcasing homemade chocolate cake coupled with dark chocolate ice cream served on top. The Umm Ali, a traditional Middle Eastern dessert shared textured layers of pastry, nuts, and cream. It was, unequivocally, an unforgettable gastronomic experience—one that we would eagerly relive.
Book now
Contact +9714 431 2333.