Nestled within W Dubai – The Palm, this internationally acclaimed dining establishment is where Chef Akira Back skillfully crafts a unique fusion of Japanese cuisine with Korean and international flavours, culminating in an exhilarating culinary journey. With a focus on seasonal and artisanal ingredients, discerning diners can savour an eclectic array of Japanese specialties set against breathtaking views of the Dubai skyline.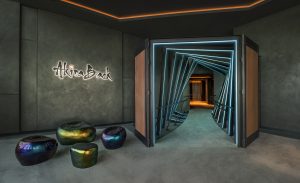 The enticing ambience is brought to life with cloud-like structures on the ceiling, wabi-sabi elements that embrace the beauty of imperfection and simplicity, and art pieces that reflect the chef's personal touch. With a multitude of dining choices, we embarked on a culinary adventure by selecting the Explore menu, a curated collection of Chef Akira Back's personal favourites, to perfectly elevate our Tuesday evening.
The highlights
The Explore menu at Akira Back offers an array of dishes that promise an unforgettable experience. Our culinary journey began with a delectable adventure as we enjoyed the crispy Tuna pizza, featuring umami aioli, micro shisho, and a drizzle of white truffle oil. The Salmon tataki, uniting the perfect fusion of mustard su-miso and pickled wasabi, and our personal favourite AB Tacos, a succulent wagyu beef bulgogi intertwined with roasted tomato ponzu, set the stage for the remainder of our meal.
We were promptly treated to the Scallops in half shell, where kimchi, veal bacon, and gochujang butter elevated the sweetness of the scallops to new heights. The Red dragon roll, an exquisite fusion of shrimp tempura, crab mix, avocado, lemon, and maguro eel sauce, offered an explosion of flavours, while the Perfect storm roll, featuring shrimp tempura, spicy tuna, Aburi salmon belly, and chipotle mayo, showcased the chef's inventive mastery.
For our main courses, we indulged in the Josper grilled salmon, served on a bed of garlic spinach, drizzled with spicy teriyaki, and garnished with nori rice cracker for a satisfying crunch. The Jidori chicken, paired with velvety potato puree and teriyaki sauce, was a stunning medley of tantalising flavours.
To conclude, we delighted in the Yuzu citrus dessert, a composition of sable crumbles topped with strawberry gelato for a refreshing and sweet ending to our culinary exploration.
Book now
Every Tuesday, from 7pm. AED299 per person. Contact +9714 245 5800.