City Social House has introduced its latest dining venture Jazz by City on the 44th floor. Born from the creative vision of the celebrated celebrity Chef Jason Atherton, the venue assures a memorable night brimming with New York-inspired grill fare, soul-soothing jazz melodies, and a mesmerizing vista of Dubai's skyline.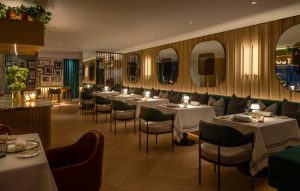 The stylish interiors, featuring warm colour palettes, artistic flair, musical artwork frames, marbled decor, and inviting green and brown tones, skillfully create an immersive and visually captivating jazz-inspired setting for diners. Jazz enthusiasts can immerse themselves in enchanting melodies reminiscent of legends such as Nina Simone, Frank Sinatra, and Duke Ellington while grooving to the rhythmic beats of the duo, Salt N Pepper.
The highlights
The menu at Jazz by City presents a mouthwatering selection of dishes inspired by the grill concept synonymous with New York-style cuisine. To start off, we ordered the Boston prawn salad, a delightful creation with succulent prawns bathed in a Marie Rose dressing, accompanied by creamy avocado and the subtle crunch of shallots. The Creamy heritage tomato features a luscious Burrata cheese ball, adorned with fragrant basil pesto and encircled by ripe heritage tomatoes. Served beside a toasted garlic brioche and crowned with an egg yolk, the Wild mushroom ragout showcased a rich umami flavour.
For our main course, we savoured the Corn-fed chicken paillard, a dish that unites tender chicken with a burst of pickled red peppers, the fiery kick of harissa, alongside crispy leaf salad and creamy feta cheese, while the Wagyu Burger presents a succulent patty nestled within a soft potato bun, topped with caramelised onions and Monterrey Jack cheese. The accompanying fries were golden and crisp, and the peppercorn sauce added a touch of indulgence to the experience. The Aged Acquerello parmesan rice with braised trompettes was a creamy risotto, enriched with the depth of aged parmesan, and was a comforting complement to our meal.
To conclude our culinary journey, we opted for the Death by chocolate, which arrived on a cake trolley, allowing us to choose from a selection of drizzles including berries, white chocolate, and dark chocolate sauce. The Crème brûlée, topped with a refreshing blackberry sorbet, was a delicate and creamy delight that rounded off our dining experience on a high note.
Book now
Contact +9714 402 2222 or visit website.