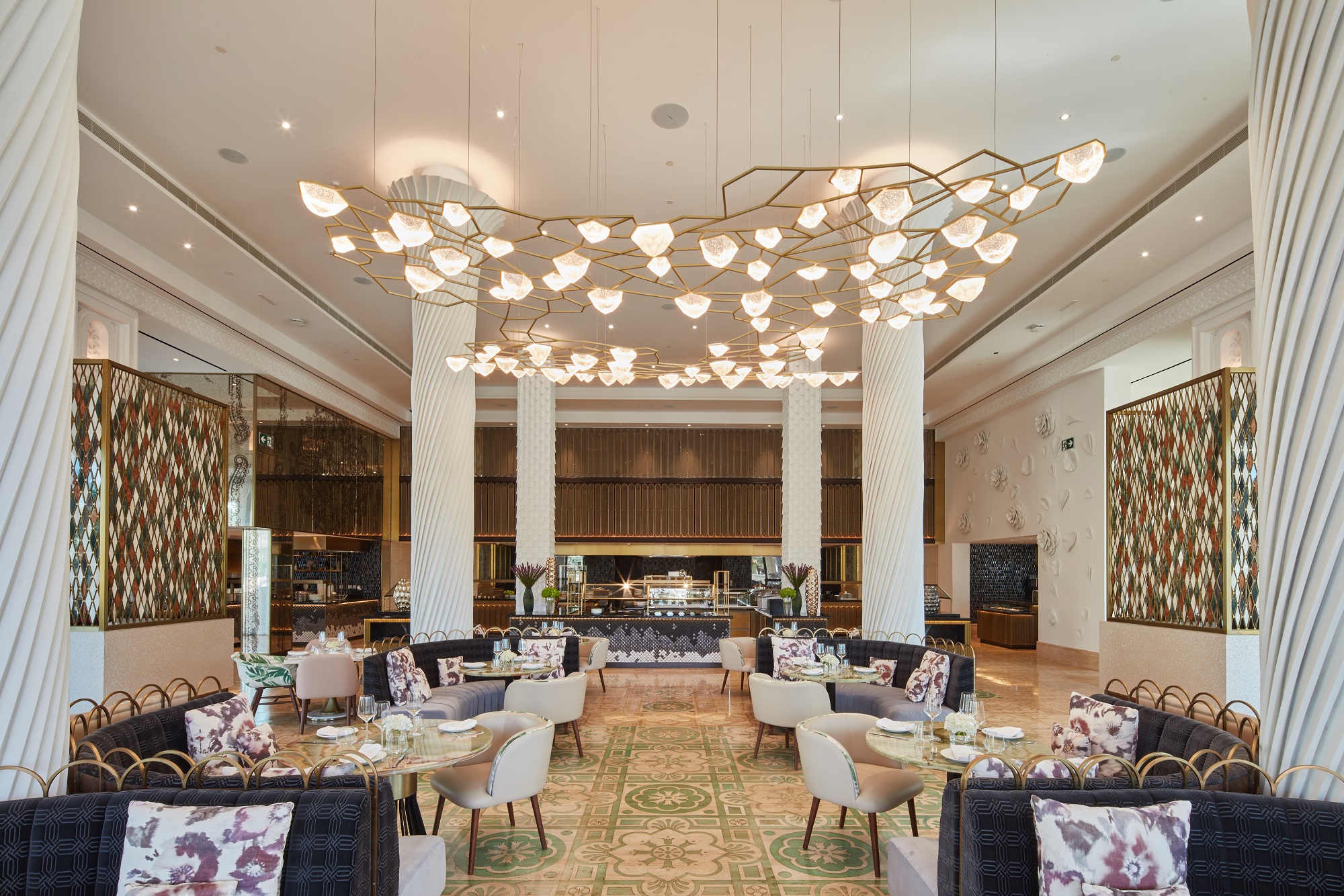 The lavish Jumeirah Al Qasr, inspired by the summer residences of the sheikhs, is a resort that needs no introduction.
You're in awe, from the moment you make your way up the driveway lined with majestic, golden horse-sculptures till the time you walk through the lobby's tall ceilings with lavish chandeliers. And you haven't even got to Arboretum yet! The restaurant's spectacular interiors with golden accents, make for a striking, eye-catching statement that equals the rest of Jumeirah Al Qasr.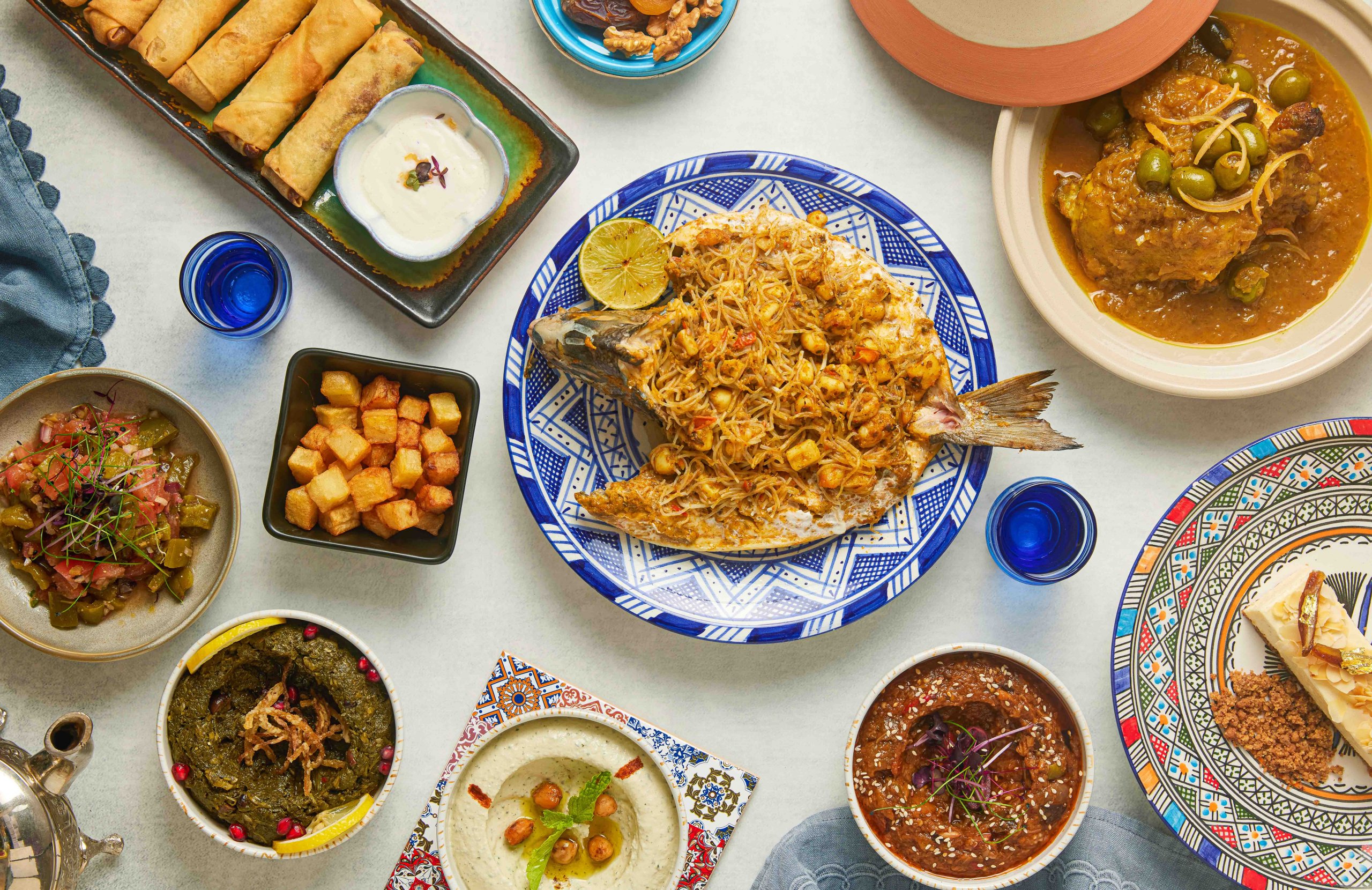 We visited the venue for the limited edition, Moroccan-inspired Iftar table curated by the celebrated Moroccan chef and television personality, Hanane Ouaddahou. Before we go on, yes, it is still ongoing, and you can avail of it as well. More on how to book, later.
The highlights:
We were shown to our table and immediately offered a Ramadan-special beverage to begin the evening. The menu is unique and has been curated exclusively for the Holy Month. It includes a nourishing soup, followed by cold and hot mezze to share, a hearty main and a dessert to end on a sweet note.
To start, we were offered a traditional Moroccan soup, Harira, which was accompanied by a selection of crusty, homemade bread. The soup was pleasantly fragrant, well-seasoned and made for a light dish to ease ourselves into Iftar.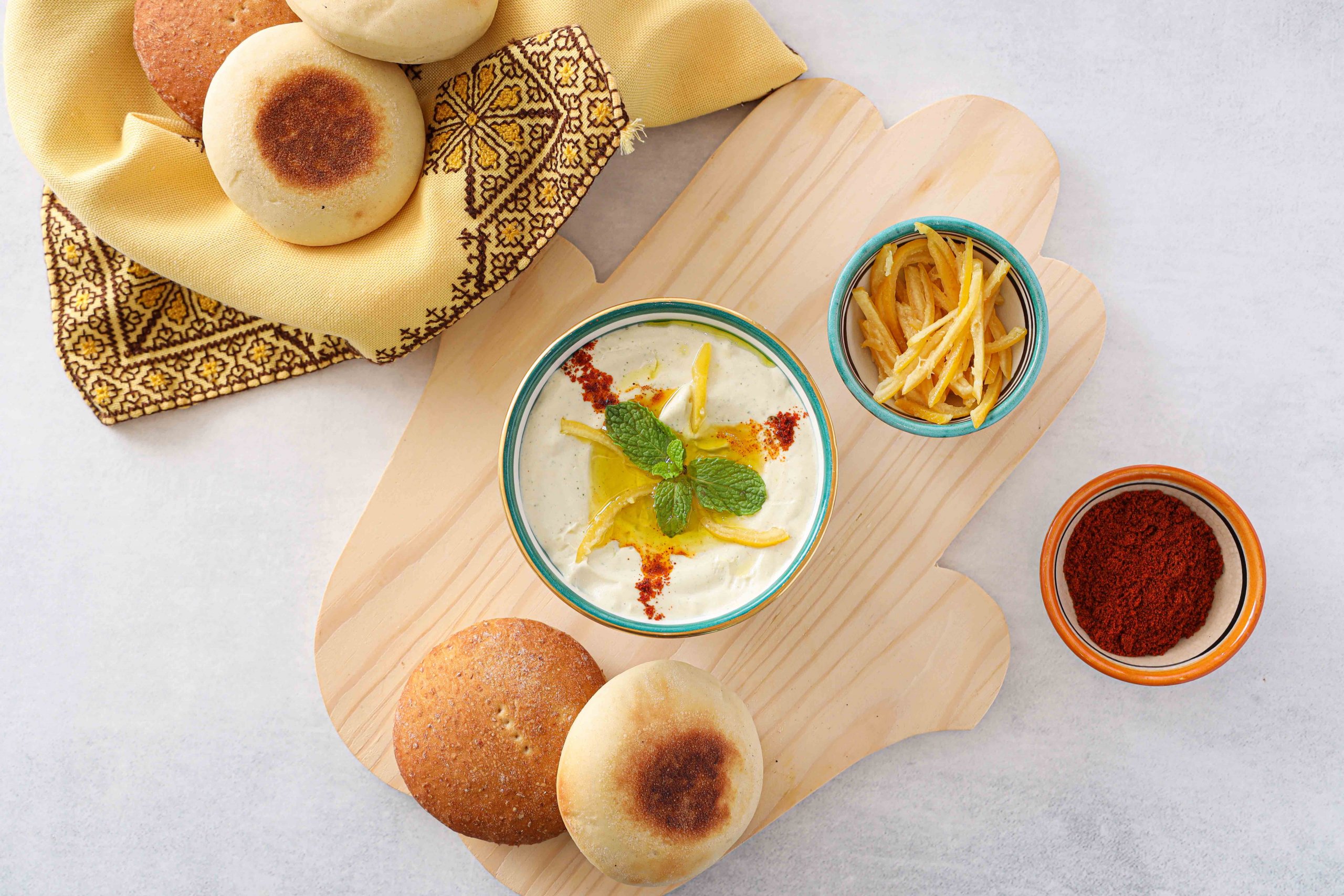 In no time, our table was covered with a wide selection of cold mezze. The first dip, Zaalouk – caponata style, is a savoury thick mix of eggplant, onions, garlic, olives, pine nuts and basil; and the hummus dip offered a tangy flavour with the addition of Moroccan-preserved lemon and fresh mint. Tip! Do save some bread to dunk into these delightful dips.
From the cold mezze selection, tuck into tomato shlada with fresh tomato, grilled green capsicum, onion, preserved lemon and Kalamata olives; and a Green bakoula salad of mixed green herbs cooked with olive oil, lemon, garlic, olives and harissa.
An array of hot mezze followed with mouthwatering stuffed Cheese rolls, Chicken bastela rolls and Seafood rolls. The Seafood rolls were stunning, with squid, shrimps, glass noodles and olives with chermoula sauce. The chicken rolls had a hint of sweetness with cinnamon shredded chicken and crushed almonds. I must confess, I might have had more than my share of these bites.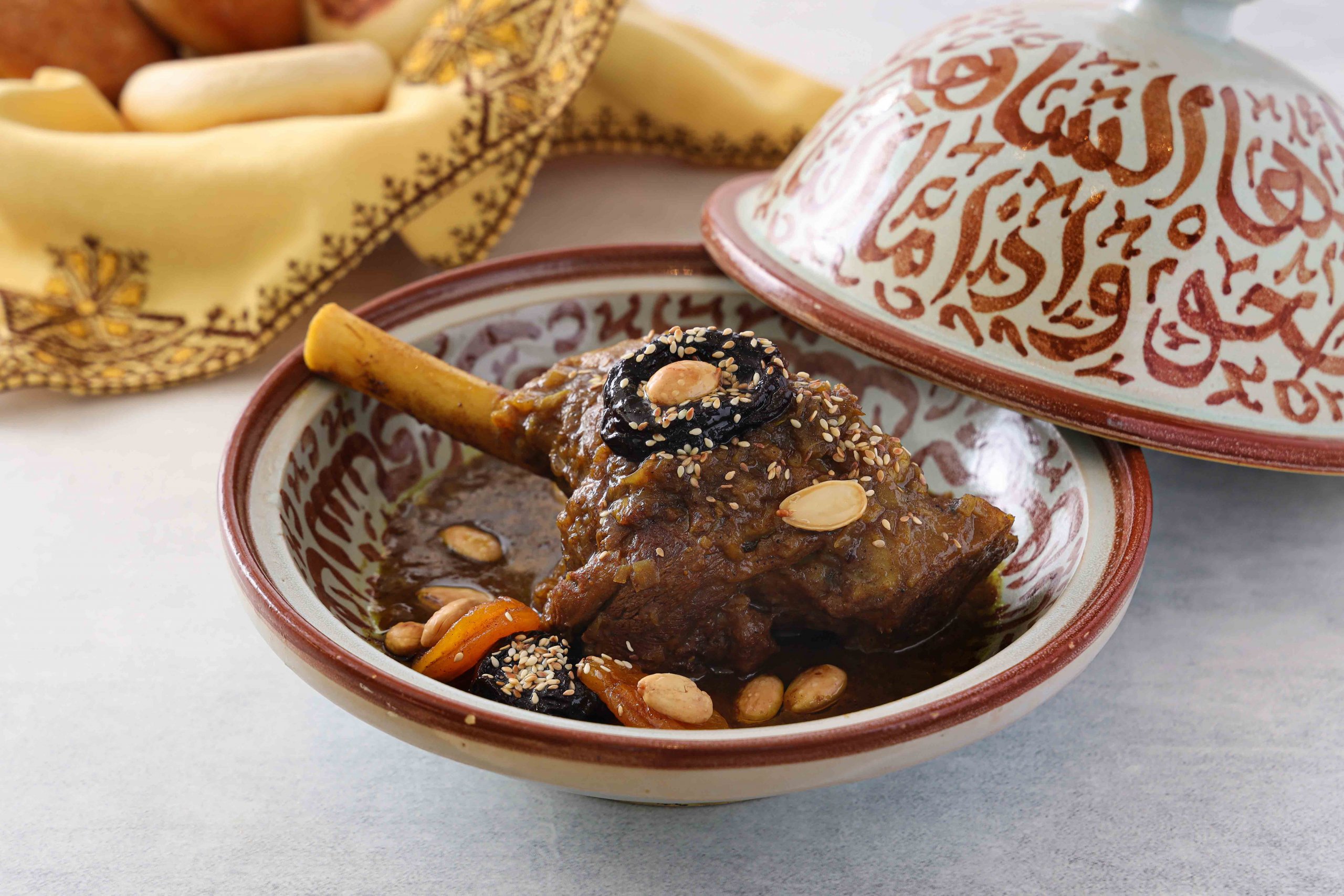 Mains feature three scrumptious dishes and they each sounded so good, that we had a hard time choosing just one. My dining partner ordered the lamb with prunes and apricots tagine and I went for the chermoula sea bass with marinara sauce and grilled lemon. If you prefer chicken, opt for the chicken with lemon and olives tagine. The lamb was fall-off-the-bone tender, juicy, incredibly aromatic and tasted marvellous. It didn't even need a knife to slice through. The delicate fish infused with herbs showcased a generous serving of a seafood and green olive stuffing on top. If you visit with a dining partner, choose two different mains and share. That way, you get to try both.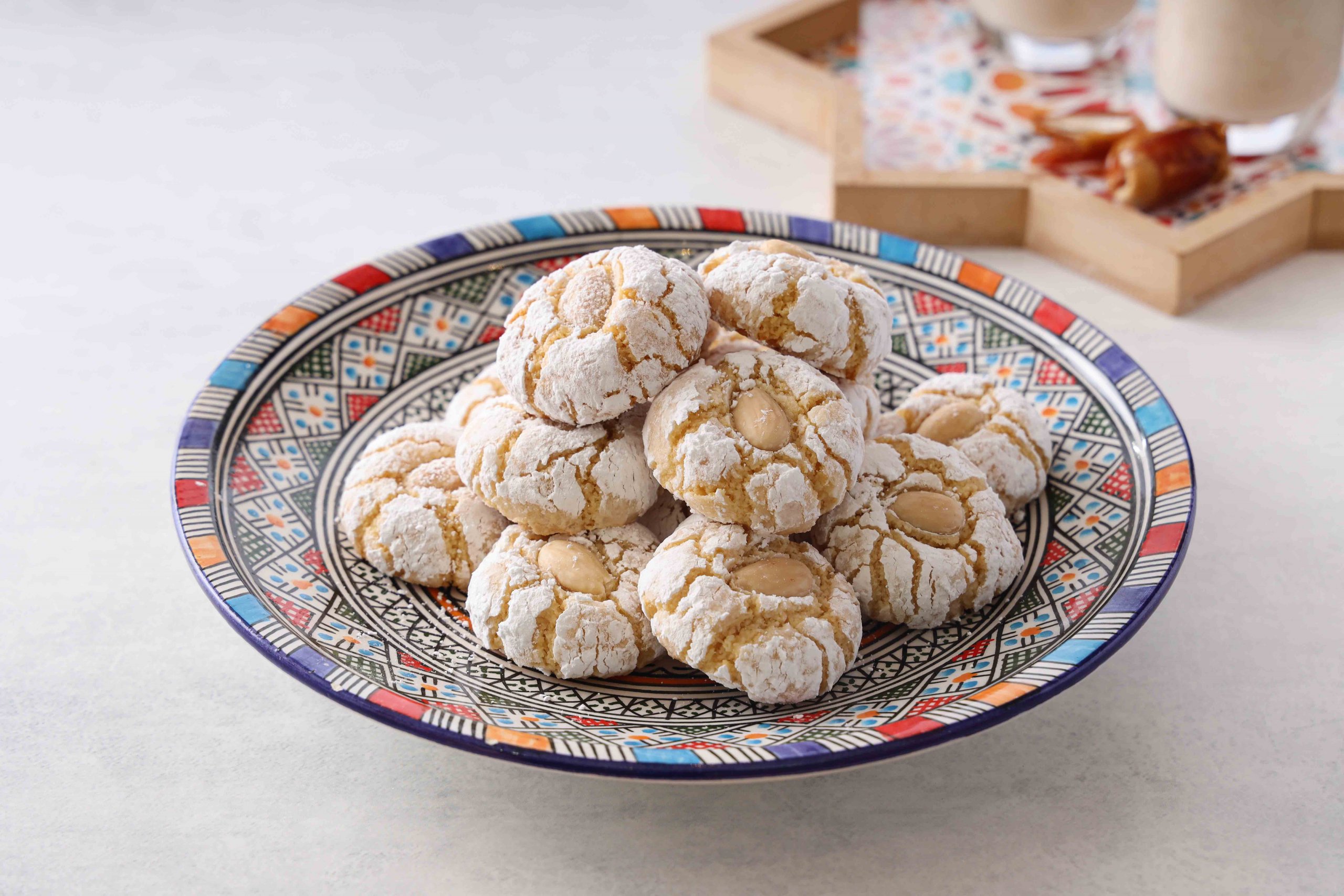 After a short breather, where we sipped on a refreshing date beverage, we indulged in dessert. Diners have a choice from Moroccan sweets, Sellou cheesecake with almonds and spices and Amalou tiramisu with argan almond praline. We decided on almond ghribas and walnut cinnamon ghribas, Moroccan cookies that have a distinct look of being cracked all over and soft and chewy within. To say they were decadent is an understatement.
The verdict:
Generous portions, a spectacular location and sumptuous Moroccan-cuisine, perfect for breaking your fast with loved ones.
Book:
Daily from sunset to 8:30pm. AED250 per person. Call +9714 432 3232 or visit the website.