Sponsored: Majid Al Futtaim's dedicated cinema arm, VOX Cinemas, has teamed up with the Michelin-starred and celebrated chef Akira Back, to offer a luxurious film and fine-dining experience like never before – the Akira Back at THEATRE experience.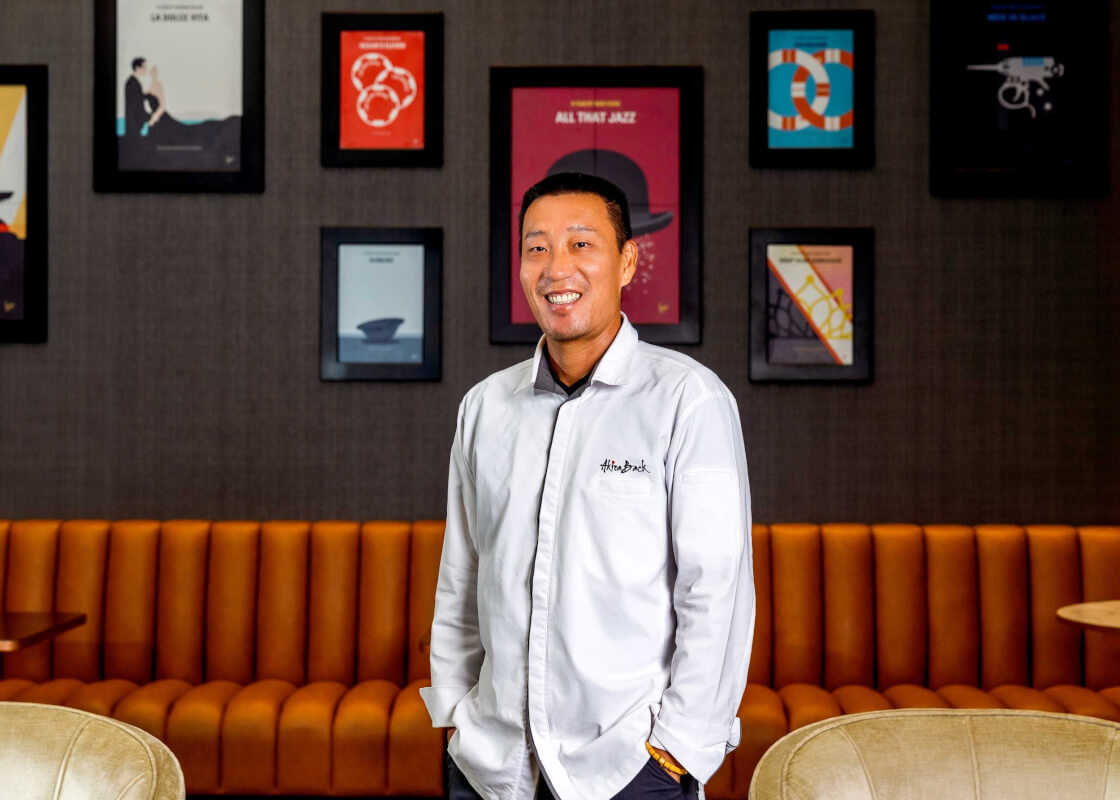 The news of the launch immediately caught our attention and we knew we just had to check it out.
The THEATRE experience has its own private entrance, after a short escalator ride to a lower level than the other cinema offerings. Presenting a glamourous space with clean lines, balanced lighting, leather and velvet seats and dramatic curtains sweeping the floor, the Akira Back at THEATRE experience offers you elegance and cosiness all in one.
To get the best experience of dining at the exclusive private lounge – as well as inside at our seats while we enjoyed our movie – we arrived at the VOX Cinemas' luxury cinema concept 45 minutes prior to the start of our movie. While every venue offers class and luxury, we visited the VOX Cinemas at Nakheel Mall, and we were in good hands.
Ample seating takes up space on either side of the room, while a majestic bar boasting fruity beverages, syrups and glassware took centre stage.
The highlights:
We slid into comfortable couches and began perusing the menu which features signature dishes from the world-renowned chef, alongside gastronomy exclusive to VOX Cinemas.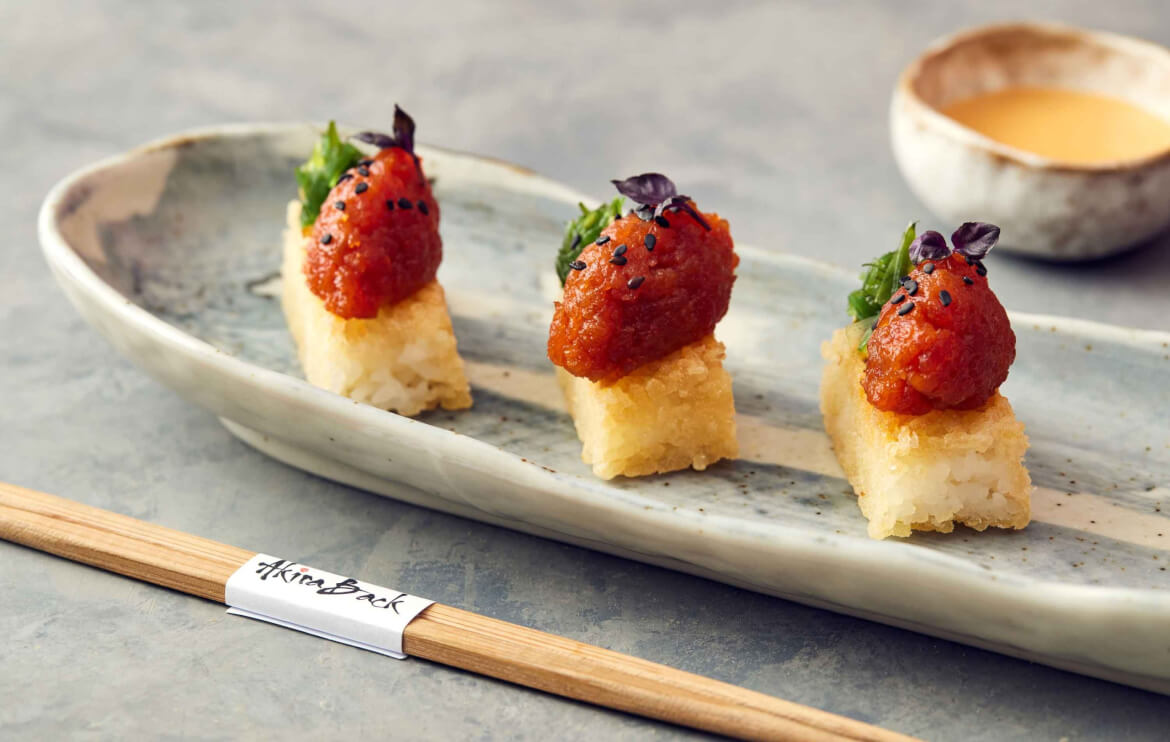 The menu is divided into an impressive seven sections – you have the Appetisers featuring dainty delights; the Starters and Signature rolls offering heartier options; the Cinema classics and Mains reserved for when the hunger pangs really strike; Desserts to satisfy your sweet tooth; and Signature mocktails to accompany.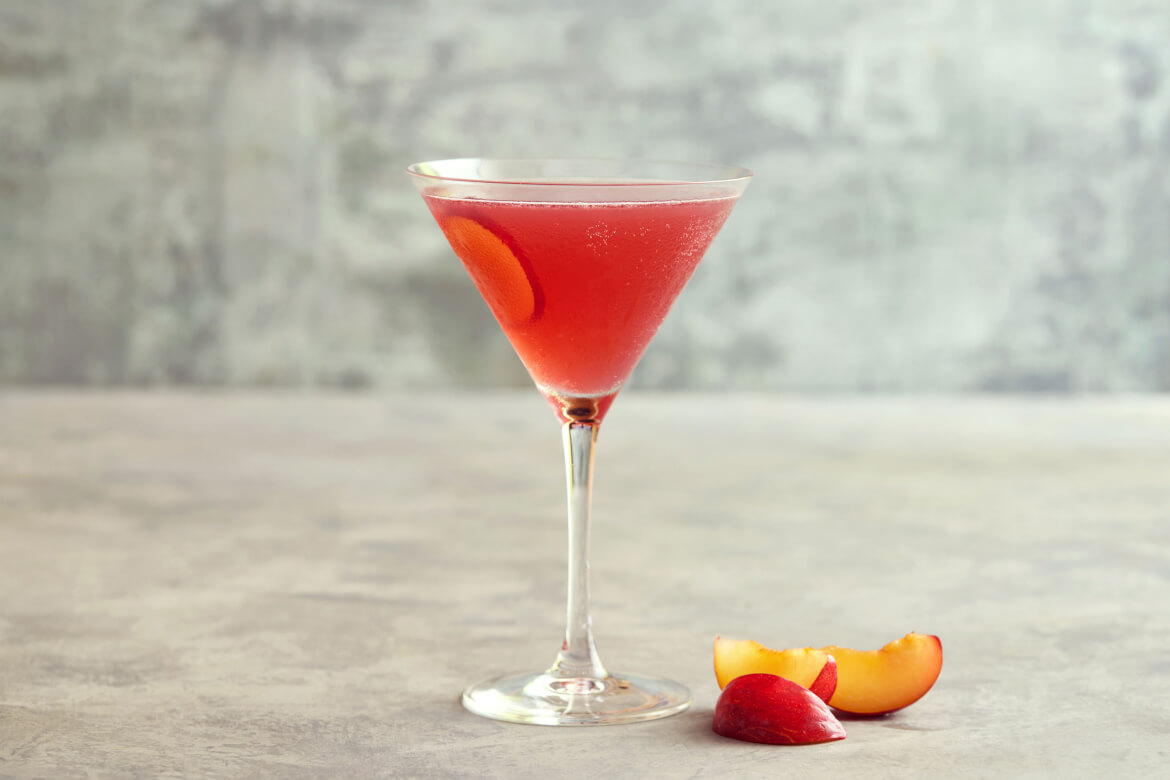 Beverages, specifically a light and fun Mango and passion fruit cooler was my partner's sip of choice; while I settled on a Vanilla espressotini for a much-needed coffee shot. Pleasantly prepared and flavoursome, the curated beverages offered a great start to our evening.
In no time, our marbled table included an array of dishes. To begin, and an Appetiser not to be missed, was the Akira Back pizza and Rock shrimp tempura from the Starters. A signature of chef Akira Back, the feather light pizza features a generous amount of mild umami aioli, thinly sliced tuna, white truffle oil and micro shisho. Pretty as a picture, delicate with layers of flavours in each bite, this was one excellent pizza. The crunchy one-bite shrimps are bound to be a crowd-pleaser with a slight-spiced kochujang mayo and a sprinkling of chives.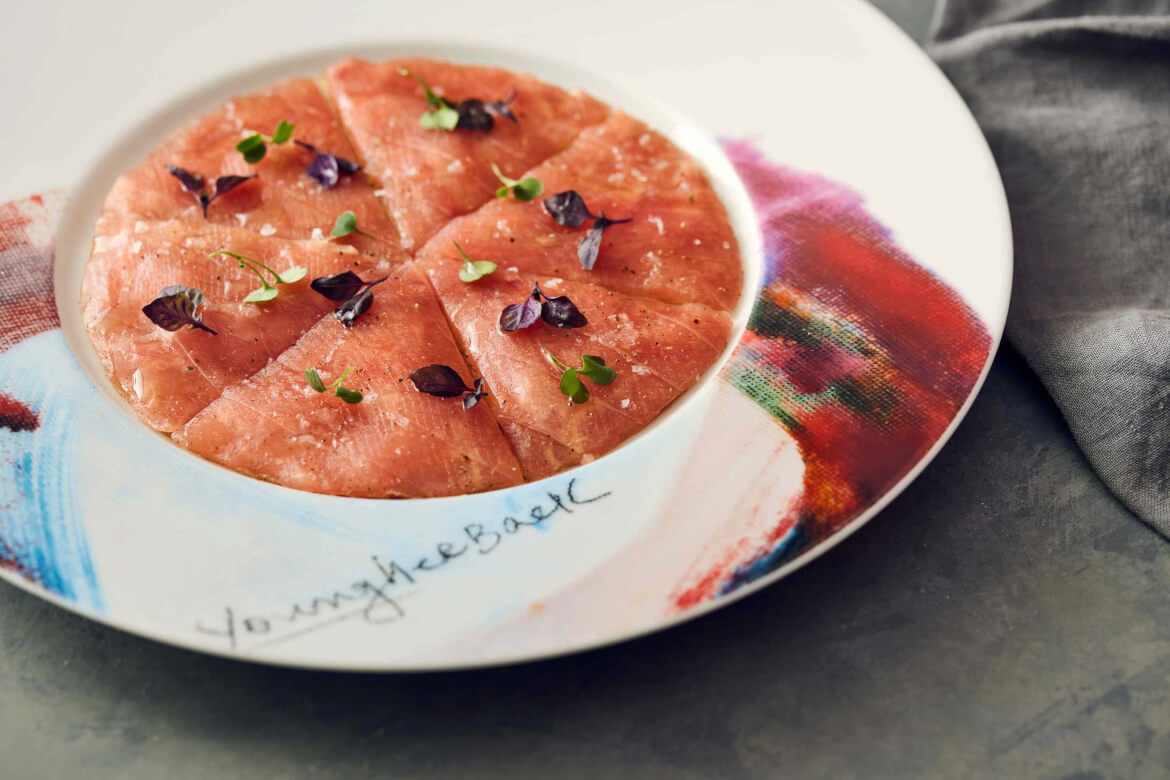 If you have to try just one from the Signature rolls, we recommend the Cow-cow. Look forward to a mouthwatering mouthful of unconventional braised short rib and Asian slaw packed rice rolls.
It was almost time for the move to begin, and so we made our way into the cinema and onto plush reclining seats with armrests and extra legroom, complete with side countertops for your meal, shortcut buttons to request for service and blankets to keep you snug. Do note that you before you even enter the theatre, you can speak to the team and place an order for your desired dishes; even requesting they be delivered at a specific time.
We opted to share a portion of four AB tacos filled with beef bulgogi and roasted tomato ponzu and spicy salmon, wakame and cucumber. The screen provided sufficient lighting to have the crisp-shell mini tacos and we loved every bite.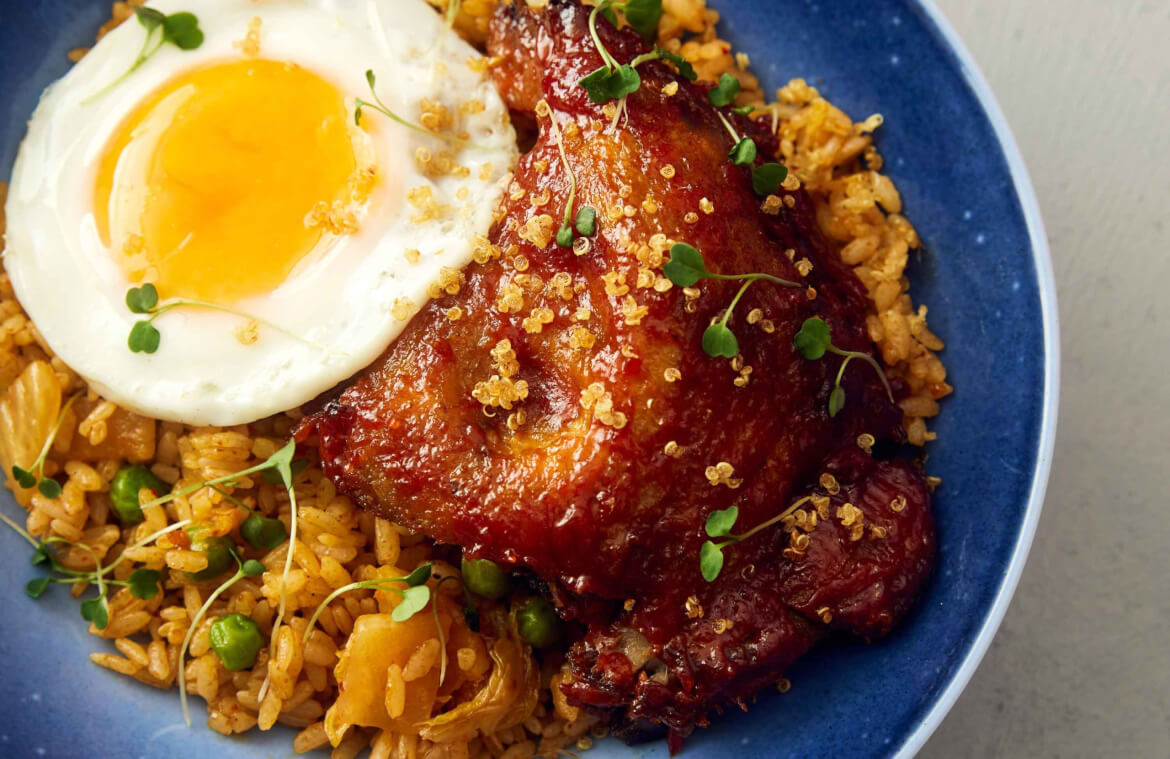 Halfway through our thrilling James Bond – No Time To Die film, we received our Mains, the Angry chicken with sanpei sauce and a side of white rice, and a Kimchi fried rice with confit duck leg, fried egg and huacatay sauce.
You're probably thinking, "wait, fried rice in a theatre?" I say why not? Served in trays for convenient dining, the fragrant sweet and spicy chicken is a good option if you love crunch in your food. The fried rice and duck leg was a rich savoury, sour and punchy fusion of tastes.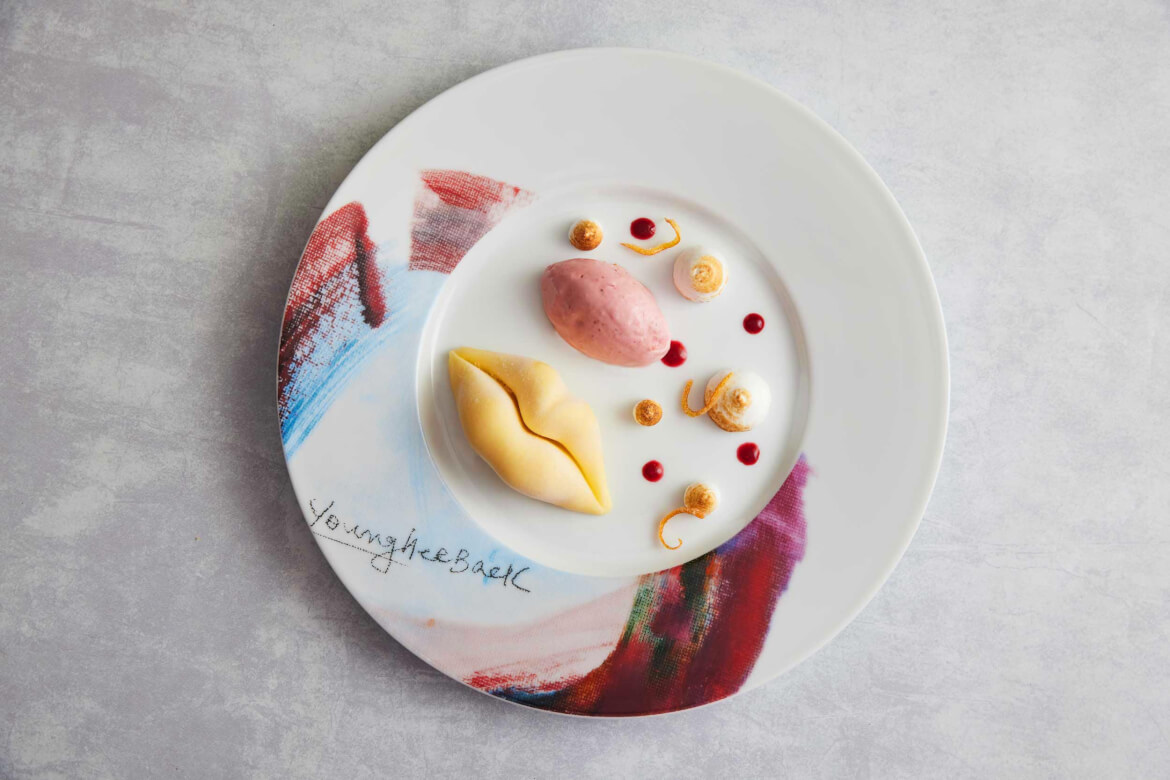 Since dessert looked too tempting to miss, we decided to order to share the zesty and fresh AB kiss with yuzu, sablé crumble and strawberry gelato and the decadent AB chocolate cigar with lucuma mousse.
The verdict:
Dinner and a show (one you can choose) in one place. It's like Netflix and chill, but way better. Perfect for dinner dates and evenings out with the mates.
Book now:
Currently offered at VOX Cinemas in Dubai at Mall of the Emirates, Nakheel Mall and City Centre Mirdif; in Abu Dhabi including Nation Towers, The Galleria Al Maryah Island and Yas Mall; and in Al Ain at Al Jimi Mall. Visit the website.