Make your way to the sparkling coast of Ras Al Khaimah and discover one of the UAE's best glamping experiences at Longbeach Campground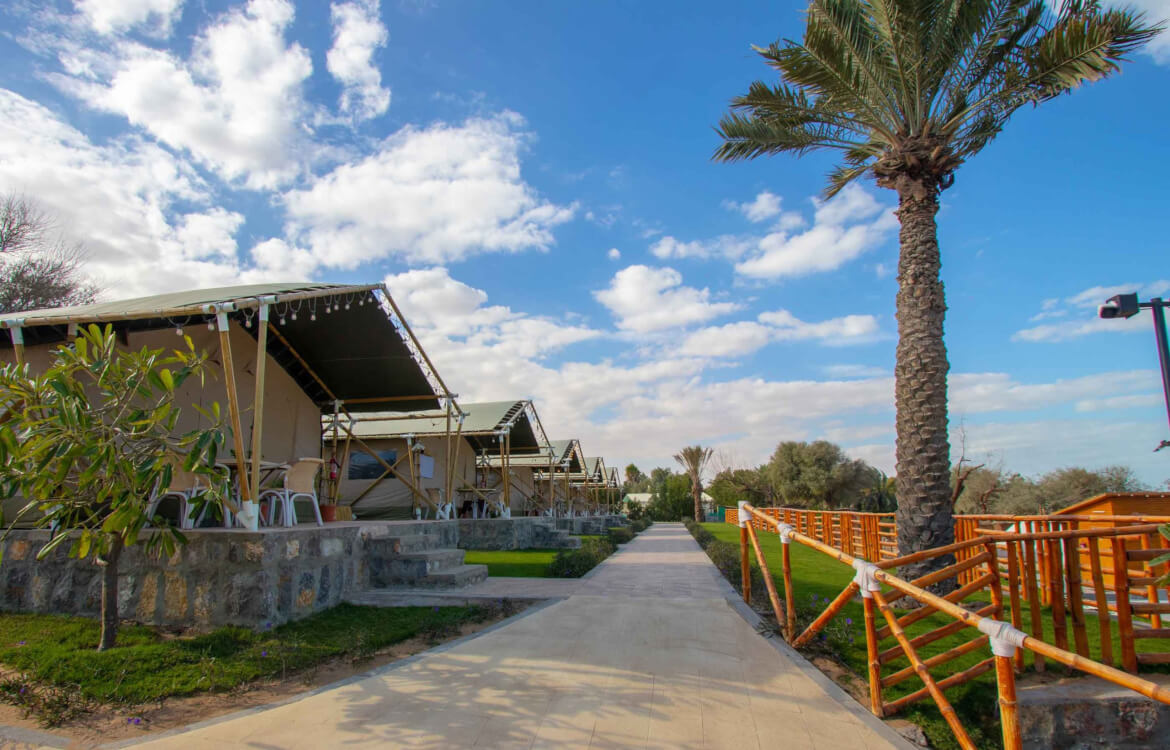 The pleasant weather is back, and with it is season 5 of Longbeach Campground. For those who love to experience all the pros of camping, without the cons, Longbeach Campground brings together a traditional camping ethos with luxurious amenities and around-the-clock activities. Sited on a 300 meter stretch of beach, the campground is perfect for staycations, families, romantic getaways,and groups of friends. Here's what you can expect this season.
Accommodation:
When you combine camping with luxurious amenities and upscale comfort, you get glamping. Longbeach Campground offers five glamourous camping options. Each tent is fitted with comfortable sleeping arrangements, outdoor furniture and an ocean view; with some having private washrooms and some a bathroom to share.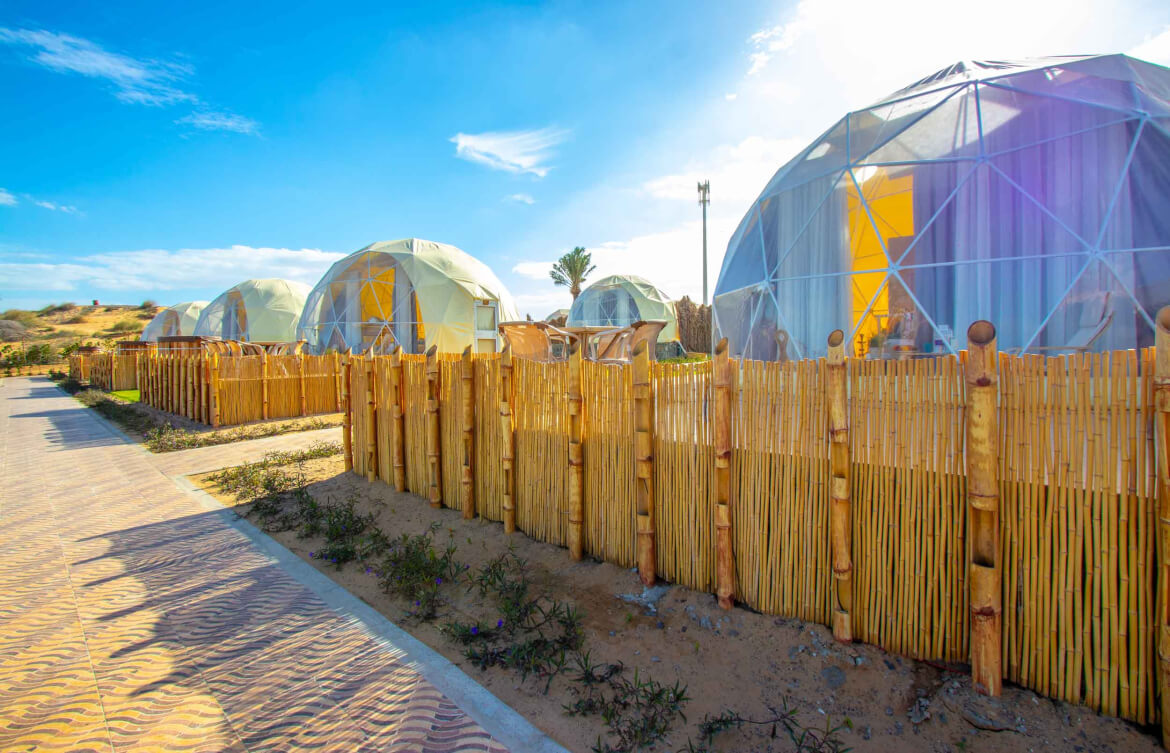 Ranging from an Authentic Deluxe Tent for two adults and two kids, or three adults; an Authentic Family Tent that has the capacity to fit six adults; to a differently-styled Safari Suite Tent; a gorgeous Panoramic Dome Suite Tent; and an intimate and striking Sunset Terrace Suite Tent for two adults.
We glamped in the Panoramic Dome Suite Tent, a hexagon-structured dome covered by transparent material which sits on an elevated location on the property, looking out to the campground and the sea. The tent was as pretty as a picture from the outside, with a private patio, a jacuzzi and even a mini backyard.
Structured to sleep four adults and two kids, or six adults, the spacious and air-conditioned interior offers deluxe décor, a lounge area, one queen-size bed and two twin bunk beds, a private bathroom and exceptional views of the outdoors.
It was sheer bliss to say the least.
Culinary Offerings:
No matter the tent type you opt for, the package includes the half-board option for the duration of your stay – which includes dinner and breakfast served from a bountiful buffet, live stations and kids' corners, either by the Beach Dining Area or by the Infinity Pool Bar. You also have the option to quench your thirst with unlimited adult beverages for two hours in the evening.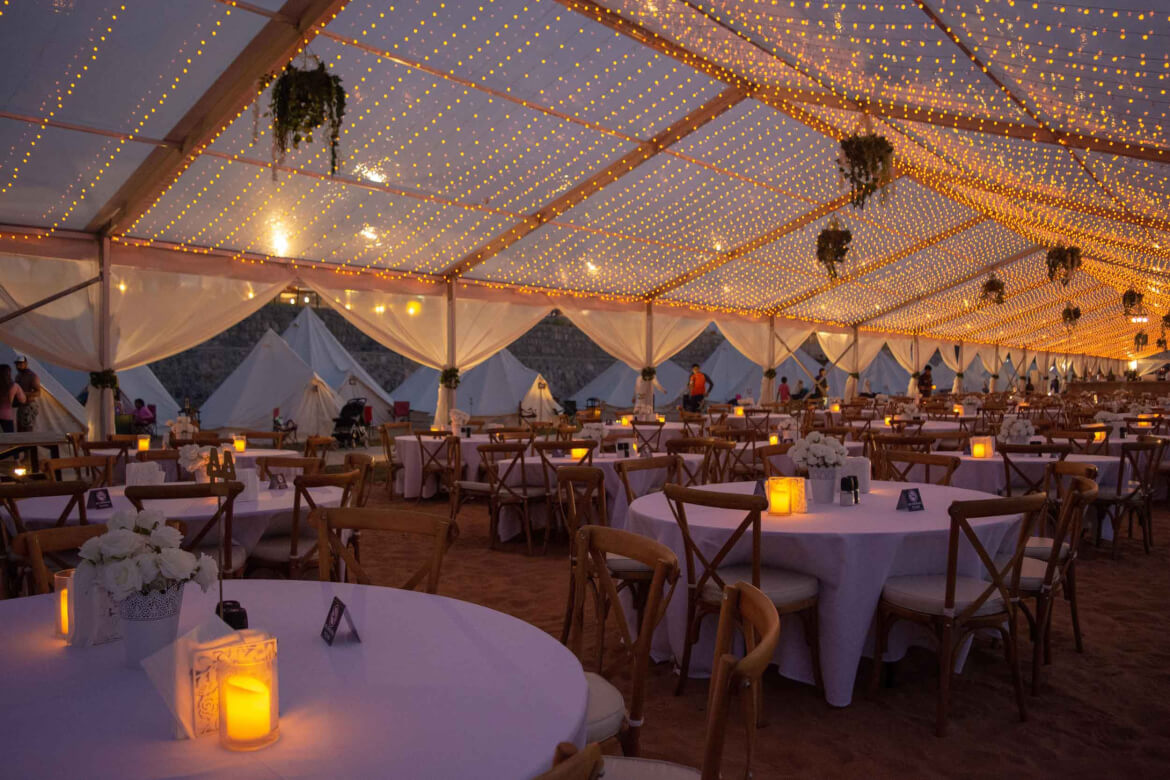 Dinner and breakfast are both served for a fixed and strict duration of two hours, between 7-9pm in the night and 7-9am in the morning. This is something we appreciated, as the glamping haven offers several activities to do throughout the day. You would want to start your day bright and early and make the best of your time there.
Just before sunset, we made our way to the Infinity Pool Bar for a sit down, a quick dip and treated ourselves to sundowners. Here, you can also grab a light bite by the pool, overlooking the beach. The frame of the sun disappearing below the horizon is captivating and a moment I don't think we'll ever forget.
Soon after, we were greeted by the drifting aroma of grilled food from the sea shore below. That was our cue to get moving for dinner.
The Beach Dining Area, which is an expansive stretch of outdoor seating beneath a large, open-air tent on the beach, features international and local flavours from a fresh salad bar, a barbecue spot, live cookery stations and more. Waves crashing in the background, twinkling fairy lights strung rhythmically and a spotlighted saxophonist performing on an elevated platform complete the leisurely ambience.
After a short walk around the sprawling counters, where we identified exactly what we'd like to tuck into, we picked up plates and began our culinary experience. The bread section is up first, offering a selection of multigrain rolls, sliced loaves and even flatbread, if that's what you prefer. Take your pick from a Lentil or Spanish seafood soup, kept hot over burning coals.
My carb of choice beckoned and I made my way to the live Pasta spot, where you could choose between spaghetti with pomodoro sauce or penne with a cream-based sauce. Don't shy away from asking for that extra serving of parmesan cheese, it's always needed.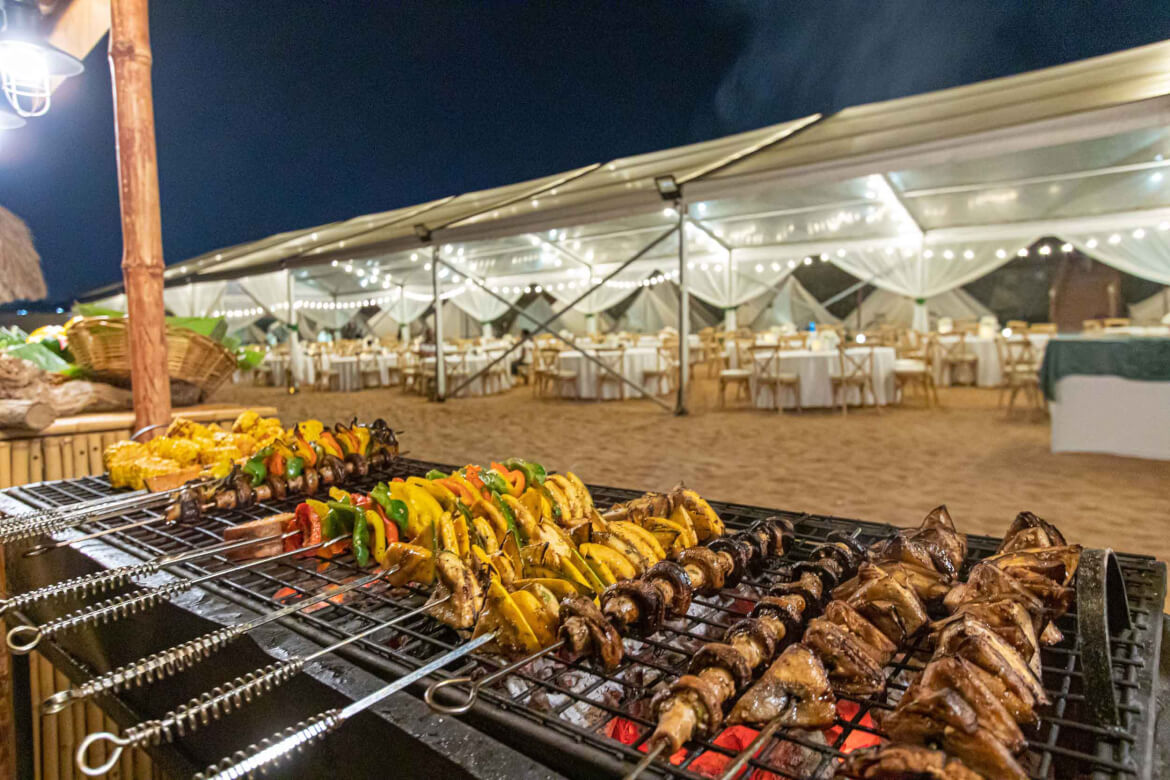 Following this was the Kebab section, where hot, spiced and flavour-packed minced meat patties were being served with a whole range of sauces such as tamarind, mint, tomato and sriracha to accompany; and a succulent Whole roasted lamb. An array of salads, including a Greek salad, Waldorf salad, Quinoa and chicken salad and Fattoush was our next stop; with the salad bar even offering the option to DIY your own serving. Muhamarra and Moutabel, together with pickled veggies and poppadoms completed the fresh assortment.
After a short breather, we headed to the grill section for juicy burgers, more skewered meat and perfectly marinated and seared seafood treasures such as kingfish, sherry and sultan, which we relished. For the best experience, tuck into your grills while hot and then come back for additional servings.
Pizza, fish balls and potato fries, among other dishes are sure to be a hit among kids. I tried the fish balls and they were seasoned well and absolutely scrumptious. My dining partner opted for a serving of aromatic Mutton Dum biryani with Molokhia chicken and Pindi chana masala; while I decided to try the Steamed rice with Szechuan vegetables for bolder flavours.
We told you it was an impressive selection of dishes; and we didn't even try it all.  Dessert called for a bite of Umm Ali; Churros with a choice of butterscotch or chocolate syrup (or both); Strawberry panna cotta; and a classic Marble cake or Carrot cake slice.
The next day, we woke up bright and early for a quick bite, beginning with freshly baked croissants and sweetened fruit pastries. Corn flakes, cocoa pops and cold milk made up the cereal offering; followed by fresh fruit, vegetables, yogurt and muesli.
We opted for a serving of fried eggs, done to our liking at a live cooking station, with grilled tomatoes, baked beans and breakfast beef and chicken sausages. Heartier options include Vermicelli upma (a traditional Indian breakfast), Burghul porridge, Spanish egg casserole, Foul medames and a Vegetable clear soup. A serve-yourself spot featuring Pineapple, Orange and Apple juices offered a cool and refreshing start to our day; with a Coffee and Tea are just by its side.
Campground Activities:
Rest assured that when you make a booking, you are automatically entitled to an all-inclusive activities package – which not only means access to the beach and pool, but admission to water sports, fitness and dance programmes, the floating theatre, the barn, archery, sunrise yoga, pottery and more.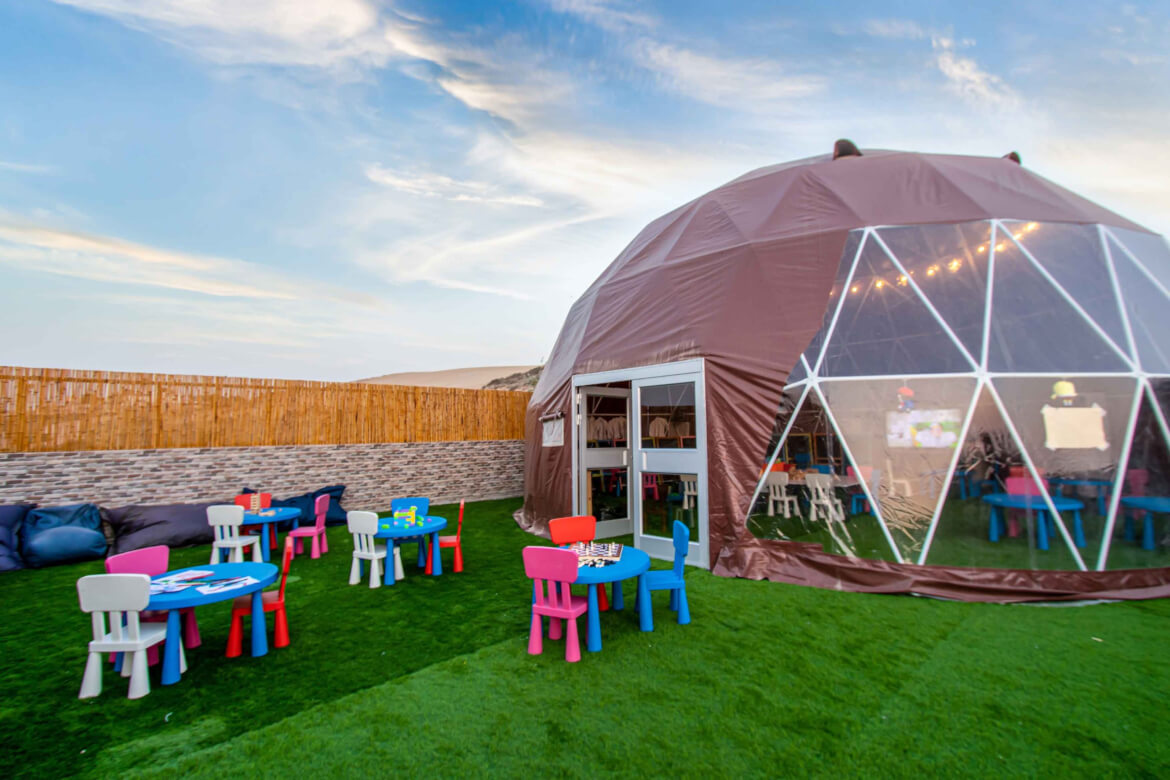 After checking into our accommodation, we stopped by the Archery station to shoot some arrows, before making our way to The Barn which soon became our favourite setting to visit. One for both the adults and kids, expect to see (and even play) with friendly dogs and an adorable cat, rabbits, birds, a donkey and even snakes.
We were meant to then go for a spot of jumping fitness, but the sea looking inviting and decided to try the water out instead, fly some kites and just have a fun rest of the afternoon. After a quick shower and outfit change, we dashed over to the Floating Theater for a Latin Dance session which we thoroughly enjoyed.
Off to the Infinity Pool next, we got there in time for dusk and discovered an interesting briefing underway. A member from the campground's Entertainment Team announces three family-friendly movie options for guests to vote on; and the one with the majority votes gets played at the Floating Theatre (it literally is set in the water, offshore) later in the night, while you sit back and enjoy popcorn from cosy bean bags under the stars.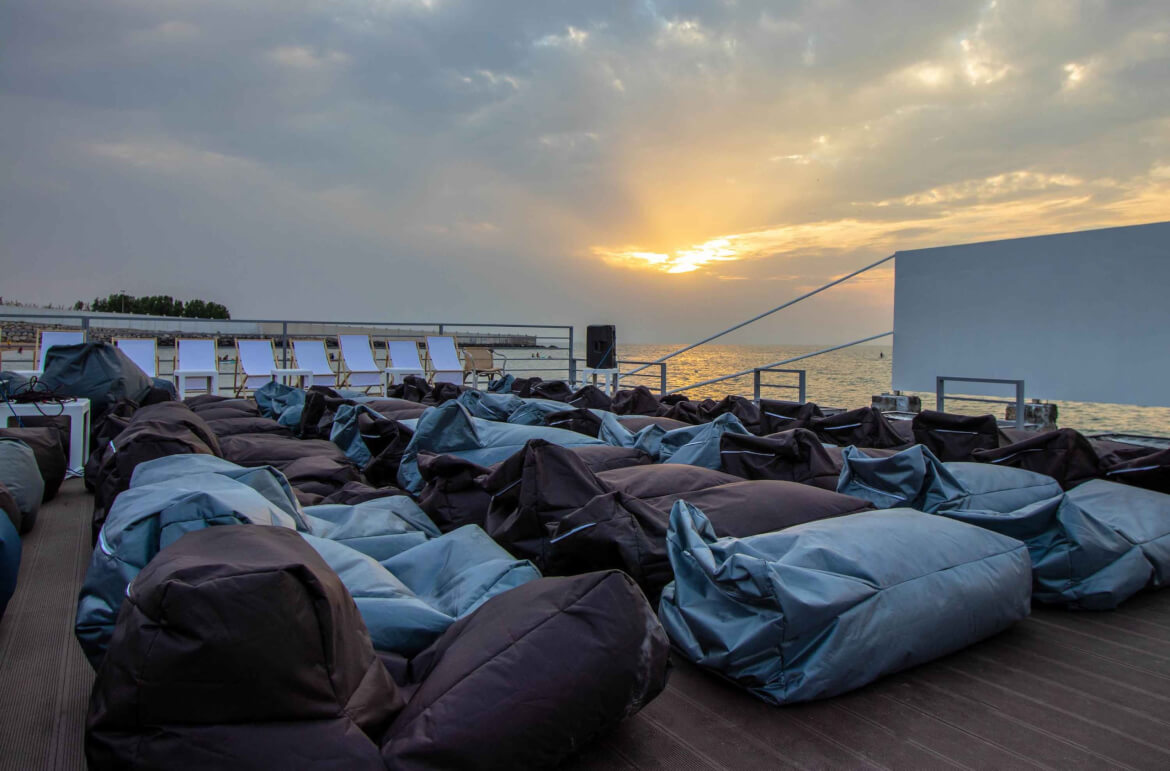 The Pottery Tent offers classes where you can craft your own clay object that you can even take home with you as a memento of your handiwork and trip. Dinner was served soon after by the beach, followed by Marshmallow Roasting at the Bonfire area.
A Dart tournament was also declared for that evening, and since we'd already seen the chosen 2021-released Jungle Cruise, we opted to enter the contest and had a thrilling win.
It had been a long, albeit delightful day and I couldn't wait to have a good nights' sleep before the excitement of the next morning.
After a quick breakfast, tried our luck at Standup paddle boarding, but could only manage to sit around, which was nonetheless a good time. Simultaneously and later in the day, around Longbeach, was a bunch of other ongoing programs including, Volleyball and Badminton games, Kayaking, Junior Chef classes, Embroidery, Painting, Quiz and more.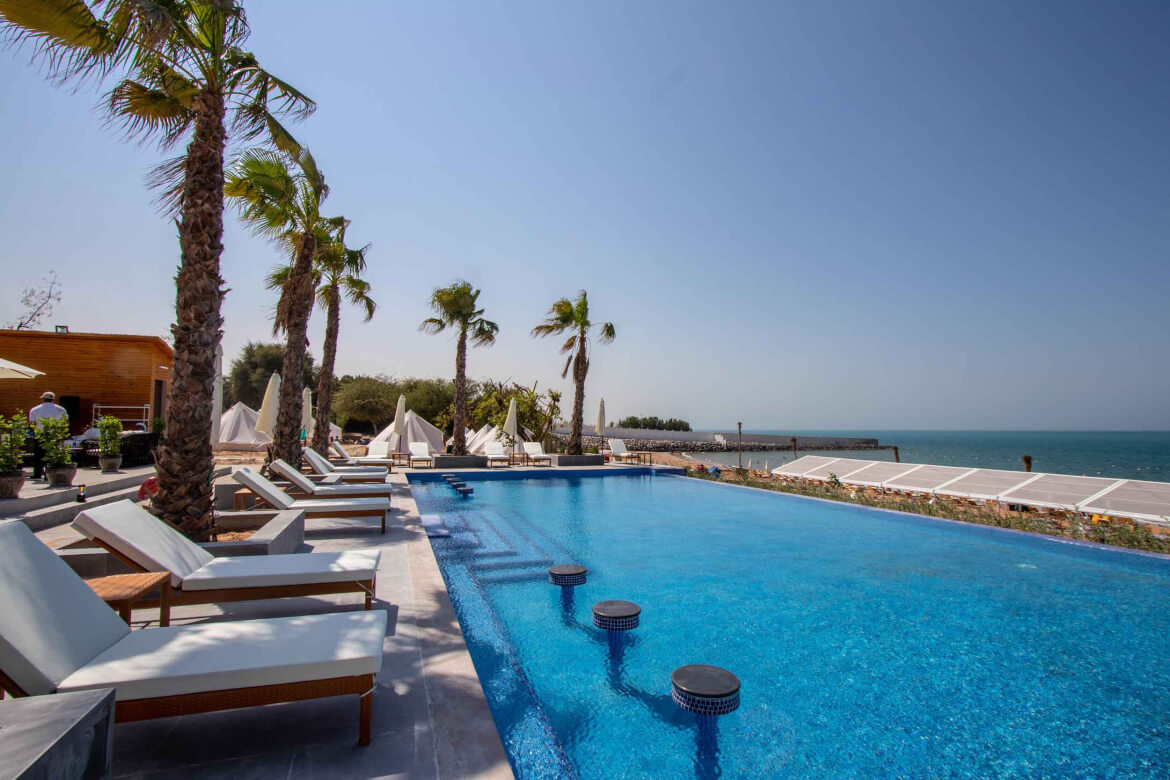 And making your experience just that bit better, the activities run all day long according to a Camping Program Timeline. Thus, if the parents wish to partake in an adults-only class, they can drop the kids off at the Kids Club Tent for supervised care and engaging events such as karate lessons, egg hunts, cooking competitions and sand castle building.
Insider Tip:
We stayed for just one night and felt the trip too short. With the number of adventurous activities and elating experiences offered for all ages, we recommend a two nights' stay at the very least.
Book A Stay:
Tents are available from Wednesday to Saturday from AED400 onwards. Call 600 566 600. Visit the website or Instagram.