Placed within the MATCHA Club, a boutique padel club in Dubai, NETTE is a newly-opened restaurant from the team behind Cassette Dubai, offering innovative French-Japanese dining in the heart of Al Quoz.
NETTE offers a welcoming space amidst gorgeous greenery, a yoga studio and numerous outdoor padel courts. A quick walk leads from the parking lot to the dining concept, where you will find a welcoming ambience in shades of terracotta, green, greys and beige. The indoor space features an expansive coffee bar, snug seats with a mix of chairs and couches, and floor to ceiling glass that looks out to a shaded courtyard with an al fresco setting, and a vast Mango tree.
We were guided to a side terrace with a few intimate tables that offer a direct view of the padel courts. Dinner with a side of sport indeed.
The highlights:
The menu, designed by chef Shaunne Cordier of Cassette, is instantly recognisable as one that's created with elevated classics in mind. It offers a myriad of beverages in the form of smoothies, milkshakes, juices, lemonade, cold and hot coffees, and tea; while an all-day breakfast (I instantly know what I'm having), sandwiches, salads, desserts and pastries complete the selection.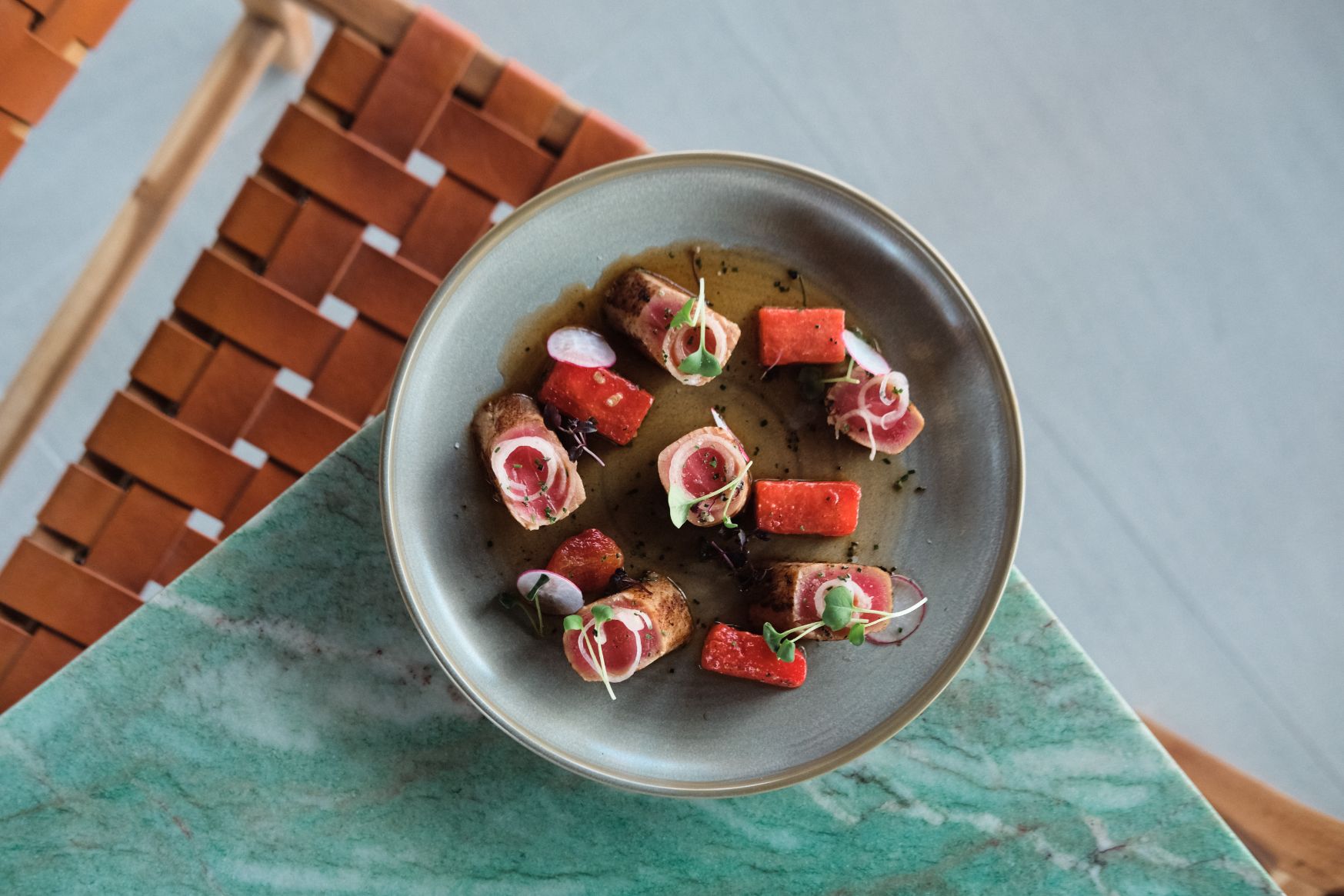 Our "appetizer" was in fact a salad of Seared miso rubbed tuna loin with compressed watermelon and wasabi marinated shallots, topped with fresh chives, micro herbs and a soy and lime dressing that simply enhanced the flavours of the dish and the mouthfeel of the fish.
I sipped on a must-try Yuzu apple lemonade that was pleasantly refreshing and citrusy, without being too tart.
Do note that it was 8:30pm when we got there, but the all-day breakfast beckoned and I couldn't resist. Options are aplenty and after much deliberating, I decide on a Miso Benedict featuring two perfectly poached eggs, a lush and velvety miso brown butter Hollandaise with dried capers and pickled shallots on a toasted rustic country sourdough bread. The ingredients, especially the saltiness of the capers, worked well together to produce delectable bites that were amplified by an add-on request of crisp beef bacon.
But that wasn't the star of the night. My dining partner opted for a Miso braised beef French dip sandwich, with a generous helping of brisket heaped on toasted olive ciabatta bread with fontina cheese and a rich miso au jus on the side. A spiced cold seaweed salad accompanied, offering a contrast in temperature to the hot gravy. Unassuming at first glance, the seaweed salad somehow rounds off the comforting, hearty dish.
I decided to skip dessert, as I was stuffed by then. But my dining partner reached for a Chocolate milkshake. In his words, "just a good old fashioned frosty shake, no frills or fancies but definitely addictive."
The verdict:
From breakfast to lunch and dinner, NETTE is perfect for post yoga or padel game pitstops, cosy family outings, corporate work gatherings, casual catchups with friends or even cheeky mid-week dates with the partner.
Book now:
Daily from 8am-10pm. Call +9714 548 8369. Visit Instagram.