Escape to The Oberoi Beach Resort, Al Zorah, a lush and secluded beachside destination in the UAE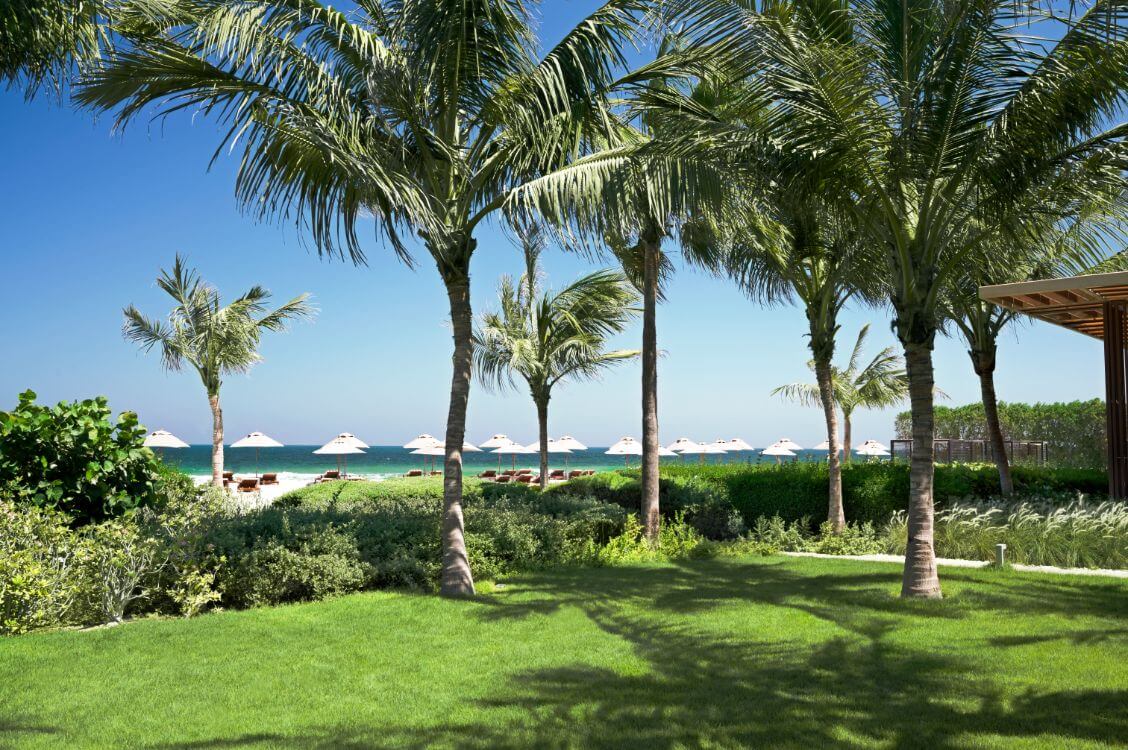 Just a short drive away from Dubai, The Oberoi Beach Resort, Al Zorah is an exquisite seaside property nestled within the immaculate Al Zorah sanctuary. Teeming with natural wonders, Al Zorah is framed by protected mangroves, white sandy beaches and azure lagoons. Look forward to unwrapping a slice of nature with almost 60 species of birds, diverse marine life and an offshore coral.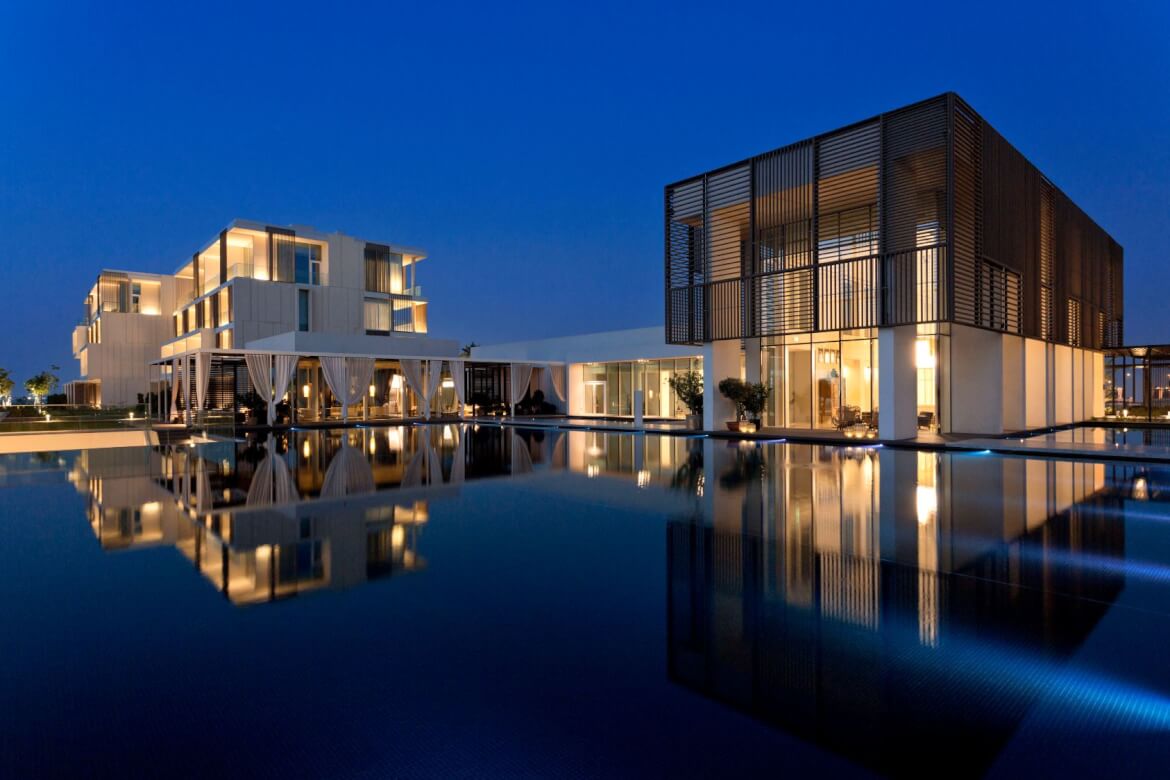 The Oberoi Beach Resort, Al Zorah was designed by the world-famous Italian architect and designer, Piero Lissoni. Expect to be awestruck from the moment you step into the lobby. Magnificent pools of water surround the space, complemented by open spaces with contemporary architecture, sophisticated décor and a natural palette that marries with the ocean, in elements of white and shades of blue and green. Do keep an eye out for the mesmerising hand-painted Italian wall tiles in your room or villa.
Upon completing our swift check-in, we were welcomed with a cooling cucumber lemonade and offered an insight into the various dining options at the property – namely Aquario, Vinesse, The Library and The Poolside Lounge – before being shown to our room.
Accommodation:
The resort's luxury rooms and villas range from 81 square metres to a whopping 346 square metres, boasting private terraces, temperature-controlled private pools and outdoor showers. Beginning at a Premier Room level with a Private Garden, all the way to a Kohinoor Suite with a Private Terrace, and ending at a Premium Two- or Three-Bedroom Villa with a secluded pool for larger groups, guests are spoilt for choice.
Our Premier Room with a private terrace was surprisingly enormous – featuring a spacious walk-in closet, an en-suite bathroom with a Rain shower and bathtub, spacious setting with a plush sofa, dining cum work area, king bed, soundproof windows, and a large terrace with panoramic ocean and resort views – the room could easily pass off as a lavish one-bedroom city apartment.
Once we settled in and unpacked, we had a look around and would suggest you pack light, as amenities include perfumed talc, deodorant, a beach bag and beach slippers. We were also thoroughly impressed that the property offers only Al Ain Plant bottles of water; and that the toiletries were crafted from natural ingredients such as Lime, Tulsi and Narangi.
Culinary Offerings:
The end of a long week demands a well-deserved, hearty meal and this was exactly what we had in mind as we made our way to Aquario. The specialty seafood restaurant by the beach features a menu brimming with fresh local and international ingredients, and cooking techniques that begin in the South of France, onwards across the Mediterranean coastline to Italy. An amuse-bouche of lightly Grilled artichoke was served, and we polished the bite-sized hors d'œuvre in no time. On prompts from our server and the talented Executive Chef William Chaaban, our starters comprised three delicacies. The first was from the Raw Selection – a signature Tuna tartare with the silken sweetness of a piquillo and celery emulsion and a scattering of creamy avocado bits. This was followed by a serving of three crisp chia tuiles with King crab, melon charentais and green apple slices, where I had to fight my dining partner for the last one; and Plancha scallops on a bed of celeriac cream, with trout roe and an apple beurre blanc. On indulging in the dish, my partner said and I agree, "this is the first time we've had melt-in-your- mouth scallops." They were sublime. Mains followed with a perfectly cooked Sea bass baked in a salt dough, accompanied by veggies, sage mash and sauce vierge; and a generously portioned luscious Lobster linguini with crustacean butter, that felt like a cosy hug. We opted to share a spirited Sangria fresca for dessert. Picture a punchy beverage but as a dessert, with grape-marinated strawberry, pecan shortbread and mascarpone gelato.
Saturday morning warranted a lie-in before a scrumptious breakfast at the all-day dining spot, Vinesse. Something we absolutely appreciated here was the à la carte menu, over a buffet. An expansive one at that, you can expect wholesome options, traditional and signature egg preparations, Indian specialties, Middle Eastern delights and tempting Morning sweets – after all, it's the weekend! A fresh fruit platter and a basket of viennoiseries offered us delectable bites, washed down by beetroot, watermelon and carrot juices and hot coffee. Over the course of day one and two, we shared Poached eggs with truffle mushroom duxelles, white truffle hollandaise and maize toast; a lightly-spiced Mysore masala dosa with lentil stew and three different chutneys; Potato curry with deep- fried wheat bread; and Eggs royale with smoked salmon and steamed brioche. Expect tons of flavour and wholesome portions that easily satisfy, till it's time for a late lunch. Too tempting to resist, we tucked into a portion of Crepes with Nutella and strawberry, served with crème Chantilly, fruit compote and maple syrup. Menu aside, and deserving its own mention, was the glorious bread of the day served warm from the oven straight to our table. We waited eagerly for a glimpse of the pastry chef so we could request for a second (and third) serving of the delectable Maple syrup and Cinnamon croissants. Quick service, welcome surprises from the bakery and quality food ensured our days began on a spectacular note.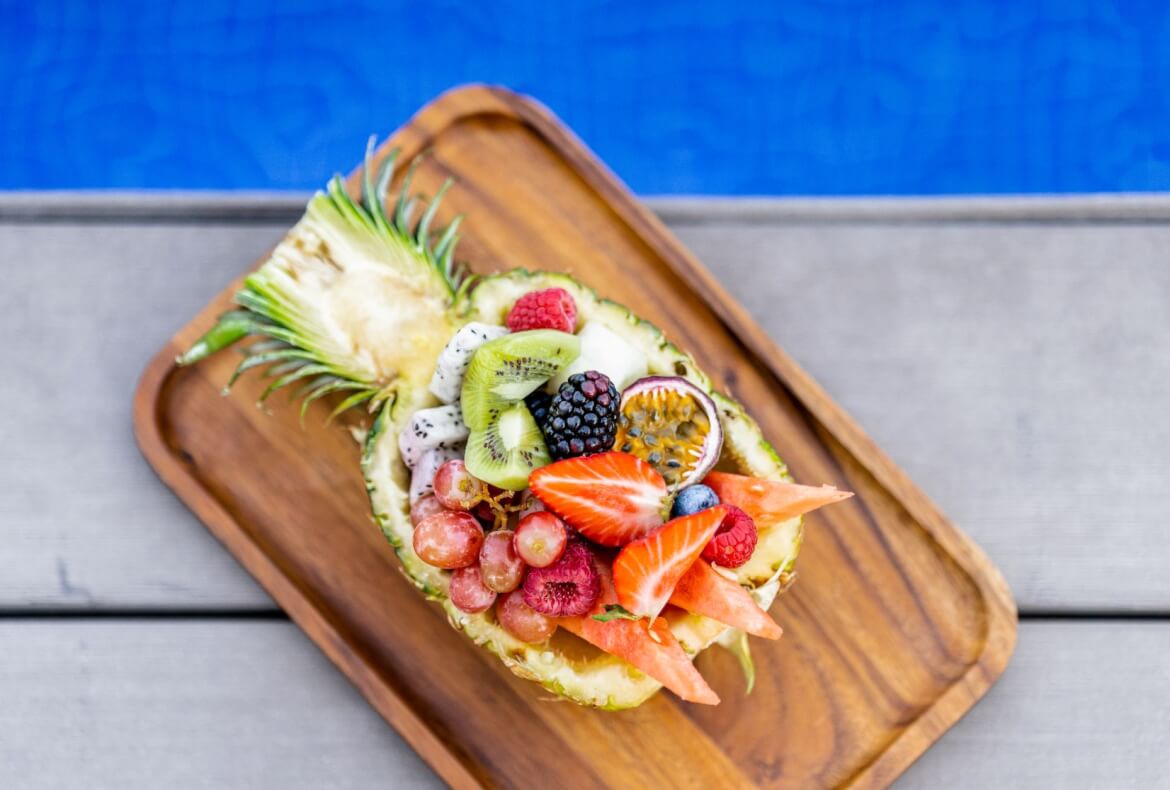 We skipped lunch and spent the day by the picturesque pool (more on that below), enjoying lemon-mint, strawberry and mango ice lollies instead.
When dinner time came around, we were ravenous. The weather called for fiery food, and a dinner reservation at Vinesse with its array of international cuisine meant we could have just that. Papadams with chilli, mango and sweet-lime pickle ensured a lovely gateway into our choice of fare for the evening. Spiced Malabar shrimps in an onion and curry leaves gravy with mustard seeds; and an aromatic lamb Seekh kebab served with mint chutney completed our course of appetizers. Featuring a home- cooked flair, the dishes were cooked to perfection. For mains, we decided on spiced, comfort classics with a Chicken tikka masala and Dal makhani (black lentils with tomato and butter) alongside garlic naans – a feast my dining partner devoured; and a Goan-style, Indian prawn curry (fresh coconut gravy with onions, dried red chilli and a finishing of tamarind) with Steamed rice. Safe to say, we were stunned with the execution of the menu. For dessert, my partner inhaled a Chocolate fondant with Tahiti vanilla ice cream.
Facilities:
The property's vibrant blue swimming pool is a sight to behold, with its striking length of 85 metres. To put this into perspective, Olympic swimming pools are 50 meters long. A visit to this one, as an adult, will have you enjoying yourself immensely, as kids can splash around to one side under parental supervision, whilst you have the other end to lay back, relax and catch some rays.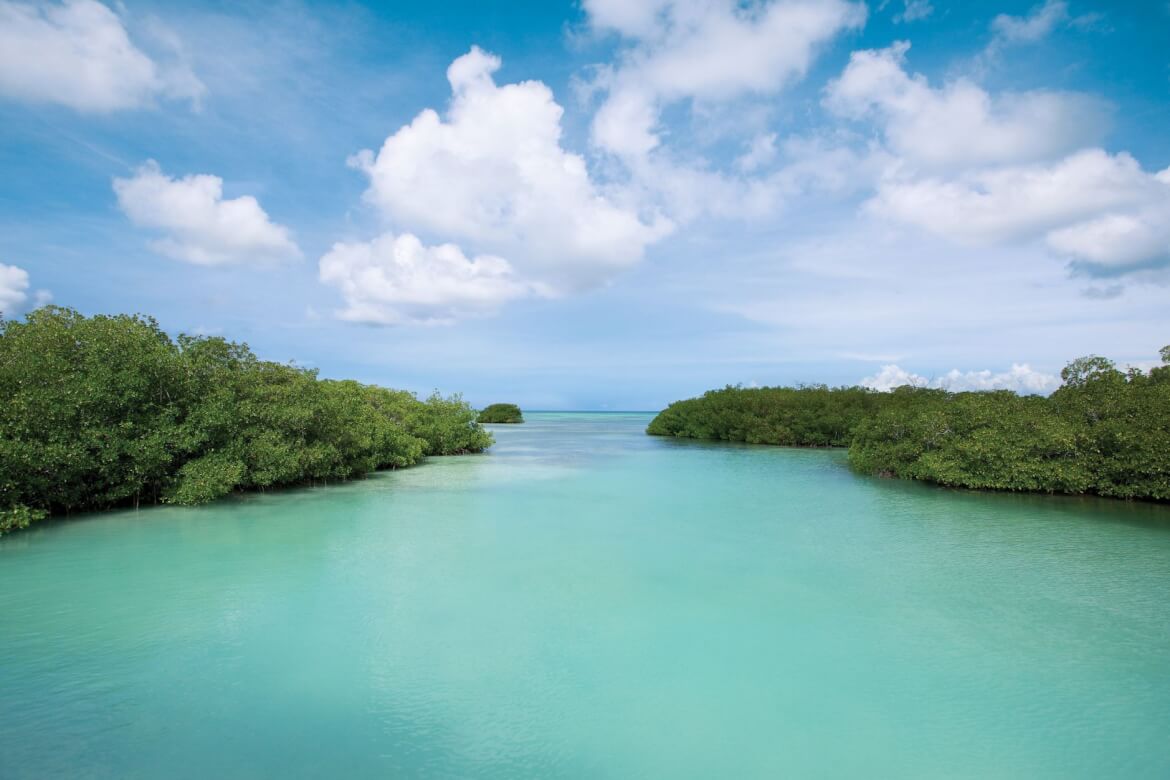 A rejuvenating Spa, a state-of-the-art Fitness centre and a yoga pavilion ensure you keep busy with activities for your physical and mental well-being. Golf enthusiasts can head to the nearby 18-hole Jack Nicklaus-designed championship golf course, while water sports fans can partake in a range of on-request events at the hotel's beach. You can also opt to cycle around the resort and kayak around the beautiful mangroves, fully immersing yourself in nature.
Insider Tip:
Back in the comfort of your room, request to have your choice of pillow delivered and take your pick from a Goose Down, Buckwheat, Memory Foam, Dual Zone or Body pillow from a Room Comfort Menu. Do try and catch a sunset, which can be viewed from every single room at the resort and is spectacular!
Book a Stay:
Room and breakfast rates start from AED1,800. Call +9716 504 4888. Visit the website or Instagram.