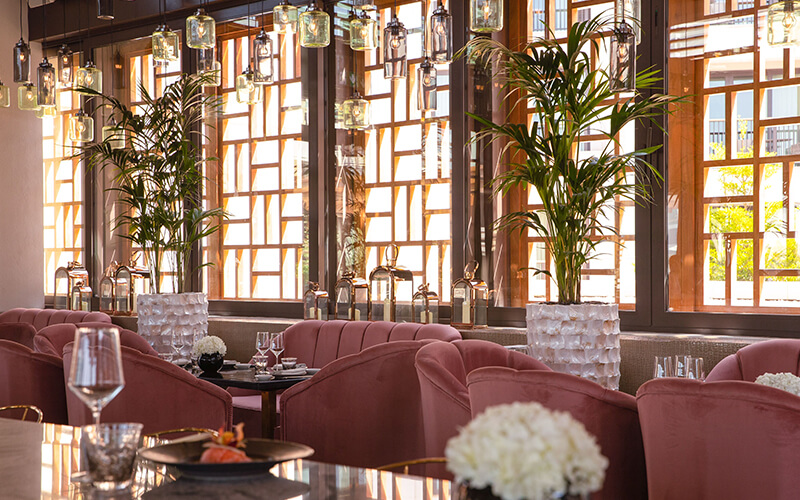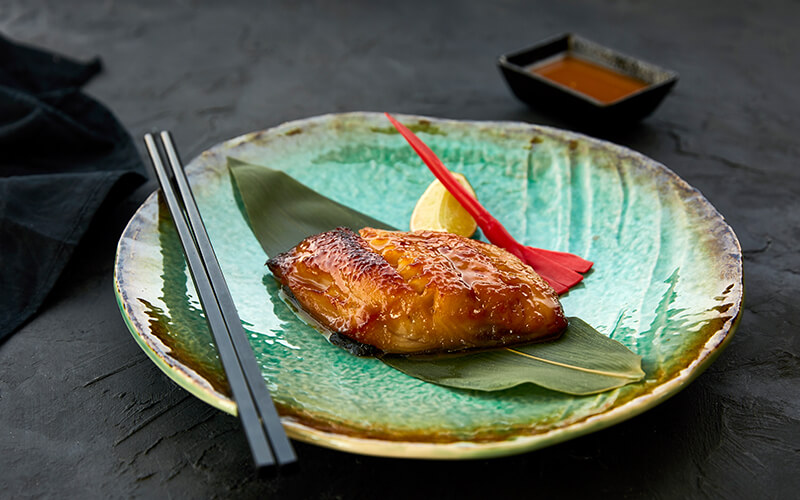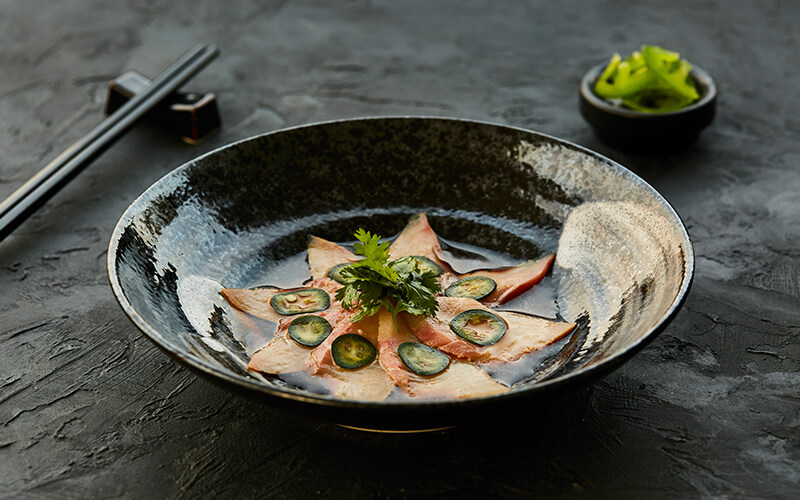 What's it like?
Nestled in the heart of Jumeirah Al Naseem with uninterrupted Burj Al Arab views, KAYTO is the latest pop-up concept to open at the stunning beachfront hotel. Now open until March 2020, the restaurant offers an exotic blend of Peruvian and Japanese cuisine, known as "Nikkei", under the watchful eye of chef Cristian Goya. It's a quiet Sunday evening when we visit, and we jump at the chance to take a seat on the restaurant's expansive terrace under the stars now that the weather permits it. Tables are low with blush pink armchairs, and the chic aesthetics continue into the main restaurant indoors, too – with low-hanging lantern fittings, polished granite surfaces and gold chrome finishes.
What are the food highlights?
Designed to embrace sharing, chef Cristian's menu features everything from fresh ceviche and special sushi rolls, to robust meat dishes, showcasing a range of authentic flavours from both Japan and South America, such as miso, yuzu, truffle and lime. We opt for the tasting menu, which is priced at AED 410 per person, and entitles us to two starters, one main course, a side and dessert per person.
We begin with a selection of starters, and try the yellowtail sashimi with jalapeños, seabass sashimi with dried miso and yuzu juice and the salmon tataki with miso karashi sauce. The salmon tataki comes out on top, with that oh-so-moreish miso sauce that we promise you're going to love. But the star of the starters show is undoubtedly the tuna tartare; served on four rectangular crunchy-on-the-outside, soft-on-the-inside rice cakes, topped with spicy raw tuna and a thin slice of green chilli. The contrasting textures and mixture of hot and cold ingredients work perfectly alongside each other, providing a well-rounded dish that packs flavour and a welcome hint of spice, and leaves us wanting more. It's a must-try!
For mains, we try the saikyo miso black cod, which utilises sweet white miso – often made with just a small selection of ingredients and leaves a silky, sweet glaze on the fish. It's light and flaky, the sign of a well-cooked dish. We'd recommend trying it alongside the coriander rice with shrimps and lime from the side dish menu, as the fish is served alone. We also try the wagyu beef tataki, which is well-seasoned and goes perfectly with the miso caramelised eggplant (the second side dish on the menu.) Though slightly short of side dishes in my opinion (there are just two on the menu to choose from) both dishes impress, with the soft, sticky cubes of eggplant standing out as the winner for me.
To finish, diners are invited to pick their sweets from the restaurant's a-la carte dessert menu. We opt for the cheesecake brûlée, which is served with a beautifully golden, crispy burnt topping, and a hearty helping of refreshing mandarin sorbet. For a slightly heavier option, we'd recommend the red fruit crumble and vanilla ice cream; hot, gooey fruit compote is topped with a crunchy crumble mix and a dollop of vanilla ice cream that seeps through the topping into the main filling for the ultimate comfort dessert. Perfect for these cooler winter nights.
The bottom line: Japan meets Peru in this chic, fine-dining concept – and we think it works. It's just a shame it won't be sticking around as a permanent Jumeirah fixture.
Details: Call +971 4 432 3232 or email restaurants@jumeirah.com.