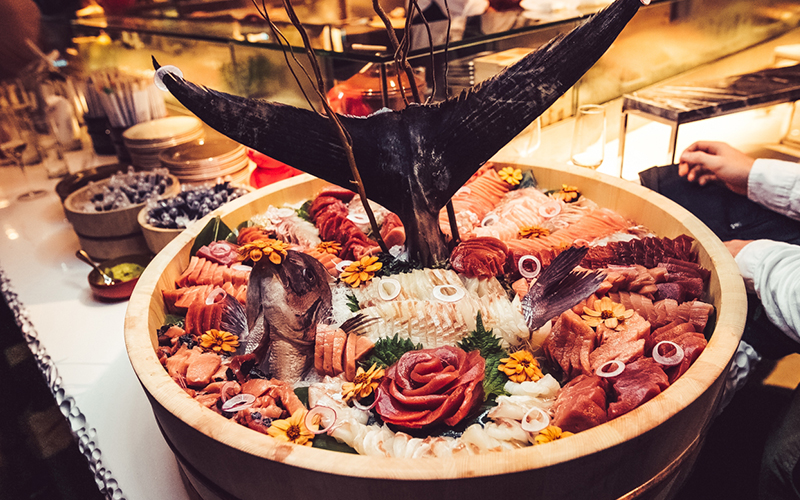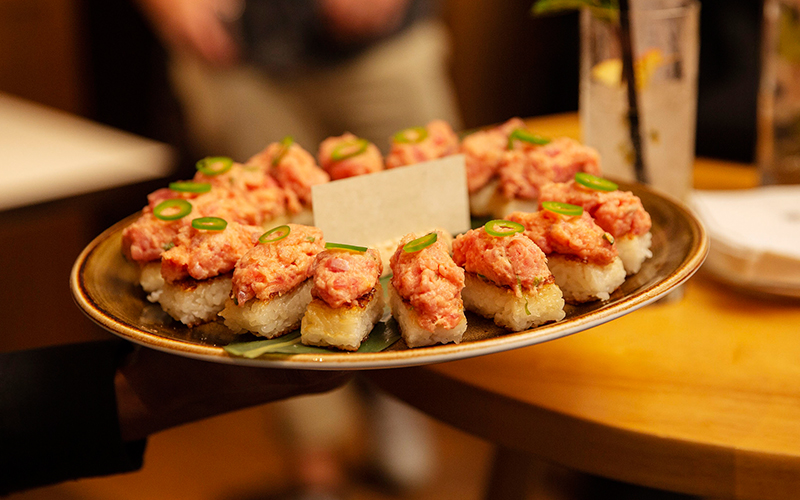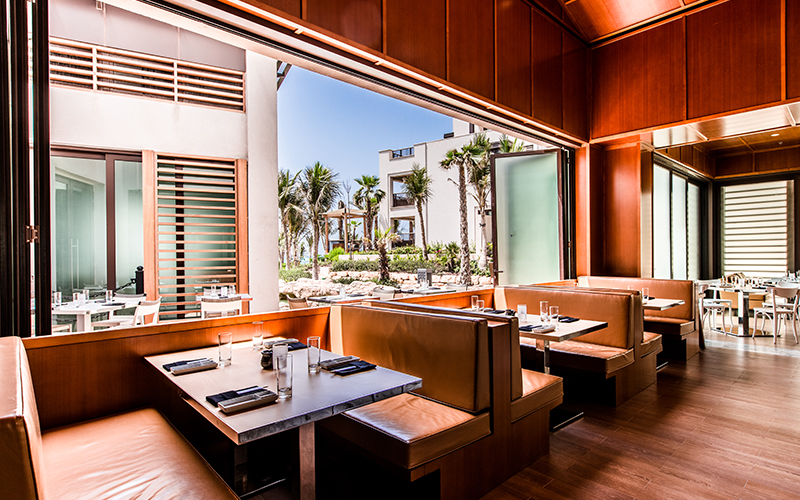 What's it like?
Located at a beachfront location within Jumeirah Al Naseem, Katsuya by Starck is a modern Japanese restaurant boasting artistic flair due to design legend, Philippe Starck's sleek and sultry interiors.
Led by master sushi chef Katsuya Uechi, Katsuya's offering dedicates itself to the marriage of Japanese and Californian cuisines – Japanese food, inspired by the American palate that appeals worldwide.
As of March 1, the venue launched its first-ever brunch, AKA the 'Katsuya Big Brunch'. I'm not entirely sure why it's labelled 'big' as such, as I found the brunch to be quite a nice intimate experience, there was however a lot of food to go around.
From a birds-eye view, we're told that Katsuya is designed to look like a bento box, if the roof was removed. Inside, the venue is divided into several different rooms, each of which have slightly different vibes. There's also an outside terrace, which offers beautiful views over Burj Al Arab.
We were seated in a cosy corner and super comfortable booth in the main dining room as you enter the venue, which houses a central sushi bar. The music is upbeat but not overbearing, and increases slightly as the afternoon goes on.
What are the food highlights?
Once seated, brunch begins with sharing starters to the table, including Katsuya's signature crispy rice with spicy tuna, edamame, crispy chicken salad and creamy rock shrimp, which was a joy to dig into with a light, tempura coating that retained a slight crisp, despite being slathered in an incredibly moorish, creamy sauce (so delicious!). The shredded crispy chicken salad was also a stand-out dish, and delightfully fresh.
The sushi counter was generously stocked with all different types of sushi, sashimi, classic maki rolls and cold canapes. However, the brunch menu at Katsuya includes a choice of one speciality maki roll per person to the table, so I opted for a few slices of tuna and salmon sashimi to enjoy before my Hollywood roll arrived. This mouthwatering roll was a tasty combination of warm shrimp tempura wrapped with avocado and creamy dressing, and topped with a flavoursome albacore tartar.
Next, a robata platter mid-course was served to the table, featuring chicken, short rib and assorted vegetables including nicely charred corn, asparagus and zucchini.
For mains, I liked that all diners could order their own dish, with options including grilled salmon, miso-marinated black cod, Japanese mushroom bop, grilled lamb chops and tenderloin.
Last orders were called at 3.30pm, although we hadn't yet received our main courses at this point, which caused a bit of confusion as we were asked to place our main course order as soon as brunch started. As we attended the inaugural brunch, I put this down to teething issues, which I'm sure the team will have rectified moving forward – service and food was great otherwise.
Once our mains arrived, they were packed with flavour and a delight to eat. Although on the small side portion wise, my tenderloin was cooked beautifully, and my dining partner's black cod melted in the mouth.
Due to the late arrival of mains, we missed dessert, however there's a separate room dedicated to a sweets buffet.
The bottom line:
Katsuya's new brunch is brilliant for lovers of sushi, with more than 20 different rolls available at the counter – in unlimited supply. It's a laid-back, friendly atmosphere, which creates the ideal space for catching up with a loved one or a couple of friends over brunch.
Details: The Katsuya Big Brunch takes place every Friday from 12pm to 4pm. Brunch packages start at AED 350. For more information or to make a reservation, call +971 4 4190676 or e-mail katsuyareservations-uae@diversedining.co.uk.