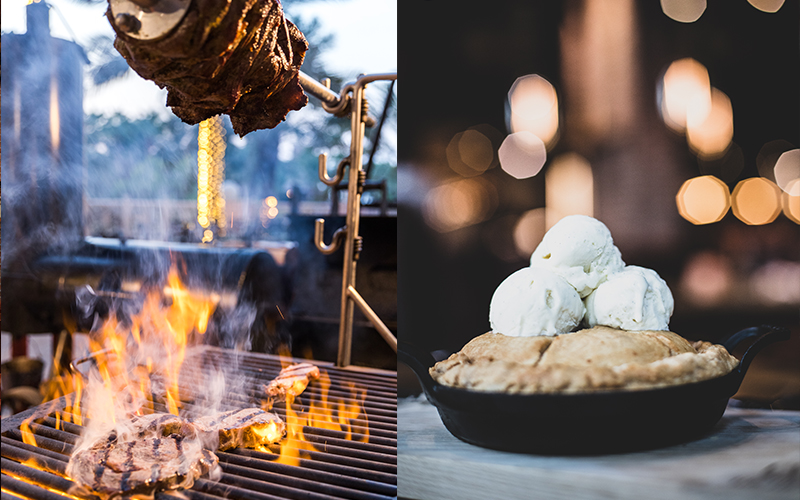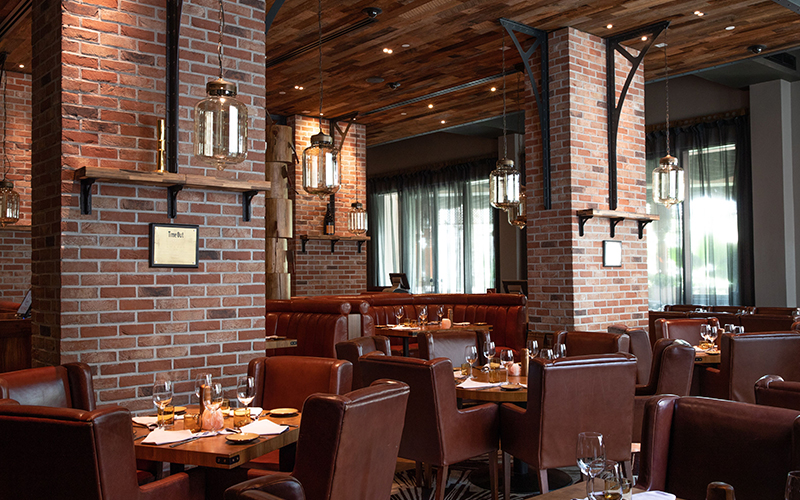 What's it like?
A self-billed "American eatery", this meat-driven hotspot at Jumeirah Al Qasr boasts rustic and country-feel décor, and stunning views of Madinat Jumeirah, meaning there's really no bad table in the house.
We arrive for the Thursday night BBQ, which runs from 7pm till 11:30pm weekly, and take our seat on the outdoor cobbled terrace, a stone's throw away from both the campfire and the live band. It's busy, and there's a real Wild West vibe to the evening – made all the more authentic by the hay bales positioned next to the campfire, and the live band wearing cowboy hats!
What are the food highlights?
We head on up to the BBQ to indulge in what we're envisaging to be flame-grilled goodness in every dish – and we're not disappointed. Highlights from the buffet include unlimited prime cuts of meat, including Wagyu flanked steak, beef burger or striploin – all cooked to your liking right before your eyes. This is a huge selling point for the evening in my opinion, as I'm struggling to think of many more buffets that offer such a high-quality selection of meat on an unlimited basis!
The melt in the mouth beef brisket, chimi-chimi beef tacos and chipotle mac and cheese (yes, it's as good as it sounds) are also not to be missed. There's an impressive side selection too, including buttery corn on the cob and South Carolina coleslaw to balance out the copious amounts of meat we consume throughout the evening.
Be sure to check out the extensive BBQ sauce selection, too. Variations such as cola, mango, coffee and chipotle are sure to add an injection of flavour to your plate of grilled goodness.
And while you may have come to The Hide to indulge in your carnivore cravings, don't miss the sweet selection of desserts on offer. Oreo stuffed chocolate cookies, New York cheesecake with caramelised banana, and cake fries are just some of the American-inspired treats to choose from. For a true taste of the deep south, try the banana foster – which is made fresh to order, and consists of banana and vanilla ice cream, topped with a wickedly rich sauce. Combining caramel, dark brown burnt sugar, butter, rum and banana liqueur, the sauce is then set alight before being drizzled on top of the ice cream; it's an impressive spectacle both in appearance and taste, and certainly not one to miss.
We're full to the brim after overindulging on the buffet, but make our way to the hay bales and try our hand at making our own s'mores by the campfire. With the blues band playing classic American kick-back tunes, and a skewer of marshmallows in hand toasting nicely, you really could be mistaken for believing you're in a Wild West camp out – not Souk Madinat!
The bottom line:
A twist on a Thursday night brunch, and a lovely laid-back way to see in the weekend with friends. Head down before the summer sets in to make the most of Dubai's cooler evenings and the beautiful Souk Madinat views.
Details: Every Thursday from 7pm-11:30pm. AED 399 per person inclusive of beverages. For more information, visit the website or call  +971 4 432 3232 for bookings.