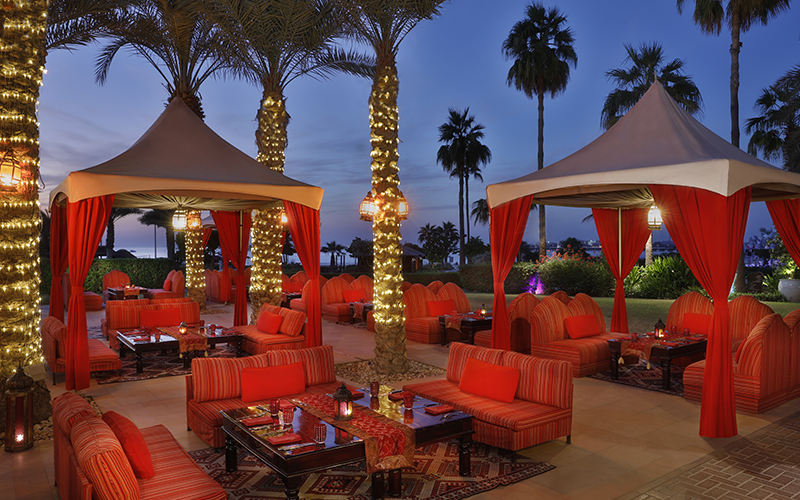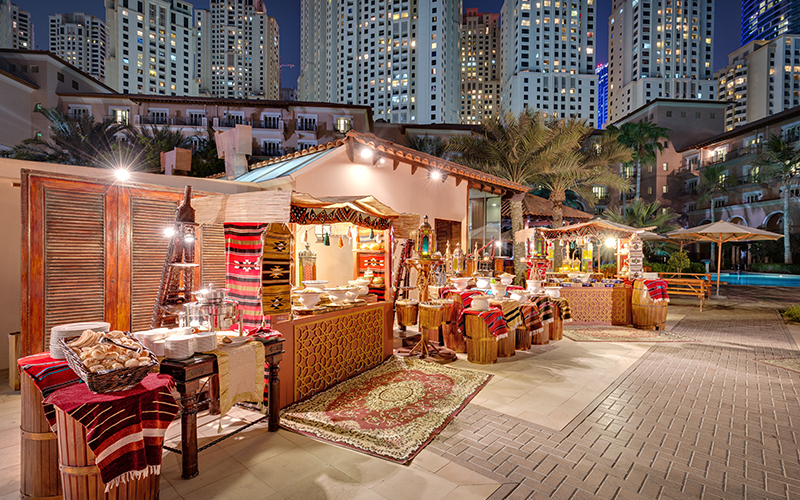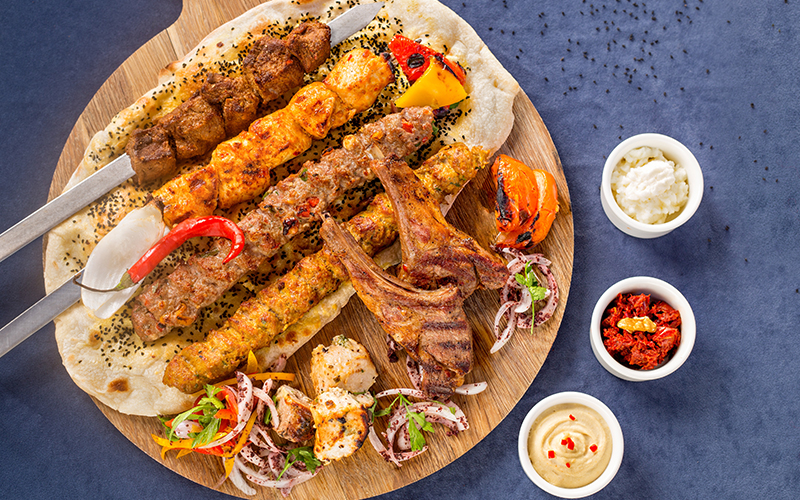 What's it like?
The beautiful outdoor setting in which Amaseena sits at The Ritz-Carlton, Dubai – with unrivalled views of the hotel's gardens, the ocean and Ain Dubai, make for a perfect al-fresco evening while the weather is still cool. Bedouin-style tents, which are lantern-lit and feature low-level tables and plush red, cushioned sofas, capture the romance of Arabian nights while not faltering away from the hotel's undeniable air of luxury. After cleansing our hands in a Moroccan hand-washing ritual on arrival, we're seated in a central tent surrounded by patio heaters, with a direct view of the restaurant's stage (more on that later!)
What are the food highlights?
To begin, our waitress, Dina, explains the concept of the evening ahead. It's a Wednesday when we visit, meaning it's Amaseena's themed buffet night – a weekly occurrence every Wednesday and Thursday whereby a different Middle Eastern nation's favourite dishes are showcased on a monthly rota. February is Syria's time to shine.
We begin with chicken shawarmas served at the table, before heading to the expansive salad bar where over 20 dishes are on display. Middle Eastern favourites, including hummus, mutabel, babba ghanoush and tabouleh are obvious choices, but we loved the bourgul lettuce cups with pomegranate, and the kusa bin laben – which translates as courgette with yoghurt.
Moving onto the mains, we're immediately drawn to the smoking barbecue in the corner of the buffet, where tender lamb chops, shish kebab and grilled seafood are being served. The lamb chops – beautifully charred on the outside, yet pink and juicy in the middle, are divine, so don't miss these.
Back to the main buffet stations, we try traditional dishes from the Aleppo region, including kabab karaz – lamb meatballs in a smoked aubergine and black cherry sauce (yum!) and kobbibat – spinach kibbehs served in a crushed walnut and pomegranate sauce. The Syrian ravioli is also a must-try and is my dining partner's favourite dish of the entire buffet!
Chef Sam, who is from a Syrian background, is on-hand throughout the evening to educate us on all of the dishes, their ingredients and their heritage, so don't be afraid to ask.
Live music is played throughout the evening on the nearby stage, and as we enjoy our mains, a belly-dancer takes to the floor to entertain the crowd. The entire experience reminds me of a desert safari trip (one I know all too well having endured the dune-bashing with visitors more times than I care to remember) – yet at Amaseena, we get all of the evening's highlights, just without the sand!
If you've room for dessert, there's plenty to choose from at the buffet – from Arabic delicacies including um ali, baklava and basbusa, to classic favourites such as chocolate mousse, tiramisu and crème brulee.
How was the service?
The service throughout the evening was excellent; the staff were attentive, informative and very accommodating. As mentioned, having the chefs on-hand to answer any foodie queries was ideal for newbies to Middle Eastern cuisine.
The bottom line:
Amaseena is the ideal spot to take visitors for a taste of Arabian nights – without the sand. Next month, it's Persia's turn to take to the buffet floor, so expect specialities such as kofta Tabrizi, gorma subzi and chicken fusanjia.
Want to go?
The themed nights run every Wednesday and Thursday from 7pm-11pm. Priced at AED 295 per person, beverages sold separately. For reservations and more information call +971 4 318 6150, email dine.dubai@ritzcarlton.com or visit ritzcarlton.com/dubai
If you enjoyed reading this article, you may be interested in reading more of our restaurant reviews here.