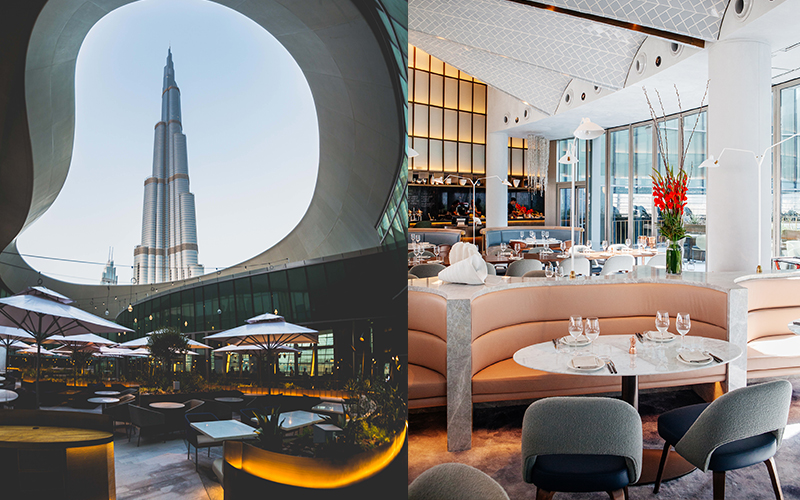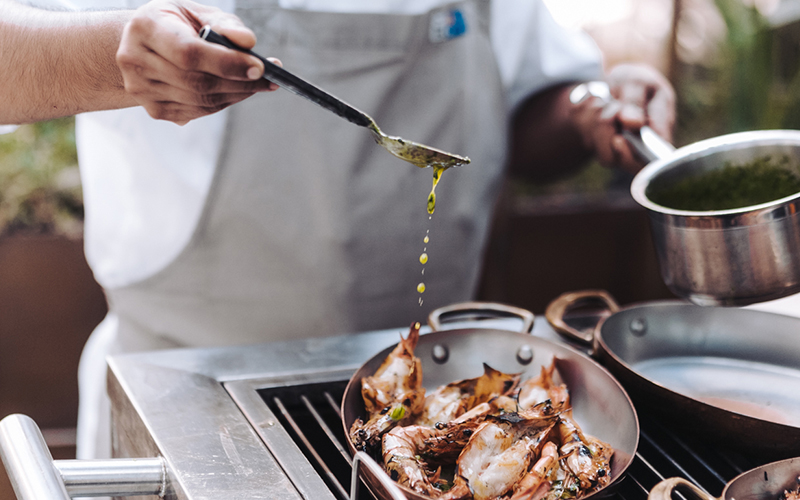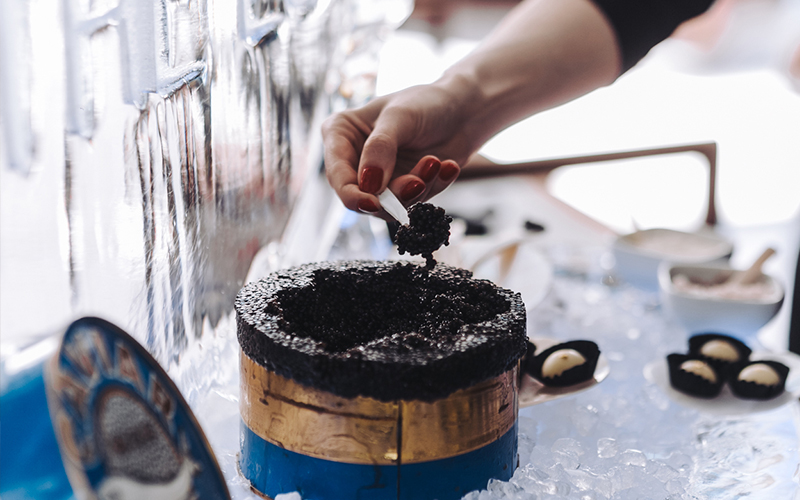 What's it like?
Occupying the rooftop floor at Dubai Opera, The Loft recently opened its gorgeous new doors to offer modern European cuisine. The elegant venue lends itself as the perfect spot for sundowners, a la carte or set pre-theatre dinners, post-theatre festivities, and Friday brunch. The Lofty Caviar Brunch takes place every Friday from 12pm to 4pm – four hours of pure indulgence.
We're impressed from the get go, as dedicated hostesses meet and greet at the Dubai Opera valet, drop-off location and point us in the right direction. Housed within one of Dubai's most iconic architectural treasures, it's a pleasure to walk through Dubai Opera House to The Loft, which has jaw-dropping views of Burj Khalifa and the Dubai Fountains.
Offering both indoor and outdoor seating, the spacious and contemporary venue is a design dream, boasting pale nude and pastel blue hues with polished marble and copper interiors. The main dining area features a large central bar, a raw bar and a pizza counter, while the terrace offers two-tiers of seating, plus another bar and lounge that's complete with a DJ booth – this area becomes a great social space during brunch.
The atmosphere is upbeat and energetic, yet the music allows for easy conversation – it's a really classy, yet fun affair. The buzz picks up as brunch goes on, particularly when the live saxophonist comes out to entertain.
What are the food highlights?
Premium ingredients take center stage at this brunch, with AmStur caviar and a variety of oysters in no short supply.
The hybrid-style offering allows brunch-goers to enjoy sharing starters to the table, including the most delicious homemade ricotta, drizzled with honey and topped with pine nuts, served with freshly baked flatbread, plus a selection of cold cuts, guacamole dip with assorted chips and a few others.
Then it's time to explore the live stations, where there's everything from made-to-order pizzas, scrumptious truffle and mushroom risotto swirled in a Parmigiano Reggiano wheel, prawns and steaks from the live grill topped with a delicious buttery herb sauce, freshly-shucked oysters and seafood from the raw bar, a cheese station and of course, plenty of caviar.
For mains, we enjoy a variety of dishes served to the table. Favourites included the seabass with courgette and mint, plus the flavoursome black angus sirloin with mushroom ragout and gorgonzola. There are also vegetarian options like grilled winter vegetables with cauliflower puree and puffed quinoa, or handmade gnocchi with tomato sauce.
By this point we're all quite full, but once sights are set on the desserts there's no going back, especially not from the perfectly caramelised crème burlee, lemon cheesecake and coffee parfait.
The bottom line:
This sophisticated yet energetic and fun brunch is ideal for enjoying with a group of friends or family – particularly if you have guests over and want to impress. The dress code is smart casual, but it's also Dubai Opera, so you'll never be too overdressed here – it's a nice spot to get dressed up for. Service was faultless. Our waiter insured our drinks never went dry and that our table was always left immaculate after each course. Post-brunch, the outdoor bar and lounge area is a great place to enjoy sundowners.
Details:  The Lofty Caviar Brunch takes place every Friday from 12pm to 4pm. Brunch packages start at AED 395. For more information or to make a reservation, call +971 4 362 7312 or e-mail reservations@loftatopera.com.