Sponsored: Folia is a serene al fresco dining destination nestled within the luxurious Four Seasons Resort Dubai at Jumeirah Beach
From the moment you step foot inside the dreamy beachfront oasis that is the Four Seasons Resort Dubai at Jumeirah Beach, you instantly feel an air of exclusivity and tranquillity. I was immediately captivated by the Arabesque palace-like entrance and sophisticated interiors; followed by opulent and brightly-lit marble hallways and elegant gold-and-beige-hued décor that surrounded us as we made our way through the majestic resort to our dining destination for the evening.
Folia offers a warm and welcoming ambience that engulfs you the minute you arrive. The setting is surrounded by lush gorgeous greenery, calming colour palettes and wooden dining elements, making it a perfect spot for an intimate lunch or dinner with loved ones, or a weekend affair with friends and family. Before we took our seats at the restaurant, we went for a stroll around and were absolutely awestruck by the property's grand swimming pool, beach and poolside cabanas and the picturesque private beach off the coast of the Arabian Gulf, featuring soft golden sands and shimmering ocean views.
The Highlights: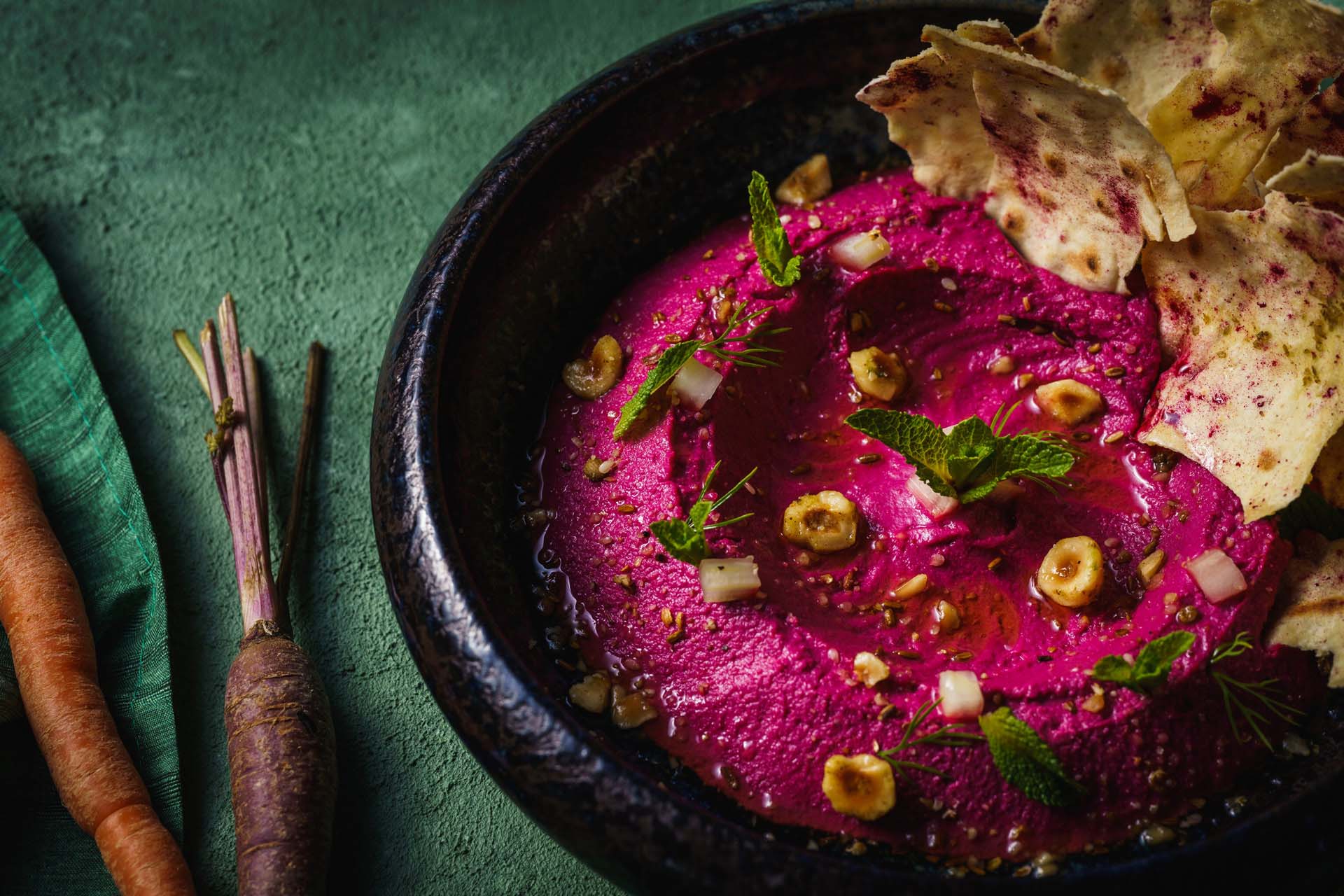 Starring a distinct and magnificent menu by the brilliant chef Matthew Kenney who is reinventing the future of food with plant-based cuisine, Folia offers healthy, sustainable and irresistible delicacies that will tantalise your taste buds.
My dining partner and I toasted to the fabulous weekend ahead of us with Organic Prosecco, comprising non-alcoholic sparkling juice, fruity meadow elderflower notes and herbs imparting a fresh green and slightly floral flavour. Following this, Executive chef Pedro Samper presented a sublime array of starters and enthusiastically talked us through the artfully-plated dishes, ingredients and exquisite flavours. Each generously-portioned dish is a visual treat for the eyes and is created to share.
The Beet hummus infused with dukkah spices topped with pickled celery and dill featured a stunning combination of sweet and delicate earthy flavours. This dish was hands down the showstopper of the appetizers. Another creative creation was the buttery Dukkah avocado with greens, sweet tomato jam and a drizzle of lemon-tahini dressing; a beautifully balanced and textured dish with a nutty flavour profile. Other highlights of this course included a crunchy Green papaya salad with daikon, almond radish sprouts and a lovely sesame-ginger dressing; Vietnamese-style summer rolls with a spicy cashew sauce starring tamari sauce, sesame oil, vegan sambal, palm sugar and toasted cashew; and a serving of Watermelon poke starring watermelon slices on a bed of kale, adorned with pickled ginger, crushed macadamia and mint leaves, elevated with a sprinkle of zesty ponzu lime marinade. It was unquestionably refreshing and delightful and every bite of each dish offered an explosion of flavours.
A pause was needed before mains, so we sat back and enjoyed good conversation and our refreshing sips. Shortly thereafter, our table was covered by a glorious spread of dishes. The light and crisp Wild mushroom pizza topped with sinful truffle cream, mushrooms and kale was a phenomenal fusion of flavours; while the mouthwatering crunchy Tacos filled with lightly-spiced roasted cauliflower and mushroom barbacoa, garnished with flavour-packed guacamole and pico de gallo was simply scrumptious.
The grand finale called for a decadent melt-in-your-mouth Chocolate orange tart, adorned with orange cream and orange slices; and a timeless Tahitian vanilla panna cotta decorated with almond and fruity cherries. Each dessert was distinct in its own way, but both were unreservedly impeccable and we enjoyed every last bite. Quite stuffed by now, we decided to stroll down to the beach and catch the magical orange sunset sky before we headed back home. It was the perfect end to a perfect dining experience.
The Verdict: 
Showcasing exquisite and innovative plant-based cuisine that impresses to no end, Folia is a perfect spot for a delectable dining affair with loved ones.
Book Now:
Saturdays from 5-10pm and Sunday to Friday from 1-10pm. Call +9714 270 7803 or email suq.dubaijb@fourseasons.com. Visit the website or Instagram.