Sited at Palm West Beach, the launch of the Miami-inspired Black Flamingo caused quite the rounds in the city over its picturesque interiors and flavorful culinary creations, so naturally, we wanted to take a tour of the beachfront destination. Upon entering the venue, the mesmerizing interiors are the first thing to catch your eye, with vibrant booths, a gigantic disco ball and hues of hot pink and LED lights, coupled with bold interior elements that are noticeable in every nook and corner.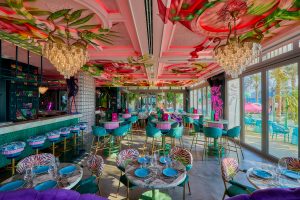 The highlights
Admittedly, we arrived at Black Flamingo early to catch the sunset while taking in the beach views – the added bonus of idyllic Instagrammable shots of the restaurant interiors surely did not disappoint. The menu boasts unique plates from islands and cities across the Caribbean and the Americas, while dishing up an alluring Miami ambience.
The menu is split into 11 parts featuring Entradas, Wings, Tenders, Quesadillas, Ensaladas, Sandwiches and more. My dining partner and I settled into a seat on the terrace with our delectable mocktails and ordered chips served with a fresh, smooth Guacamole, followed by Beef empanadas that were juicy and an absolute delight – crisp on the outside with succulent meat on the inside, we devoured these in minutes.
Since sharing-style dishes are recommended, we order Crispy squid served with a creamy aioli – add a touch of lemon for that added zest. The Kale salad showcases a generous portion packed with crunchy textures and flavours. A healthy alternative and a great side, we kept this bowl on the table until mains were served, as it complemented other dishes sublimely. If you do go down the taco route, try the tender Beef skirt variety. Stay wary of your fellow partner when the tacos are served, there's a high probability of the serving disappearing minutes soon after.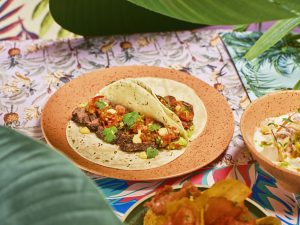 Already quite full (while contemplating a second serving of the tacos), the gorgeous display of Seabass Frito is a substantial main, good enough for three to share, and apt for those who love fried fish. It's best consumed hot as each battered-fried piece is crisp, while the accompanying citrus cabbage and onion slaw, coriander, red habanero, guava glaze, and fried tostones, enhances the flavour of the meaty fish.
The El Mejor Coco, served in the shape of a coconut with a shell made of chocolate and coconut, is a fun, live dessert display for diners. Don't forget to get your phone out to film! Spoiler alert: Expect refreshing coconut and lime ice cream, jivara milk, vanilla crumbs, dragon fruit, coconut jelly, candied pineapple, sprinkles of toasted coconut meat and fresh coconut granita.

View this post on Instagram
Book now
Monday to Friday from 5pm-3am.  Saturday to Sunday from 1pm-3am. Call +97152 717 6464.